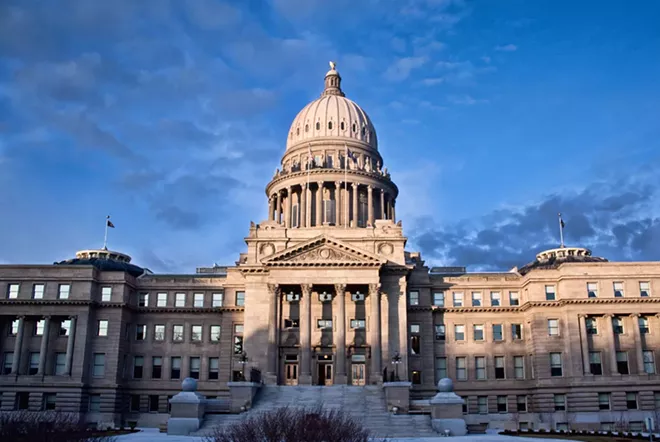 F
ederal officials rejected Idaho's request for a waiver
for part of its plan to expand Medicaid last week, marking the latest hiccup in the seemingly never-ending saga of the state's rocky effort to expand the government health care program to more low-income Idaho residents.
Idaho
voters approved expanding Medicaid
last November through a ballot initiative that would allow over
60,000 additional low-income
people to qualify for the program. After the measure was passed by state lawmakers earlier this year with a variety of added restrictions, Idaho officials applied for an expansion waiver in July. The waiver would allow Idahoans who make between 100 and 138 percent of the federal poverty level buy insurance on the state exchange with tax credits — despite their eligibility for Medicaid.
The request was shot down last Thursday in a
letter
authored by Randy Pate, deputy administrator of the U.S. Department of Health and Human Services' Centers for Medicare and Medicaid Services. Broadly arguing that the state's application did not provide "sufficient information" to evaluate the waiver, Pate notes that Idaho officials provided "no information" to show that the expansion "would not increase the federal deficit."
"The application does not provide sufficient information for the departments to
evaluate the waiver at this time," Pate writes in the letter. "We have determined that Idaho's application does not meet all of the requirements and is incomplete."
However, even if Idaho eventually provided additional information, the application would likely "not be approvable" because it could not "demonstrate compliance with statutory guardrails, in particular the deficit neutrality guardrail," per the rejection letter.
In response, Idaho Gov. Brad Little slammed the decision, claiming that the Centers for Medicare and Medicaid Services (CMS) "pulled out the rug from under us" in a statement issued
last Thursday
. He also asserted that state officials are already working to submit the additional information required by the federal government.
"For months, state agencies worked closely with the federal agencies on the purpose and goals of the waiver application. We shared multiple strategies and considerations about how Idaho would approach the cost neutrality portion of the application," Little says, per the statement. "At no time during those conversations did the federal government indicate Idaho's approach to the budget neutrality guardrail would be insufficient for consideration."
The original backers of Idaho's Medicaid expansion initiative applauded the rejection and argue that it is self-inflicted by state lawmakers, since the Legislature
approved restrictions
such as a requirement that would boot people off Medicaid if they are unemployed. Those components all require separate waiver applications and approval by the federal government.
Organizers with Reclaim Idaho also say that the waiver, if approved, would have diverted Idahoans to lower quality private health insurance plans with high out-of-pocket expenses, like deductibles.
"This is what happens when angry legislators try to steer working Idahoans onto plans that offer less comprehensive coverage for higher costs and greater out-of-pocket expenses," says Rebecca Schroeder, executive director of Reclaim Idaho — the organization that successfully pushed Idaho's Medicaid expansion ballot initiative. "This was a bait-and-switch health care scheme promoted as a 'choice' but geared toward giving Idahoans less health care coverage at higher prices to patients and taxpayers."
"Trying to put working Idahoans on exchange-based plans with less comprehensive coverage at higher prices when they already qualify for Medicaid Expansion makes no fiscal sense," says Luke Mayville, Co-Founder of Reclaim Idaho, per last week's news release. "And it's just cruel."