JAMIE HEINBERGER
My car, definitely my car.
Why?
Because it's pretty important and hard to fix, so that'd be pretty awesome. It's not cheap, either.
---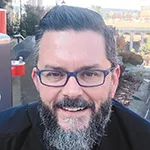 MIKE TRESIDDER
My dishwasher. It's all the water and the power. With those two, it's a bad combination.
Have you ever tried to fix something and it didn't work out?
I usually just don't try in the first place.
---
SARAH DECKER
My central air conditioning. It always breaks.
What's something you're good at fixing?
Other people's problems.
---
NAOMI SAITO
Instruments. When my guitar has issues, I wish I could just fix it on the spot.
What's another instrument you wish you could fix?
String instruments. They're such universal instruments and they pair really well with the voice. And they're easy to carry so you can bring music with you anywhere.
---
MONIQUE DUFAULT
I wish I could fix my purse that I screwed up. The corners are all ragged because I keep bumping it into stuff.
Is there a way to fix a purse?
Probably not, I think you just get a new one.
INTERVIEWS BY CONNOR GILBERT
10/13/19, RIVERFRONT PARK