Last season was one for the ages for the Gonzaga Bulldogs. It was a season that saw the team open at No. 3 in the AP Top 25, the highest preseason ranking in the program's history. The second highest is No. 8, which is where the Zags sit in that poll entering this season.
That high praise comes despite the team needing to replace four of the five starters, plus two critical rotation players, from last year's squad that made the Elite Eight. The ranking isn't quite as high as last year, but the level of respect for the program might be even higher.
That's because Mark Few, who is entering his 21st season as head coach, has a proven track record of success. Moreover, the players he's brought into the fold this season to replace those he lost from last year are really good.
"It was a slow start but now that we kind of have the groundwork laid out they're taking huge leaps every single day," junior forward Corey Kispert says. "They're smart kids, man. They know exactly what to do now."
Two short seasons after arriving in Spokane, Kispert is thrust into a leadership role. The only player with more experience than Kispert in a Gonzaga uniform is senior forward Killian Tillie. On Oct. 3, Tillie underwent a preventative knee surgery, which makes Kispert, until Tillie returns (possibly as soon as opening night), the most experienced player on the floor.
"[Tillie's] been doing a lot of coaching from the side and having to be vocal from the side," Kispert says. "That's going to be really good for him and for us as a team moving forward. Him developing his voice; learning how to coach up guys who are younger and need the coaching more than he does."
Those younger guys will be critical for Gonzaga's success this season. Many of them, like the Frenchman Tillie and returning Filip Petrusev, came to Spokane from other parts of the world.
Of the six-man freshman class, three came from overseas. Center Oumar Ballo is from Mali, forward Pavel Zakharov is from Russia and guard Martynas Arlauskas is from Lithuania. Those three are the latest in a long line of international players who came to Gonzaga, like Rui Hachimura and Domantas Sabonis, with hopes of elevating their game to the NBA level.
Domestic freshmen like guard Brock Ravet (Kittitas) and forward Anton Watson (Spokane's Gonzaga Prep) are in-state products. They and Texan forward Drew Timme look to be immediate impact players.
There are some relatively old newcomers, too. Graduate transfers Admon Gilder and Ryan Woolridge will be tasked with taking the reins in the backcourt.
"Last year we made our mark on defense blocking shots above the rim," Kipsert says. "This year I think our guards in Admon and Ryan are going to be really special on defense. Those guys are uber athletic and super good with their hands. They're going to make things really difficult for opposing guards. We haven't seen that before with a one-two combo of really elite defensive guards."
There is more than enough talent to justify another season of sky-high expectations here in Spokane. The thing is, it's going to need to come together really quickly. As always, the Zags have a brutal nonconference schedule to navigate in November and December.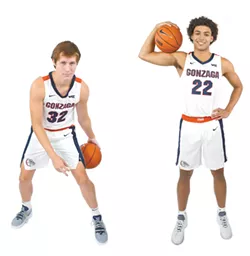 "My stance on it is the tougher the schedule, the better it is," Kispert says. "Coach Few and coach Tommy [Lloyd] have done a really good job of giving us tough competition at the very beginning to see exactly what we're made of. And credit to those other big-time schools for agreeing to play us. That wouldn't be the case five or six years ago. A lot of those teams wouldn't agree to play us."
That tough competition includes the North Carolina Tar Heels, one of the all-time elite programs in college basketball and the team that defeated Gonzaga in the 2017 national championship game. The Tar Heels will visit Spokane on Dec. 18. Before that happens, though, the Zags hit the road to face Washington and Arizona. After that, in-league rivals Saint Mary's — the Gaels open at No. 20 in the AP Poll — and BYU will be looking, as always, to play spoiler.
Another year with a loaded team looking down the barrel of a monster schedule, just a little more talented and a little bit tougher than we've seen before. Sure, the faces aren't all familiar, but it's the same as it ever was in Spokane. ♦
Coach: Mark Few
Last season: 33-4/ 16-0 in WCC
Preseason prediction: 1st in WCC coaches' poll
First game: Exhibition vs. Lewis-Clark State, Fri, Nov. 1, 6 pm at the Kennel