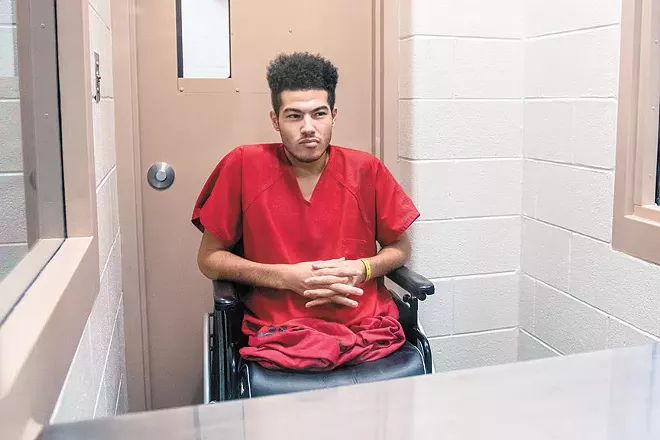 Tyler Rambo, a 19-year-old who was shot 10 times in July by Coeur d'Alene Police officers and subsequently lost his legs, is seeking $9 million in damages with the city, arguing that the officers were poorly trained and supervised.
The tort claim, which was filed last Friday by Rambo's attorney, Rick Baughman, claims that city officials failed to adequately train its police officers. He also asserts that the officers engaged in "inappropriate and unlawful use of deadly force and excessive force."
Baughman also notes that Rambo is "permanently disabled" due to the incident and will need "assisted living, physical therapy and occupational therapy."
Rambo is currently being held in Kootenai County Jail on attempted second degree murder and aggravated assault charges with $1 million bond. The counts stem from an incident on July 4 where he fired a handgun in crowded downtown Coeur d'Alene during a fist fight with another man that he had fought with at a house party the week before, according to court documents and news reports. He fled from eight responding police officers and was eventually cornered, where he reportedly did not obey commands to drop his weapon. After a stun gun was used on him, he fired the pistol, prompting the officers to shoot at him.
However, Baughman asserts in the tort claim that Rambo had his hands in the air when the Taser was fired, and that the Taser caused him to unwillingly fire the pistol — which, in turn, resulted in the cops firing at him.
"As a direct result of the Taser's effect, Mr. Rambo's firearm was involuntarily discharged. Thereafter, the law enforcement officers proceeded to unleash an unnecessary barrage of gunfire at and into Mr. Rambo," Baughman adds.
This post has been updated to clarify Rambo's charges.