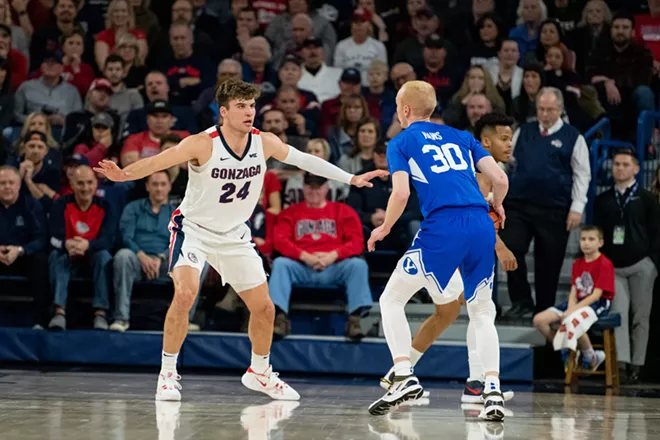 O
ne of the symptoms of battling through injuries
with a short rotation, and not using the "next man up" approach, is that guys are forced to do more than usual.
Sometimes that means simply playing more minutes, as has been the case for Gonzaga players lately. It can also mean doing things you wouldn't have to normally. For Gonzaga, finding success with the latter has proven critical.
The biggest example of Gonzaga using a guy in an abnormal role has been going small and playing with Corey Kispert at the four-spot. It's been happening all season long due to Anton Watson's shoulder issues, but even more so lately as Killian Tillie continues to struggle with ankle injuries.
Guys like Rui Hachimura, Johnathan Williams, Kyle Wiltjer and Elias Harris have dominated at the four-spot for Gonzaga in recent years. Kispert isn't a prototypical power forward like them, but he's proving to be far more than simply a serviceable substitute at the position.
Depending on who you ask, or how you view the game, Kispert is either a third guard, a wing or a small forward. No matter what term is used, they all mean he's playing the three-spot on the floor. Last season, he even filled in at the two on occasion, playing shooting guard alongside the Zags' dominant and deep frontcourt.
Now though, he's sliding in the other direction.
Jack Gilles, a Lewis and Clark High School graduate — class of '09, just like yours truly — who now operates JG Trends Consulting, a statistical analysis service for college basketball programs around the nation, provided me with some insight into just how much Kispert has transitioned into the frontcourt this season.
This table shows all possessions this season that Kispert has been on the floor alongside just one big, a situation in which Kispert would be playing the four, and all possessions in which he's been on the floor alongside two bigs, thus playing his natural three. Kispert has played at the four in 281 of Gonzaga's 1,999 possessions this season, or roughly 14 percent of the time.
Lately, with Tillie missing three of the past five games and totaling just 34 minutes during that span, that percentage has skyrocketed. Kispert has played at the four for 38 percent of the possessions over the past five games. As the table below shows, Kispert has played alongside Filip Petrusev or Drew Timme far more often this year than Tillie.

This table shows how Kispert pairs with each individual big as well as how these situations compare to the team's season averages.
Defensively, the small lineup isn't quite as effective. For the season, the team gives up an average of 0.92 points per possession on defense, but with Kispert at the four, that number climbs to 1.01 points per possession.
Offensively though, they're way better in these situations, averaging 1.34 points per possession compared to their season average of 1.20. That season average is already the best in the nation, making the 1.34 number eye-poppingly good — until you see the 1.64 points per possession Gonzaga scores with Kispert alongside just Tillie. Sheesh.
The most holistic way to use this data though, is to combine the offensive and defensive numbers. When you do that, listed in the fourth column, you get a stat called efficiency margin. Gonzaga's efficiency margin for the season is plus-29. With Kispert at the four, the Zags average an efficiency margin four points higher than they do on the whole of the season. But what does that mean, exactly?
Simply put, Gonzaga has outscored its opposition, on average, by 29 points per 100 possessions this season. With Kispert at the four, the Zags are outscoring teams by 33 points per 100 possessions.
Adding four points might not seem like a ton, but consider this: Stat guru Ken Pomeroy ranks every team in the nation by their efficiency margin. Four points is the difference between the team he has at No. 10, Michigan State, and the team he has all the way down at No. 27, Butler. Slim margins can pay big dividends.
This should serve as a bit of reassurance for fans of a team that has been hobbled by injuries all year long. Nobody wanted to see Anton Watson's season end prematurely because of shoulder surgery. Everybody can feel for Killian Tillie, who might be the most unlucky player in college basketball when it comes to injuries. Ideally, the Zags wouldn't be in this position at all. Had they not wound up here, though, the team might not have discovered this super effective small-ball lineup.