I
'd been to Rüt Bar & Kitchen
back when I was "enjoying" an attempt at Veganuary, and my first visit quickly led to several more since the beginning of 2020. The food is that good, and sure to please tried-and-true vegetarians and folks who just like a tasty meal in a classy spot.
Rüt's
Inlander Restaurant Week menu
is, for the most part, pulled from their regular menu, but that didn't disappoint because my past visits have quickly gotten me into a delicious rut of enjoying the spot's burgers and wraps. Restaurant Week gave me the option of exploring the rest of the menu a bit, and at just $22 for three courses, my friends and I covered a lot of ground.
To be clear, Rüt is a completely vegan restaurant, so when you see me make mention of burgers, ice cream or sausages, just recognize we're talking about non-dairy ice cream, or Beyond Meat burgers, etc. If that worries you — don't let it. The flavors at Rüt are big and bold, and you definitely leave satisfied, even if you're an everyday carnivore.
I started with some
Buffalo cauliflower wings
, while one of my dining guests tried the
Thai ginger
version, and they were both delicious, and generous in their portions. Our third guest got the
crispy Brussels sprouts
— definitely our favorite first course, thanks to the dijon gastrique that gave the sprouts some pop, and the crispy onions that added a nice crunch.
I'd heard good things about the
kung pao cauliflower bowl
in the past, so that was my pick for my second course. I like things spicy, and this dish delivers in a big way. The accompanying pickled cucumbers were a nice cooling agent, and the broccolini was cooked perfectly. The
bratwurst bowl
likewise pleased one of my friends. The Beyond Meat sausage was delicious, and the warm potato salad served alongside was incredible.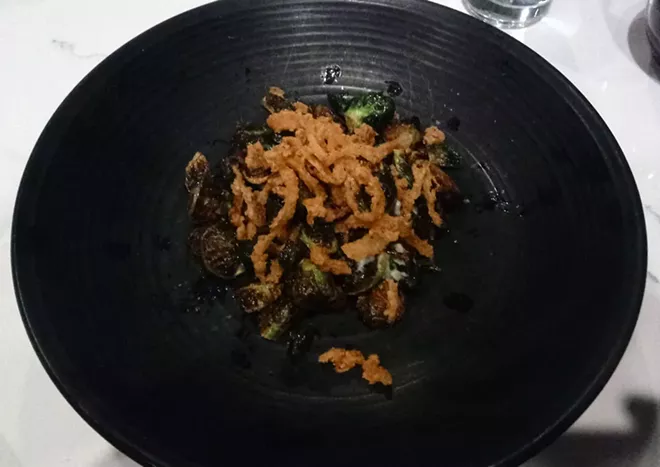 Dessert offered a cocktail via a vanilla fig shrub, but we stuck with sweeter options. The
chocolate lava brownie
was nice, the candied walnuts adding some texture, but the
ginger apple crisp
was hard to beat, served warm with coconut ice cream.