Spokane Arts Executive Director Melissa Huggins knew that when COVID-19 put the state on lockdown and the economy convulsed and left many out of work as a result, that artists would be some of the most directly affected. Not only would they lose gallery shows or concerts due to the lack of public gatherings, they also work many hospitality jobs that simply no longer exist.
Spokane Arts quickly set up the Spokane Artists and Creatives Emergency Fund to help the local creative community plug financial holes while they wait for state and federal aid. The $500 grants come with no strings attached, to be used for anything the artist sees fit, and Spokane Arts seeded the fund with $25,000 of its own money, drawing on its Jeanette Harras Trust set up when the Spokane arts advocate died a few years ago. Huggins says Spokane Arts has considered different projects to pay tribute to her, and helping artists in crisis fits the bill.
"This is the right way to honor her legacy," Huggins says. "She was really passionate about helping people in need."
At the end of last week, Spokane Arts had received more than 70 requests totaling almost $40,000, so the need is certainly there. The nonprofit is doing a crowdfunding campaign for the emergency fund via spokanearts.org to gather money to help as many artists and arts organizations as possible for as long as possible.
"We're in this for the long haul and we'd like to keep this fund open as long as people are in need," Huggins says.
Spokane Arts is also contemplating a change to its normal SAGA grants schedule. Seven April grantees will be announced this week and granted $42,000. Normally the next round wouldn't be awarded until July, but the old June 1 application deadline will likely be much sooner since the need is huge right now, and Spokane Arts has more than $100,000 available for the remainder of the year, Huggins says.
"We haven't hit the worst of this," Huggins says. "The next several months are going to be incredibly rough for both individuals and businesses."
A BREAK IN THE CLOUDS
A damaging fire is typically the worst part of a business's year, and it says something about the strangeness of the times that such a cataclysmic event at art gallery and teaching space Emerge in Coeur d'Alene back in January is now just one part of an awful 2020 for its administrators and community.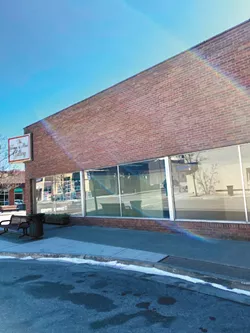 But now there's at least a pause in the gloom and doom, as Emerge has found a new home in the Lake City. The space at 119 N. Second Street, formerly Frame of Mind, is closer to bustling Sherman Avenue, says Emerge Executive Director Jeni Hegsted, just two blocks from Coeur d'Alene Resort "with nothing but windows wrapped around the corner. There's a lot of really great visibility for us."
There's a huge 1,900-square-foot basement that will accommodate pottery classes and a dark room while the gallery will take advantage of those windows. Of course, Hegsted notes, "we're not moving very quickly."
There were headaches to get to this exciting moment, from a landlord at the burned space that wouldn't let Emerge out of its lease until two months after the fire, to insurance companies that won't repay them for thousands of dollars Emerge put into its old space because it wasn't completely destroyed. Even with the new lease signed, the coronavirus lockdown means delays in the weeks' worth of work needed to get ready to open, as well as in their classes scheduled for alternative sites after the fire. They're also not sure if they'll be able to do their annual Pop-Up Show fundraiser June 12, but Hegsted remains hopeful.
"That's our biggest event of the year," Hegsted says. "We're kind of at a wait-and-see point."
You can help by donating to the "Rebuilt Emerge" campaign at gofundme.com. ♦