The latest issue of the Inlander is hitting newsstands today. Find it at your local grocery store and hundreds of other locations; use this map to find a pickup point near you. You can also read through the entire print edition here.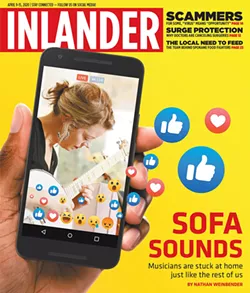 HIGHLIGHTS

This week's Inlander is all about adjusting — about how all of us are somehow getting used to life with the coronavirus. Musicians are adjusting to performing without their fans in the flesh. High school seniors are adjusting to losing school, the prom, sports and graduation parties. Artists are adjusting. Doctors are adjusting. Restaurants and charity-minded do-gooders are adjusting. Even scammers and profiteers are adjusting, seeing opportunity and advantage in sickness and fear.
• We also have a lovely essay by Tara Roberts mourning her children's lost adventures this spring.
LOOKING AHEAD
Next week, we're diving deep into one of Washington's essential industries that remains open and busy during the coronavirus-induced lockdown: Cannabis. For advertising options, contact our sales department.
HEALTH & HOME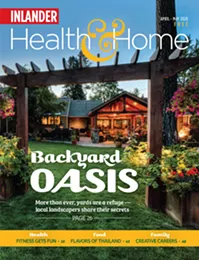 In addition to the Inlander, our latest issue of Health & Home magazine is hitting stands this week. Inside you'll find an article about the "gamification" of health — featuring video games that make at-home exercise so enjoyable you hardly know you're working out. Aso, there's a story on outdoor living that will have you jonesing for summer. Read the entire issue here.
LAST WORD
Author Kate Lebo explores a lot of big questions in this beautiful essay. One, in particular, has stuck with her: "I've given up trying to understand the toilet paper thing, but why isn't anyone buying Cadbury eggs?"