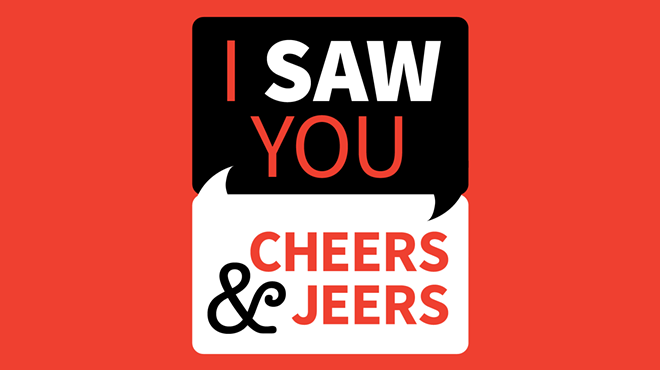 I SAW YOU
Walking down the street: I saw you, walking alone, down Riverside near People's Park. You opted to walk down the middle of the road, which I thought was odd, but who am I to judge. Cars stopped to let you walk. I was on a run and was awed by your independence to go wherever you wanted. You maintained 6 ft of distance which I thought was kind. I was also in awe because you are an emu, which is quite a strange animal to see just walking down the street. You go emu. Hope you found your home.
Cinex: I dropped in today at Cinder downtown, 4/29 and was met by you! You're magnetic in your chill demeanor and it was nice to see such a friendly, and handsome, face during one of my government approved outings. You- wearing a dark colored jacket, small hand tattoos, and a warm charming smile. Me-just another girl surfacing from quarantine for some flower. I only had a 20, and since you don't get tips anyway, perhaps I could buy you a drink or two? You know, when social distancing eases up. Thanks for brightening my day with our brief interaction, it's the little things these days. I sure hope to see you next time I need some recommendations! Or perhaps share a J when its legal to do so of course ;)
You and Me: SF, It's been a year since I saw you last, and you are still the most beautiful thing ever! This time isolating with you has been so sweet. You are the best. I love the way you Love. CL
I saw you in all the strangest places: And I kept seeing you, and hearing you, and you were generating auditory nerve stimuli to create sound I could only hear inside my head, and it reminds me of the Book of Ezekiel. Wheels within wheels. Trippy Bro I guess we're all just in a reality projection field and all those beautiful telescopic images are not real, or maybe those supernovae silently think colorless green thoughts seamlessly. Dont you get tired of making everything up? All that claptra to steer a bummed out mood? Waste of time — look at the weather! Choooooo Looooose. You people aren't exclusionary and prejudiced and obsessed with the hegemony of whatever you are... not human.
I SEE YOU EVERYWHERE: I see you. You see me, and you think I don't see you so much. But I always know it's you, because it's everybody. Thanks for helping me to think out of the box. Goodbye.
CHEERS
Conoco 4/29: Cheers!! To the lady that paid for the gentleman's gas tonight. It really shocked him and he was very humbled and said "tell her thank you." You restore my faith in humanity during these trying times
Thank you: Thank you to the wonderful employees at DeLeon's, who not only found my wallet but tracked me down to return it!

JEERS
Bloomies blunder: Jeers to KHQ for reporting on the unmasked "Bloomsday"'runners/walkers/water passer out-ers was a positive thing. Shame on KHQ, Bloomsday was postponed for a reason. Shame on you stubborn, selfish Spokane-ites who not only embarrassed our whole community but put it at further risk. Why is your desire to run a race more important than the well being of a whole community?
Old Growth Trees Cut Down: Jeers to everyone involved in the recent felling of several beloved old growth trees at Holmberg Conservation Area in North Spokane near Whitworth campus. There were about 7 old growth trees felled alongside the gravel road leading to an unknown fenced-off government utility structure; apparently the access road wasn't wide enough. I aver that cutting down any 200+yr old tree inside a "conservation area" for such frivolous reasons is a terrible crime. These massive trees were even growing on a sloped hillside within the Little Spokane River watershed. I don't need to explain how much stability (against erosion/landslides) an old growth tree's roots can lend to a steeply sloped, and moist landscape of soil and rock; it's very irresponsible to kill them. Since I moved to the neighborhood, I have cherished Holmberg Conservation Area because I am a proud tree hugger, and I seek out old growth specifically because they give the best tree hugs. Since the fellings, my heart fills with sadness and drifts towards anger when I visit the site, but I hope that by spreading awareness about the importance of old growth trees, I can bring some redemption to their deaths. Learn to love the older trees in your neighborhood, and if you see something, say something!
Fight For Your Right To... Anyone who thinks it's a good idea to arm themselves with an AR-15 and march on their state capitols, demanding the Right to Mill Around Outside, should work a 36 hour shift at the local hospital.
Furniture Sales: To the person that works at a popular furniture store. You're a wolf in sheep's clothing... sleeping with the whole office... stalking men who are already in relationships?! Destroying marriages (just like you did your own. Stop blaming him for that by the way) for what? So you can try and feel attractive for once in your life? ♦