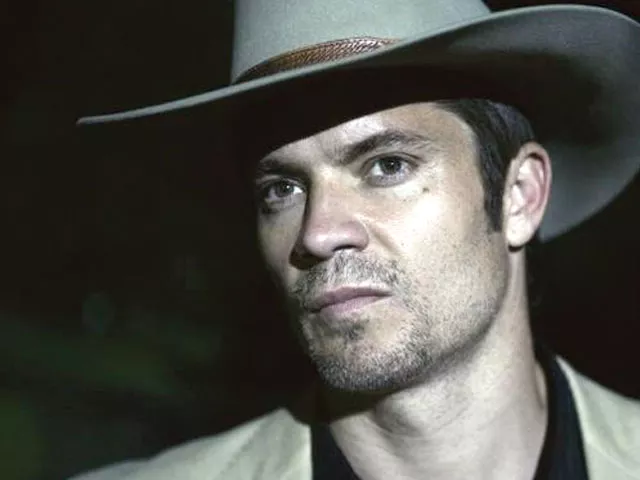 Justified begins the way any Western should: with a quick-draw shootout between age-old enemies.
Deputy U.S. Marshal Raylan Givens (Timothy Olyphant) has given a criminal — a slick, smirking slimeball with whom Givens has a longstanding grudge — an ultimatum: 24 hours to leave town, or be killed. As Givens sits with the criminal in a fancy Miami restaurant, as Givens counts down the last few seconds, the criminal draws his gun. Bam bam bam. Givens fires three shots, directly to the chest.
It was justified, ya see. The other guy drew first. The only consequence of shooting a man, in this case, is being transferred out of Miami to Givens' old Kentucky hometown.
But what, Givens wonders, what if the other guy hadn't drawn his gun? What if time had just run out? Would Givens have shot anyway?
Olyphant could have gone the way of generic pretty boys. He, if he so chose, could be a grin and a muscle tee away from, say, Paul Walker. Olyphant, though, spreads his natural charisma across multiple layers of subtlety percolating beneath a breezy surface. Toughness, pain, sorrow, lust for vengeance are all communicated deftly in shades of the same world-weary, relaxed smile.
"I never thought of myself as an angry man," he tells his ex.
"You are the angriest man I've ever known," she replies.
Justified is a show with age-old archetypes — the loose-cannon cop, the good ol' boy criminal skinhead — propelled beyond cliché through acting, atmosphere and writing. The show summons the spirit of the Western — the standoffs, the quick-draws, the feuds and the grudges, the hats and the drawls — while pulling it out of the often-irrelevant context of horses and saloons, into the modern day.
Purported neo-Nazi Boyd Crowder (Walter Goggins, who played the unjustifiably Emmy-less Shane Vendrall on The Shield) is similarly adept at communicating his contempt in the same calm and quiet malice as Givens.
Givens and Crowder, like most of the citizens of the Kentucky town, go way back. Every measured line between them, every long cold stare, calls back to a deep history between them. And there — not in the shootouts and explosion — is where Justified's tension becomes thickest. Those slow icy lines of dialogue make the trigger fingers twitch just right. 
TIVO-WORTHY
Ugly Americans
Ugly Americans joins that time-honored comedic tradition of taking the iconic, the mythical and the supernatural, and letting them talk about mundanity (see Venture Bros.). This particular iteration of the formula follows Mark, a social worker charged with integrating aliens and monsters into an alt-universe New York. The animation is… well… unattractive. Perhaps the creatures aren't really that ugly. They're just drawn that way. (Comedy Central, Wednesdays, 10:30 pm)

10 Things I Hate About You
This slightly-better-than-it-has-a-right-to-be ABC Family spinoff-of-a-loose-adaption returns, promising a full season more of Shakespeare callouts and cotton-candy teen drama. The best part? Larry Miller! You know, the ubiquitous bald dad guy. (ABC Family, Mondays, 8 pm)

MythBusters
Sadly, in its eighth season, the high-octane science of Mythbusters seems to be running out of myths to bust. Possible future legends to explore: Once you pop a Pringles, can you stop? (Yes, during cardiac arrest.) Is it possible to touch M.C. Hammer? (Yes, but only emotionally.) Do hot girls really go for jerks? (No, sadly.) (Discovery, Wednesdays, 9 pm)