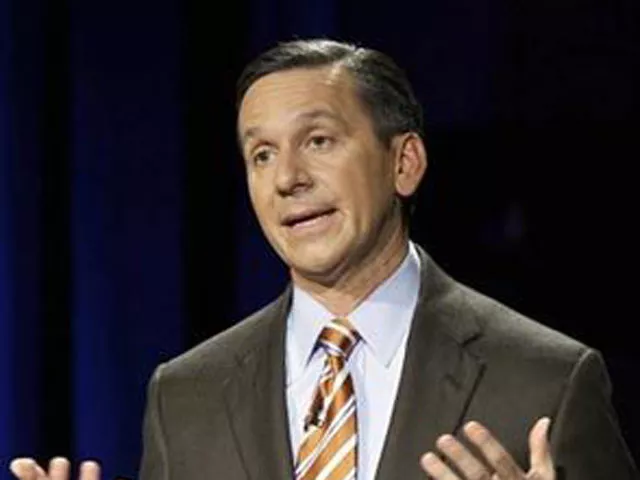 REMEMBER DINO?
With just over six months to go until the Nov. 2 general election, swirling rumors suggest two-time losing gubernatorial candidate Dino Rossi may take a run at three-time incumbent Democratic U.S. Senator Patty Murray. The already-crowded race includes state Senator Don Benton (R-Vancouver), who — perhaps a little naively — told Politico.com that he didn't think his good pal Dino "would allow me to sacrifice my family time and my business if he was going to run for U.S. Senate." He added, "If he had serious plans, I really believe he would have told me that." (JOEL SMITH)
NEWS FROM THE HOOD
It's not every day — in fact, it's hardly any day — that the BBC World News service mentions Washington State University in a broadcast, but when it comes to cutting-edge snake research, even the staid BBC radio "presenters" bone up on pronouncing "Wazoo" with a straight face.
The BBC this week extensively quoted Dr. Kenneth Kardong, a WSU professor of zoology, on research that resolved the puzzle of how cobras flare their hoods.
Determining how the snake repurposed ribs (allowing them to rotate and expand) and neck muscles to create a visual threat display was "an intriguing problem in evolutionary biology," Kardong told the BBC. "This is an example of evolution's remodeling."
The researchers painstakingly planted tiny electrodes into cobra neck muscles in order to measure electrical activity during "hooding." The researchers found just eight muscles are involved in hooding. The team's findings are published in the Journal of Experimental Biology.(KEVIN TAYLOR)
PROSECUTING DUNCAN
It's been almost two years since Joseph Edward Duncan was sentenced to death in an Idaho courtroom for kidnapping, torture and murder involving Dylan and Shasta Groene, but now there's trouble in another courtroom.
Since October, Southern California's Riverside County has been prosecuting Duncan for the torture and murder of 10-year-old Anthony Martinez, of Beaumont, Calif., in 1997. But the Riverside Press-Enterprise showed this week that that prosecution has already cost the county $167,000, and the murder trial could cost several million before it's over — this for a man who's already on death row.
Duncan, who is representing himself in the case, faces a Sept. 1 trial date but says he may need up to three years to prepare.
Defending the costly prosecution, district attorney spokesman Michael Jeandron told the newspaper, "We're not going to tell a 10-year-old child and his family that their case is not important enough to prosecute."
But University of Colorado sociology professor Michael Radelet noted that the financially strapped county should weigh its priorities when dealing with the condemned man.
"What goal is accomplished for spending several million on this case when we know the prosecutor will look tough on crime?" Radelet asked the Press-Enterprise. "It's not about whether this case is worth it. It's about whether it's worth it compared to other ways to spend the money and keep schools open." (JOEL SMITH)
MISTRIAL? THERE'S AN APP FOR THAT
The trial last week in Colville of one Betty Torres, accused of helping trade heroin for fake Oxycontin pills, has been declared a mistrial. A juror was confused about some aspect of the charge — "Accomplice Delivery of a Substance in Lieu of Controlled Substance" — so he did what we've all been trained to do: Using his cell phone, he looked it up on the Internet.
The problem, Stevens County prosecutor Tim Rasmussen writes, is that jurors aren't supposed to do any further research into the case — and they certainly aren't supposed to browse the Web.
Rasmussen says he doesn't believe the courtroom has free wireless access — though the neighboring library does. And, of course, most modern cell phones can access the Internet through their regular phone service.
"I wouldn't be surprised if there was a limitation to cell phone use [in the future]," Rasmussen says. "It's something that needs to be addressed." (DANIEL WALTERS)