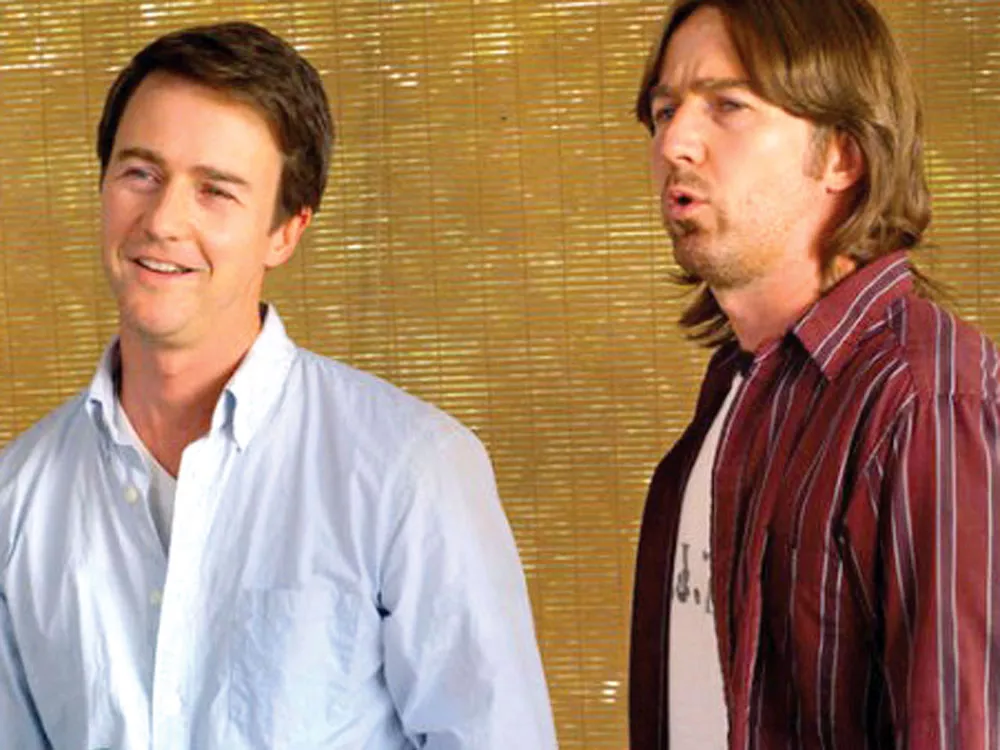 Sorry Lindsay Lohan. Edward Norton is my new favorite split-screen twin.
Leaves of Grass is a non-saccharine version of Sweet Home Alabama, complete with drugs, death and a psychotic orthodontist. It intellectually surpasses infantile reefer humor (although it does drop some chuckle-worthy euphemisms for the stoner's lexicon, like "I'm f---ing euthanised right now," or "goblet o' goodness").
Actor/writer Tim Blake Nelson's (Oh Brother, Where Art Thou?) directorial debut, Leaves of Grass tells the story of Bill Kincaid. He's an eloquent Brown Univeristy philosophy professor who has swept his humble redneck roots under an east coast facade. His is a daily regimen of higher thinking, adoration by female pupils and a Harvard recruiter seducing him to greener pastures with lobster dinners.
When Kincaid learns of twin brother Brady's freak death ("He got shot with a crossbow. They're inexplicably popular where I come from."), he begrudgingly returns to his Midwestern stomping grounds (enter literary shift from Socratic discipline to Whitman-ian abandonment) … only to discover it was Brady's cunning ruse for getting him to visit.
This could be Norton's most dynamic performance(s) since Fight Club — particularly as Brady — a megahick/groundbreaking horticulturalist whose astute intelligence is transparent despite the heavy accent. A talented cast of oddballs patchwork the theoretic tapestry of "What's the f---ing point of life?" as Bill's journey slowly chips away at his genteel facade.
The influence of the Coen brothers (agnostic black humor, quirky characters and shock-value tragedy) is obvious, but artfully balanced by Nelson's own careful attention to poetic dialogue, humanistic sweetness and subtle interweaving of philosophical thought.
It's nice to see what's left of wiry-looking Keri Russell (someone, please give that girl a doughnut), a teacher/ poet who captures Kincaid's interest. and Richard Dreyfuss puts in a gritty performance as Pug Rothbaum, an Oklahoman Jewish drug lord, but Susan Sarandon's role as Kincaid's mother is about as memorable as a bale of Oklahoma hay.
Raw but thought-provoking with some takeaway, Leaves of Grass gains momentum with time. it's an elegant study of character — if you don't get fussy with stark tonal shifts. Or have a crush on Edward Norton. (Rated R)