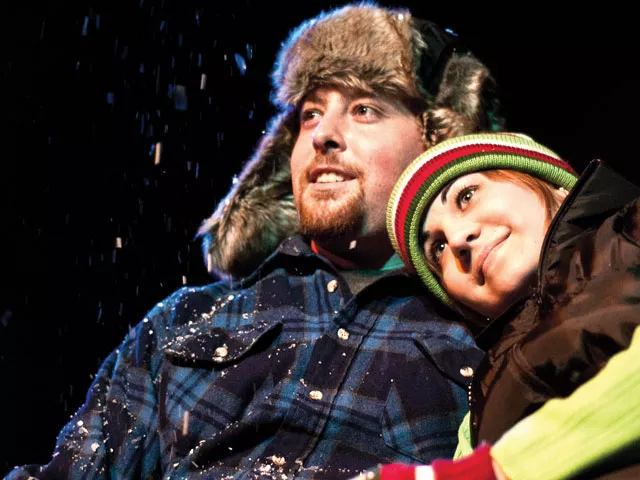 A frozen night in a small town in the remotest reaches of a northern state. Practically on the edge of the world. And cold? It's so cold, you don't have a nose.
But on this Friday night, all over town — a town like Rathdrum, say, or Bonners Ferry — people are falling in and out of love. They're afraid of getting hurt.
They get back in the saddle again anyway.
John Cariani's collection of scenes in Almost, Maine may be set in another state that's up in the other corner and way north, but it has universal appeal. There's a breaking-up scene and a lonely-guy scene, a bromance scene, a sexual-awakening skit and even a couple of saying-I-love-you-for-the-first-time-but-in-the-wrong-way scenes.
It also has a funny way of literalizing what we think of as abstract. In one scene, a woman literally carries around the pieces of what's supposed to be her broken heart. Another woman — Cariani links his scenes, but barely — returns the love her boyfriend has given her, represented by a dozen stuffed-full sleeping bags. A third woman needs the courage to walk out of a broken relationship — and the "courage" falls out of the rafters.
Unlike with movies, playgoing — especially with an imaginative production like this — involves a sense of responsibility: You're part of a group that's watching, a little community that's just for tonight, and so you start to think about how you might start making some changes yourself.
But the sleeping bags, the shards of heart — you may think, "No, this is too silly, too precious. You can't just make symbols literal and derive any significance from them. That's better left to the imagination...."
But then somebody onstage gets her eyes opened, and sure, some of the acting is more self-conscious than character-evoking. But here we are, in a small frozen town near the tip of a state that's practically a byword for "way out there and remote," and we're sitting in the dark, some of us with arms draped over the ones we love, some of us alone, some of us far away from the people we love and who don't love us back.
Anne Mitchell directs simply, which is best, though sometimes the subtleties of poignant-funny transitions don't receive their proper weight. Liberty Harris creates a lovely, forlorn moment when — with the help of Dan Heggem's lighting — she correctly answers a question ... about 15 years too late. Janelle Frisque plays a tough woman who learns to drop her just-one of-the-guys exterior. Best of all, Cory Jasmin depicts an eccentric widow — sad but still angry at the bastard — with quirky voice to match.
Lake City's Almost, Maine is smarter than the rom com that's playing at the mall, and it's in 3D (with real live people!), and it has symbols that seem silly but which eventually get you thinking that you're being silly yourself.
Like all the love you have for people but don't express. All those people you love and haven't even told.
See the play. Tell them.

Almost, Maine • Thurs-Sat 7:30 pm, Sun 2 pm, through March 6 • $17: $15, students; $13, seniors; $9, children • Lake City Playhouse • 1320 E. Garden Ave., Coeur d'Alene • lakecityplayhouse.org • (208) 667-1323