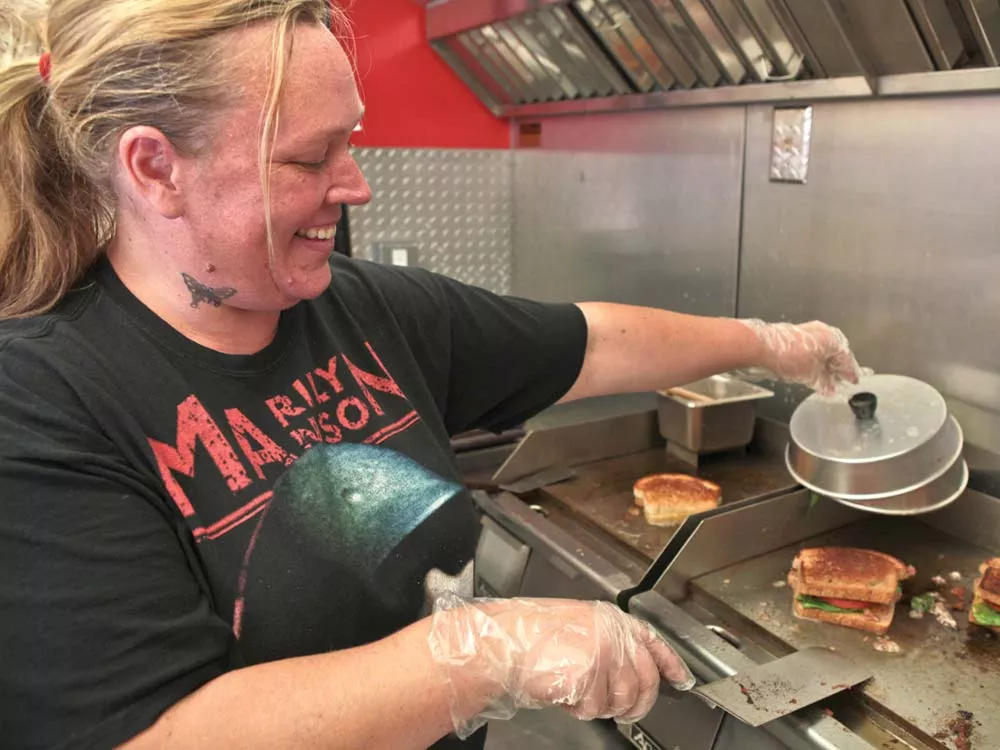 Lovers of grilled cheese sandwiches served out of food carts during your lunch hour, rejoice! Your saviors have arrived, and their names are "smaller basting lids."
When Mommy G's Gourmet Grilled Cheese cart opened on June 12, it was almost instantly slammed with customers clamoring for hot, melted cheese. Fifteen-minute wait times during the lunch rush on that Monday ballooned to hour-long waits by Wednesday. "I thought I was prepared," says Jessica Rapp, the Mommy G from Mommy G's (she got the odd nickname from her kids), "but people are animals. It's awesome." Rapp had run up against a problem of logistics. "Cheese only melts so fast, y'know?"
Those who came found 12 variations on the grilled cheese, ranging from sharp cheddar, caramelized onion and tomato on sourdough (the Jessica's Favorite, $6.50) to dilled havarti, lox and capers on a croissant (the Love-A-Lox, $7). On Monday, I waited 20 minutes for the Hamster ($6.50), whose savory mix of shaved ham, sharp cheddar, Muenster and stone-ground mustard on sourdough was tangy and savory, to the point of being sour. I'd gladly wait that long again.
Thankfully, it shouldn't come to that. Rapp spent the weekend "doing a little streamlining" for Hoopfest and figured out a way to double the number of sandwiches grilling at a time.
Smaller basting lids.
Basting lids cover the sandwiches, trapping a little blanket of convecting air that melts the cheese as the griddle grills the bread. The lids Rapp was using the first week were much bigger than bread-size, which only allowed her to put three sandwiches on at a time. With the smaller lids, she can now fit six.
That should cut wait times in half. If that's still too long, Rapp encourages phone orders.
I tried that last Thursday, calling in a French Onion Melt ($7). They said it would be 45 minutes but when I offered a sob story about having a meeting across downtown, Rapp said she could make it in 30. It was ready when I arrived. As I hustled across town, the Gruyere, sautéed wild mushrooms and caramelized onions bloomed into a creamy, earthy, sweet flavor flower in my mouth, an experience I would have canceled that meeting for.
And that's the point, isn't it? Though we cherish every single brat and street taco we've eaten, foodies have been impatiently waiting for our cart culture to spread beyond hot dogs and tacos for years now. What's another 30 minutes? (Luke Baumgarten)

Mommy G's Gourmet Grilled Cheese • Corner of Sprague and Washington • Mon-Fri 11 am–4 pm; this Fri-Sat until 10pm (for Hoopfest) • Late night hours coming in July ("We're going to try and survive Hoopfest first") • 362-4207
---
On the Side
Tell us, have you had sweet potato fries? If those from the Sidebar and Grill have yet to grace your palate, then the answer can't truly be yes. We are quite serious.

Owners Grant Cragun, a retired deputy fire marshal, and his wife, superintendent of the Deer Park school district, Dr. Becky Cooke, started the bar and grill seven weeks ago and have since been refining the menu through "trial and error," according to Cragun. The sweet potato fries, in our mind, have made the cut.

Available as a side, the fries come lightly breaded and drizzled with a subtle honey glaze. While not too sweet, they could easily pass as a dessert item. The flavors went especially well with the B&B Burger ($10), which features a buffalo burger patty with partially melted blue cheese crumbles, grilled red onions, steak sauce, tomato, lettuce and chipotle mayo on a toasted bun. Yes.

The rest of the menu is delightfully diverse, with items ranging from the BBQ Quesadilla ($7.50) — a flour tortilla stuffed with roasted chicken, mozzarella, grilled onions and barbecue sauce, all grilled and served with chipotle dipping sauce — to fish and chips ($7.50). Nothing on the menu is over $10.

Because of the place is located across the street from the courthouse (in the space formerly occupied by Hale's Bar and Grill), Cragun and Cooke opted for a judicial theme for the restaurant (sidebar — get it?). The walls are a vibrant powder-blue and have text from American history painted on the walls. "We the people" seems a perfect fit right above the bar.

Despite the open space, concrete floors and many windows, the Sidebar's vibe is still warm and should be made more so with the addition of a slew of nightly events, which Cragun has planned to begin July 1. In a neighborhood fairly short on good nightlife spots, the Sidebar will be hosting events like "kill the keg" nights, trivia, live music and karaoke, giving folks another alternative to downtown.

The Sidebar has a lot going for it: genuinely friendly staff, reasonable prices, a strong menu and their upcoming events.

Oh, and those ridiculously delicious sweet potato fries. (Tiffany Harms)
The Sidebar and Grill • 1011 W. Broadway Ave. • Open Mon-Fri 11 am-1 am; Sat 1 pm-1 am • 290-5100