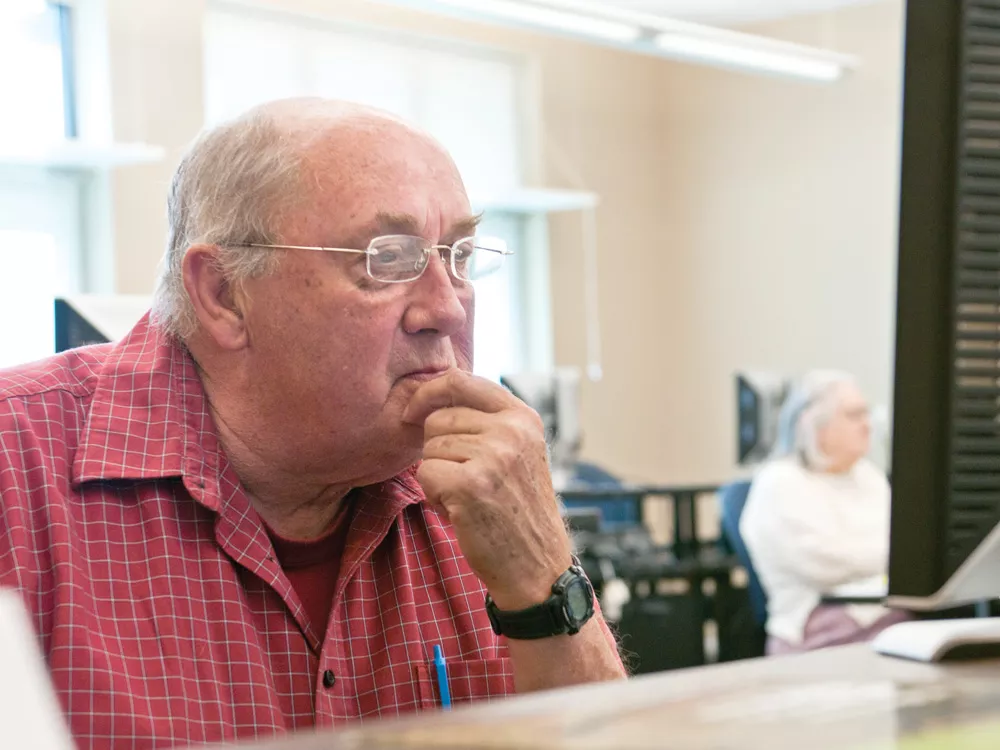 Ardis Storms refuses to reveal her age. "I'm older than 65, is that good enough?" she asks, laughing. Despite the playful vagueness about her history, Storms enjoys genealogy. It's her pastime and lifelong hobby. "Genealogy is my relaxation time — whereas my husband, he buys lotto tickets," she jokes.
More than 10 years ago, during a genealogy class taught at Spokane Community College, Storms came across a poster from the Spokane Institute for Extended Learning (IEL) that read: "Computer Kindergarten for Seniors."
Storms took the class. Then another. And another. Soon she was mastering Photoshop, restoring mildew-ridden photographs, and researching her family history online. "I was hooked," she says. "Some of the classes I've taken over and over again — because you're always learning something new."
Storms is part of a growing trend among seniors. According to a 2009 study by the Pew Internet & American Life Project, some 38 percent of people over the age of 65 are online, whereas only 15 percent of that demographic was online in 2000.
Organizers at the Spokane institute say seniors are increasingly viewing the Internet as a viable tool to stay connected with friends and family, combat social isolation, educate themselves and stay active in the online global community.


A growing body of research even suggests health benefits. According to a 2009 study by the Phoenix Center, spending time online reduces depression by 20 percent for senior citizens.
"The Internet can be life-changing for seniors," says Tzena Scarborough, an IEL instructor and the owner of a company called Are You "Going Ape" With Your Computer? "It's empowering and we need seniors to know that they can do this. They are never too old to learn."
Scarborough once spent more than three weeks teaching a 94-year-old man how to send an email to his family. She's currently teaching a man who's 92.
Storms can relate. "I was always afraid to hit the wrong button," she says. She owned a computer before taking her first class, but she was intimidated with the technology and fearful of breaking something, or worse — erasing her genealogy information.
"The thing you have to realize is: There is nothing in the world in a senior's era [where] you look at a screen and you move your hand, and the mouse moves," Scarborough says. "There's nothing similar in their realm of experiences."
That's why organizations like IEL and Spokane Public Libraries start slowly. They show seniors the inside workings of a computer — get them familiar with a mouse (one click or two), with operating systems and basic software programs — then slowly transition them online.
"Seniors can often be intimidated by a computer, and their family and friends want them to get online, but sometimes they're just a little bit afraid," says IEL instructor Judy Smith. "The biggest thing I want them to know is it's not that scary. They're not going to break it. I just teach them that it's a dumb box that a smart person made work."
Once online, the sky's the limit. Seniors can reconnect with military units, classmates, friends and family via email, Skype and social-networking websites. They can study china patterns and genealogy or research their medicine.
"You have understand the realm they're living in," Scarborough says. "If you find something that they're interested in, it will give them an incentive to learn online."


Storms says she is continually surprised at her ability to process new information. She's proud of her accomplishments. As is her family in Texas, who now regularly keep in touch with emails and photos.
"When you're a senior, you don't know — or at least I didn't know — if I was capable of learning all this stuff, especially at my age," she says. "And yet, when you're amongst other people your age, you realize, 'Hey, I'm not the only one trying.'"
Storms continues to take weekly classes at the institute. She's online every day. And she's now well aware of the dangers and pitfalls of being online. There are just some things she'll never do.
"I don't want to go into Facebook or anything like that," she says. "I don't think everyone should know when I burp." But when asked whether she'd recommend online activity to other seniors, her answer is entirely positive.
"All I can really say is, 'Try it and get your toes wet,'" she says. "Because if you don't like it, you can always go back and dry off your feet. I'm probably up to my ankles by now. But there's a lot more out there for me to know. And who knows? I'll probably be up to my knees soon."
This story first appeared in InHealthNW, The Inlander's health-focused magazine.