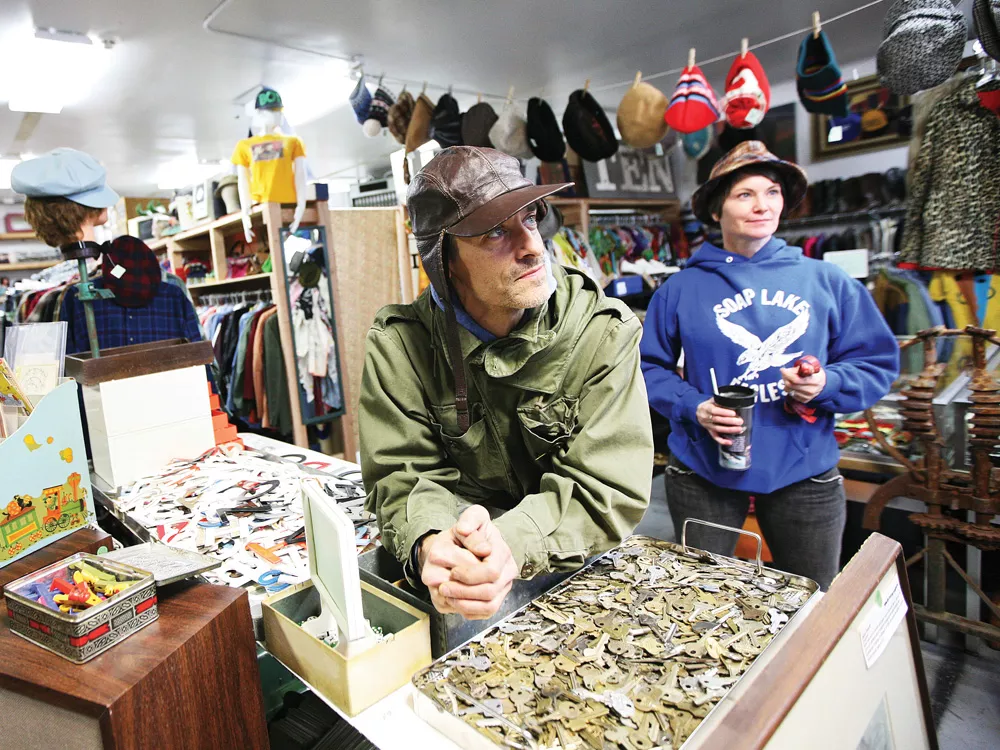 Ever wish you could travel back through time — not to alter the past, but to revive an experience?
That kind of journey is possible on just about any Saturday afternoon in Spokane, thanks to a handful of temporal guides in our own backyard.
In the vernacular of our times, they are known as pickers (alternately: junkers, gleaners), a breed of urban archaeologists with keenly honed senses and encyclopedic knowledge of antiques and collectibles. A picker ventures out each weekend — junk radar set to "maximum" — to scour the dusty basements, attics, garages and barns across the county on a quest for the fabled Most Fabulous Object in the World.
And while the popularity of television programs like Pawn Stars and American Pickers has introduced a new wave of would-be collectible-hunters into the arena, veterans know that nothing — not even a smart phone with a direct eBay link — is more valuable to the quest than experience.


Just north of the Monroe Street bridge sits Time Bomb Toys and Collectibles, owned and operated for the past 5 1/2 years by picker Josh Scott.
His realm is a neatly merchandised shrine of plastic, rubber and steel, recalling a time when mechanics were far more vital to our expanding imaginations than electronics. The first thing you notice as you walk in is a tight column of restored classic bicycles, one of Time Bomb's specialties.
"I found my first really cool bike in the summer of 1993," says Scott. "It was an AMF — with the wedge-shaped frame and big ol' sissy bar. It was mint and had always been stored in the garage. That was a rush."
Junk Gems
Time Bomb
711 N. Monroe St. • 326-6949
Spokane Vintage Warehouse
2226 E. Riverside Ave.
Drop Yer Drawers
719 W. Garland Ave.
The Bachelor Pad
2611 N. Monroe • 326-4842
Area 58
3036 N. Monroe St. • 327-0427
Stars Trading Post
3007 E. Diamond Ave.
Scott was hooked and began to scour local estate sales and yard sales for another fix. In doing so, he gradually diversified his holdings as other collectibles began crossing his path.
"The first old toys I ever found were at an estate sale on the South Hill," he says. "I found a Six Million Dollar man figure with all his original clothes and the lady there says, 'Oh, you want more stuff like that?' So she turns me on to all these toys they still had. I found my first 12-inch G.I Joe figure with all his army fatigues and gear. And it just blew up from there."
Beyond the procession of bicycles, Time Bomb features an expansive assortment of hard and soft ware from the past 40 years — a vast selection of toys and games, model kits, hot-rod magazines, vintage clothing, rare books, arcade games, vinyl records. Scott's collection even boasts an original box of "Jarts," a steel-tipped lawn dart game infamously discontinued due to its ability to pierce human flesh.
Local pickers like Scott, who make the leap into retail sales, fill a niche in the collectibles market, fitting neatly between thrift stores and the more rarified atmosphere of an antique shop.
"I like to give it kind of a museum feel," Scott says. "A place where you can go look at cool stuff that you don't see every day. And it's all for sale, too."


Six months ago, longtime vinyl connoisseur Tony Brown transformed his United Groove Merchants record store on North Monroe into a new store, called the Bachelor Pad. In addition to offering the usual spread of rock, jazz and blues records, the store is well-stocked with neatly displayed rows of high-quality vintage stereo gear from the 1960s and '70s, men's suits and accessories, and scores of fine new hats in classic styles.
Diversification has also benefited David Robinson of Drop Yer Drawers (or "DYD"). He's been in the vintage clothing trade for almost 20 years and has operated his Garland District store for the past three. The handmade sign in the window may read "Awesome Apparel," but that only begins to cover what Robinson has in store for would-be time travelers. Amid the long racks of jeans, jackets, shorts and footwear, you'll find musical instruments, vintage stereo equipment, and all manner of men's and women's accessories.
"These old things have a history and a life that you don't get when you buy something new," says Robinson, while pointing out a delicate pair of women's lace-up boots from the 1930s.
If your tastes run a bit deeper into the strange, a trip to the Spokane Vintage Warehouse is a must. A sprawling, ever-changing time capsule, the vintage shop and art gallery is owned by local picker duo Jon and Heather Swanstrom. The husband-and-wife team has been in the retail collectibles business since the early '90s.
The couple's current store is a sweet feast for anyone with a voracious vintage appetite. The eye candy is everywhere: a mod Italian glass-top bar and Lucite tulip chairs; a spread of Atari 2600 game consoles; the Casiotone 401 analog keyboard (in faux-wood grain); the mid-century fiberglass shell chairs. In one corner, a pair of space-age walkie-talkies sits next to a glass case housing an articulated human skeleton.
The Warehouse also features some of the finest vintage threads in the city.
"Vintage clothing has been very good to us," says Jon Swanstrom. "But we tend to specialize in the bizarre."
Much of the foot traffic here comes from curious fellow pickers who delight in the Swanstroms' penchant for such elusive treats as original works by local artists, smoldering chalkware nudes, and large display letters from old signage.
Jon says he often hears the question, "Where the hell did those come from?" Swanstrom, like his fellow pickers in the retail game, is cautious when revealing time-travel secrets.
"I don't really want to divulge exactly where," he says, "But for some reason, they keep coming to us."