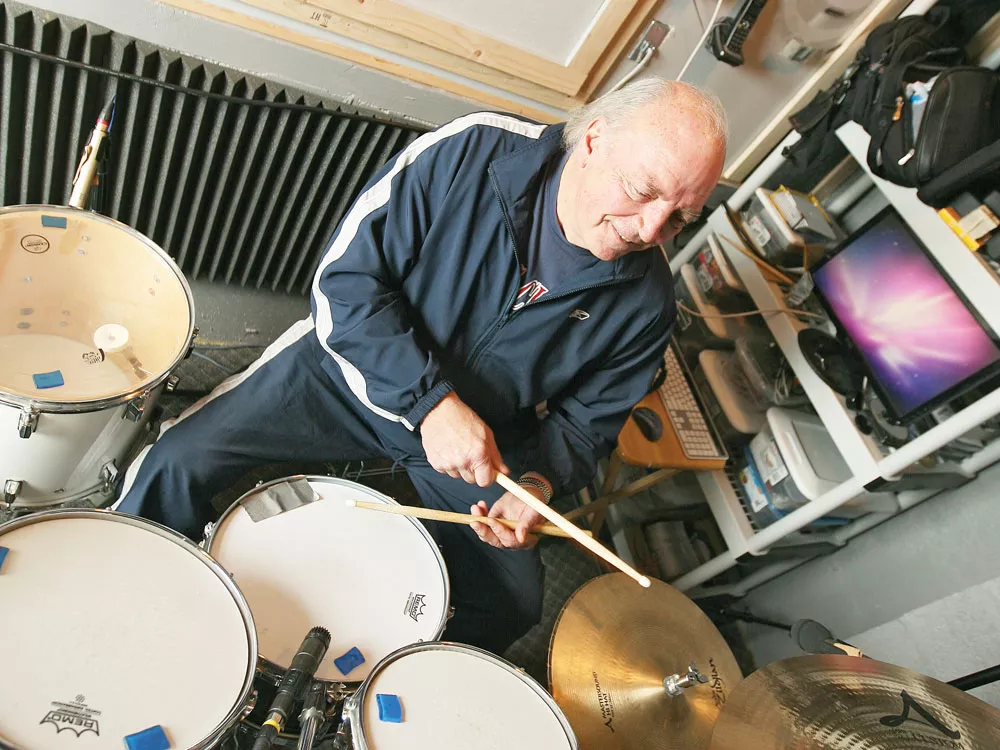 Peter Hoorelbeke was born to factory workers in Detroit. His mother was a homemaker and his father — like so many family men before him — worked with sheet metal in the automotive industry.
"I remember living normally until I was 11," says Hoorelbeke, 67, who is better-known as Peter Rivera. "Things started changing when I started playing the drums. Suddenly someone in the family was doing something different."
At age 10, a door-to-door salesman from the music school "Meet Mister Callaghan" knocked on the family's door and wanted to test the children's musical ability. Rivera's family fell for the shtick, and within weeks the son of a factory worker had become a musician.
"It was $3 for a drum lesson, and that was kind of a hardship on my dad," Rivera says. "He didn't make a lot of money, but I got a pair of sticks and a drum pad, and that was that."
Those $3 drum lessons would one day send Rivera to Motown Records, where he would become the lead singer and drummer of Rare Earth — one of the first all-white bands signed to the iconic record label. He would sell millions of albums, brush shoulders with the Temptations, the Supremes and Marvin Gaye and eventually spiral out of the limelight.


Rivera´s parents refinanced their house to buy his first drum kit. He set up the sparkly gold Ludwig drums in the basement, with the record player stacked on top of cinder blocks behind him. Every night, until curfew at 9 pm, he'd play along to Little Richard's "Tuttie Fruttie" and the top records of the time. The drums simply enthralled him.
"I would sneak down to the basement and just sit there and stare at them and smell the lacquer," he says. "I mean they were just so beautiful."
At age 15, he formed a band called the Sultans.
At 17, he joined 19-year-old twins Ralph and Russ to form the Sunliners. Rivera sang and played drums at the same time out of necessity. He kept a straight, solid rhythm on the drums and "avoided the fancy stuff." The first song he ever sang was "Runaround Sue" by Dion and the Belmonts.
"My mother always thought I was the greatest singer in the world," he says.
The band performed at weddings and gradu- ations. They got fake IDs and eventually worked their way up to playing six nights a week at a seedy Detroit bar. "We played in front of strippers and bar fights and brawls," Rivera says.
"But soon there was a line out the door. We had a manager and we were playing Club Cliché, the biggest club in town."
A friend of their manager was a hairdresser for the ex-wife of Berry Gordy, the founder of Motown Records. Eventually, the ex came to the Sunliners show.
"We recorded at Motown six nights in a row right after playing the club," Rivera says. "We'd be in the studio from 2 to 9 am and then clear out in the morning for their normal sessions."
It was 1969, and the band signed with the record label and changed their name to Rare Earth.
They recorded an album,
Get Ready
, but it didn't gain much attention at first. Then it got into the hands of a disc jockey in Baltimore. Then Washington D.C., then Atlanta, Chicago, Detroit — all playing the single "Get Ready."
Within a year, the Top 10 album sold 4 million copies.
The "blue-eyed soul brothers" mastered the licks and riffs of the time, and Rivera's voice embodied the rawness and swagger of rhythm-and-blues. Motown was a predominantly African-American-owned record label, so Rare Earth was marketed and played by African- American radio stations.
"We appeared on the soul charts before the pop charts," Rivera says. "We weren't really known in the white market until the records started crossing over."
From 1969 to 1975, Rare Earth had hits with songs like "I Just Want to Celebrate." The band turned down a gig at Woodstock and played the Atlanta International Pop Festival instead. They played at Madison Square Garden, with bands like Steely Dan, the Doobie Brothers and Earth Wind and Fire opening for them. Today, Rivera remembers eating pizza with Diana Ross, lending his drum kit to the Jackson Five, and sharing new headphone technology with Stevie Wonder.
In 1972, Motown relocated from Detroit to Los Angeles, and Rare Earth followed. The partnership with the label was successful, but Rivera says the band was always treated like outsiders.
"Motown didn't really know how to support us," he says.
"They didn't understand us; we were a rock group. Motown had the production-line mentality of Detroit and a certain way of doing things, and Rare Earth broke that mold. We were only good as long as we kept making hit records."
But the band stopped producing new material and eventually nose-dived off the Hollywood hills. Egos, adversarial management, cocaine, Quaaludes and "a lot of dope" tore the band apart and led to a multi-million dollar lawsuit.
Rivera left the band in 1974.
After a brief reunion, he severed ties altogether and performed for 17 years as the Classic Rock All Stars with Mike Pinera from Iron Butterfly.


Rivera still has the long wispy hair — now white – of his yesteryears. He looks to the sky while speaking about his beer-loving father in Detroit, his mother, and the music that defines him.
Today, he and his wife of 40 years live near Wandermere, in north Spokane. He met his wife in 1967 at a club — she was a cute flight attendant on a layover, he was drummer in a rock band.
He wrote his autobiography, Born to Wander, in 2001 and just released Been There Doing That, an album of unplugged and remastered Rare Earth songs. He's been recording new material with local musicians in a studio just off his garage. The studio is a sea of cords, microphones, framed albums, mixing equipment and Ludwig drums stacked higher than the door.
He describes the new material as everything from eclectic ballads to good old rhythm-and-blues.
"At my age, I'm not looking to be the next whatever, 'cause that is never going to happen," he says. "But every once in a while, I look at my wife and say, 'You know, I'm going to be the first one in their late 60s to get a hit record.'" He shared this sentiment on the phone with Mark Farner from Grand Funk Railroad just the other day.
"I feel like I've got something in me still that could be strong. The odds of something big happening are so slim, but we have to keep that. That's the faith and the hope, that's what keeps you going.
If you give up on that, it's time to die I guess."
Steve Springer benefit show feat. Peter Rivera, Sammy Eubanks, Soul Proprietor and Big Mumbo Blues • Sun, Jan. 22 at 6:30 pm • $15 • 21 • Bluz at the Bend • 483-7300