To begin, a confession: I'm not an auto racing fan, but I play one at the track.
It started 12 years ago while attending my first racing event: stock car races on a dirt-track course in Republic, Wash. The public address announcer, I soon learned, was also the mayor. That's as small-town as it gets.
That experience set off a long-term cultural case study of sorts. Not in dedicated fandom or even general interest in the actual competition of auto racing; but, rather a curiosity with this sport, which at its most basic level is just a bunch of very loud, offensively smelly, resource guzzling machines moving fast, usually in a circle, sometimes for hours on end.
No, auto racing in its many forms — as a sport or recreational activity — isn't my first idea of fun. (This coming from someone whose top pastime and TV-sport preference are, respectively, trail running and golf.) But, to each his or her own. One man's exceedingly loud use of gasoline is another's favorite sport. NASCAR, IZOD IndyCar Series, drag racing and everything on down may not attract me as a sincere fan, but they do appeal to plenty of other people. Many, many other people.
In some ways, auto racing sports are the near perfect embodiment of American ideals.
Looking for America
Simon and Garfunkel went looking for "America" in their song of the same name by "counting the cars on the New Jersey turnpike."
"They've all gone to look for America," the duo sang.
All those people in cars on the Jersey turnpike are on the right track (pun intended) if they're looking for the signs of what defines this country. That is, they're in it: cars.
The world has planes. Europe has trains. And the United States has automobiles. We've perfected and embraced automobile travel and usage like few other countries. Interstate highway system? Yeah. We built that.
Say what you will about the contemporary struggles of the U.S. auto industry, it is one of the country's defining characteristics. We still make cars. We love cars. We drive cars — a lot.
And if people were truly curious to see a sport or activity of cultural and societal significance, they'd pull off Simon & Garfunkel's Jersey Turnpike and head to the nearest racetrack.
There at the track — from the small regional raceway or drag strip to the practically sacred grounds of Daytona or the Indianapolis Motor Speedway — is a sport, a societal gathering, a recreational activity that is popular to a point that defies common sense.
Or does it?
Racetracks are the great unifiers, where the smallest of towns can gather for a night of dirt-track racing in stock cars or the crowd pleasing demolition derby or the school bus races on a figure-8 track. (That's really a thing. I've seen it.) Or 400,000 of your closest friends can pack the stands and infield of the Indianapolis Motor Speedway for the famed Indianapolis 500, touted as the largest single-day sporting event (by attendance) in the world.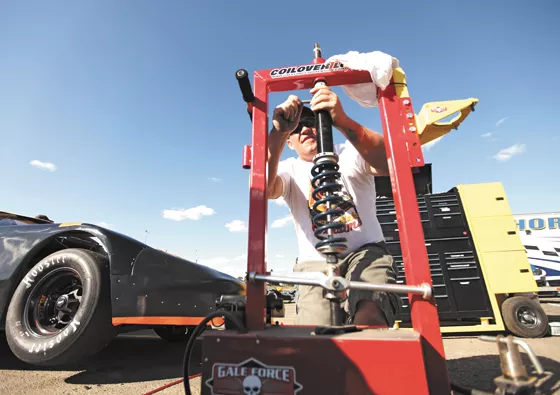 Indiana may be known for its high school and college basketball traditions, but auto racing is a noticeable and unmistakable force. In Indianapolis, where I lived for three years and still travel often for work, the month of May is a 31-day-long love affair with the city's signature auto racing event. The "500 Festival," as the month of events is called, includes a half-marathon road-running race that features as part of its course the 2.5-mile Indianapolis Motor Speedway track.
Having run that race and driven past the Speedway for many months on my way to work, I can attest: The speedway is huge. Massive. Almost incomprehensibly so. The infield contains part of a golf course. The Speedway likes to tout the fact that this infield is large enough to hold Vatican City, Churchill Downs, the Rose Bowl and Yankee Stadium, with room left over for the Roman Coliseum and the grounds of Wimbledon.
A huge speedway makes sense. We like things big in America. Big trucks. Big fast food burgers. Big ideas. Big political conventions. Big (well, "mega") churches. Big-time sports.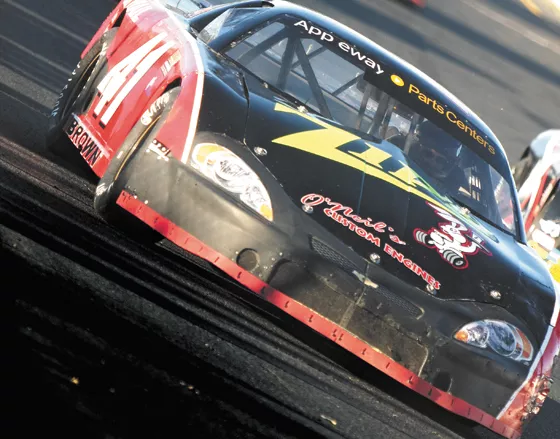 Not All Big
While the huge racetracks — Indianapolis, Daytona, Bristol, Texas Motor Speedway — are testaments to how popular NASCAR and IndyCar have become, the connection between auto racing and "American-ness" is perhaps more telling when visiting a small track.
Before a financial dispute with a private subcontractor cancelled the remaining 2012 races (see sidebar), hundreds of race fans regularly assembled around the oval track at the Spokane County Raceway.
The August 24-25 weekend brought out racers in several categories, from demolition derby to stock car to high-end performance cars to drag racing.
From the oval track's pit area, looking up at the stands, the concessions and their signs beckon: "Fresh popcorn." "Cotton candy." "Shaved ice." "Kettle corn." "Frozen lemonade." But the smells of the snacks don't waft below to the pits. From here, one can only smell burning rubber and smoking oil. No sound of corn popping is heard, only the whine, ever louder, more high-pitched and piercing as each car approaches around the track, across the line of sight and around the next turn.
In the infield are trailers and trucks that transport cars from one event to another. They run the gamut, from semi-truck to Dodge Ram. Chevy. Ford. American-made, American companies, to be sure. Toyota truck sightings are scant. (Though any Toyota truck you do see is most likely manufactured in the United States, albeit not in Detroit.)
Car 51, driven by Ty Murray, is readying for the stock car races on this Friday night. It's more of a go-kart or sand buggy with a roll cage surrounded by a Mustang frame. On the body are black decals of four deer, three people walking and two wheelchairs, displayed like silhouetted trophies on a World War II air fighter's wing.
Murray has been stock car racing since 1995. The only decals that don't represent actual collisions, he says, are the wheelchairs, which he says is a joke with a crew member.
"So you've hit all those deer with your car?" is the logical question..
"No. With my truck," he says.
As for the three human stick figures, who knows.
Is hitting deer — or any other animal — uniquely American? No, but having decals on your converted Mustang stock car to commemorate it may be.
In the grandstands above Murray the Patzkowski family takes in one of their favorite activities. Kim and James Patzkowski have taken their kids to various races since their oldest son, Andrew, 11, was a week old. The other Patzkowski boys — Matt, 7, and Connor, 4 — seem just as enamored with racing as their big brother.
They say almost in unison that demolition derby is, for the most part, why they're here.
"That's our favorite thing — the wrecks," Kim says. But she's quick to add, "as long as no one gets hurt."
Andrew stands as Ty Murray races in warm-up laps against another car. Murray's #51 car whizzes by. How fast? 60? 70? 100 miles per hour? No matter. Andrew jumps to his feet, arms outstretched, fists punching toward the sky.
Murray returns to the pits to prepare for more racing later that night.
There's no joking, small-town mayor acting as public address announcer here on this night. But somewhere in America at some other race track there very well could be.
That would be just fine by me. We don't all have to like or follow the same sports. But we should at least agree that there's room enough in this country for all sports — racing or whatever else.
America is, after all, really big. 
---
Uncertain Times at Spokane County Raceway
Auto racing sports may be popular on the whole nationwide, but that hasn't kept the Spokane County Raceway from feeling the sting of financial woes.
The hammer came down on part of the track two days after the Raceway's oval track held a weekend of various races Aug. 24-25.
Owned by Spokane County, the Raceway — which includes oval, road and drag racing tracks — is operated under contract by Raceway Investments and manager Craig Smith. The oval track was subcontracted to Full Blown Promotions, run by mother and son Sheri and Brycen Tarr.
Smith terminated the Tarr family's subcontract on Monday, Aug. 27, citing delinquent rent. That effectively cancelled the remainder of the 2012 oval track racing season and caused public tensions between the Tarr family and Smith at a press conference the same day.
Much of Full Blown Promotions' financial woes stem from tight state liquor laws that prevented the oval track from selling alcohol due to the subcontracted nature of the lease.
— SCOTT A. LEADINGHAM