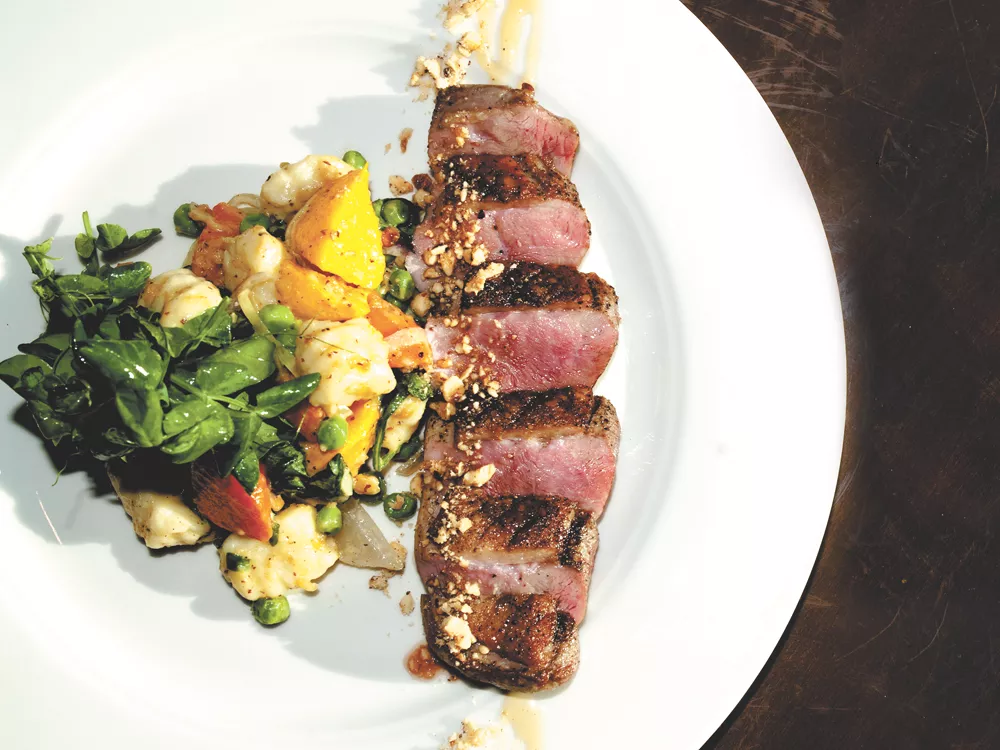 Most of us don't grow up eating duck. We're fine with chicken and beef — probably because those animals weren't depicted as prominent Disney characters. This is also a likely explanation for why we shy away from eating mice.
But here's the thing: Duck is delicious. The breast of duckling at Spokane's Wild Sage is doubly delicious. You don't have to eat it all the time, but you should really try it before you die.
"It's probably one of our bigger sellers, and I think it's really unique to the restaurant and speaks to what our concept is all about," says Wild Sage Chef Charlie Connor, a Cheney native who has been at the helm of the self-described American Bistro on Second Avenue in downtown Spokane for about four years.
The restaurant prides itself on using fresh, local (whenever possible) ingredients for cuisine that's often rooted in flavors from around the world, but always features a Northwest influence.
"We're really eclectic, and we're thought of as upscale yet casual place to go to find uniquely inspired dishes," he says over the top of a counter as he feverishly prepares the duck.
When Connor came to the restaurant, he wanted to put duck on the menu. When he did, he added seasonal vegetables and house-made potato gnocchi for a robust, flavorful and ultimately indulgent meal. Why did he bring it onto the menu? Well, he likes duck.
"I've always been a big fan of duck. I have experience cooking with it in the past, and I really love the way it eats compared to a chicken breast that's very easily dried out," says Connor.
The breast of duckling at Wild Sage features Muscovy duck raised naturally in Iowa (Connor sighs with a bit of regret when he says that it's not from a farmer down the road). It's fattier and juicier than any sort of chicken dish, and that's why it's so succulent. The meat is soft and rich, and it's cooked with a cider gastrique — a vinegary sauce — that effectively keeps the meal from coming off as too fatty, though some diners might not complain about that. Pan-searing gives the duck a unique texture, which Connor has carefully thought out.
"It has a lot of elements that really mix well together. The fat in the duck breast is crispy when it's rendered down," he says.
The meat could stand alone, but Wild Sage isn't the sort of place to leave you hanging like that. Complementing the duck is a sea of seasonal vegetable sauté and, most notably, house-made potato gnocchi. While a reference to gnocchi might cause some to remember gastronomical horror stories of bland, overly starchy balls that cling to the roof of your mouth, Connor's take will reaffirm your belief in this pasta substitute. This gnocchi is tender and tasty — more of a dumpling than the pasta substitute some might expect. It's a smart companion to the bold and robust flavors that boom out of the duck breast.
Connor knows not everyone is going to dive into the duck, which is why the Wild Sage menu is full of other, more familiar options. He knows it's a bit of an adventure for some diners to put their fork in ol' Donald, but that's why he's such a fan.
"I love the uniqueness of it — it's a little different from what other people are serving downtown," says Connor.