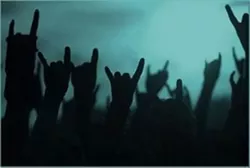 Hot damn! We've planned your weekend and it's gonna be awesome!

"The Gimp Is Keyzer Soze" and "The Whale Escapes." They're songs by Pour Soi off their album Spoilers — one of the best local records we've heard in years. The band fizzled a year ago when singer Joe Kelleher (Chinese Sky Candy) left to teach abroad. They'll reunite tonight at Mootsy's for a show that's sure to be fun as hell. 10 pm. $5. 21 .

Usually she's gone all summer on tour, but from the looks of her blog, it appears Karli Fairbanks has been in town — she's just planning her wedding. Catch the beloved singer/songwriter tonight at Empyrean with Bill Mallonee and another local, Marshall McLean (see our story here). Show's at 8 pm. $8. All-ages.

The Seaside reminds Spokane tonight about the gems we've got here. An all-local show that will totally rule: Matthew Winters, Benjamin Gordon, the Black Taxis and Elijah Mink. Try THAT on for size. 9 pm. $5. 21 .

This is the end. For La Cha Cha. The longtime rockers call it quits forever, they say, this weekend. Catch them tomorrow evening on the South Perry Street Fair at 6 pm (alongside Hey Is for Horses) and tomorrow night at the Blue Spark at 9 pm. Blue Spark is 21 , and there will be a cover chargeat the door.

She sure as hell seems to like us. Sallie Ford has wooed Spokane twice in the last year, and she's back tomorrow to do it again. Her band recently took Willamette Week's award for Best Band in Portland, and they were also named the best band in the state of Oregon by the Boston Phoenix. Damn, girl. She rocks Empyrean at 8 pm. $8. All-ages.