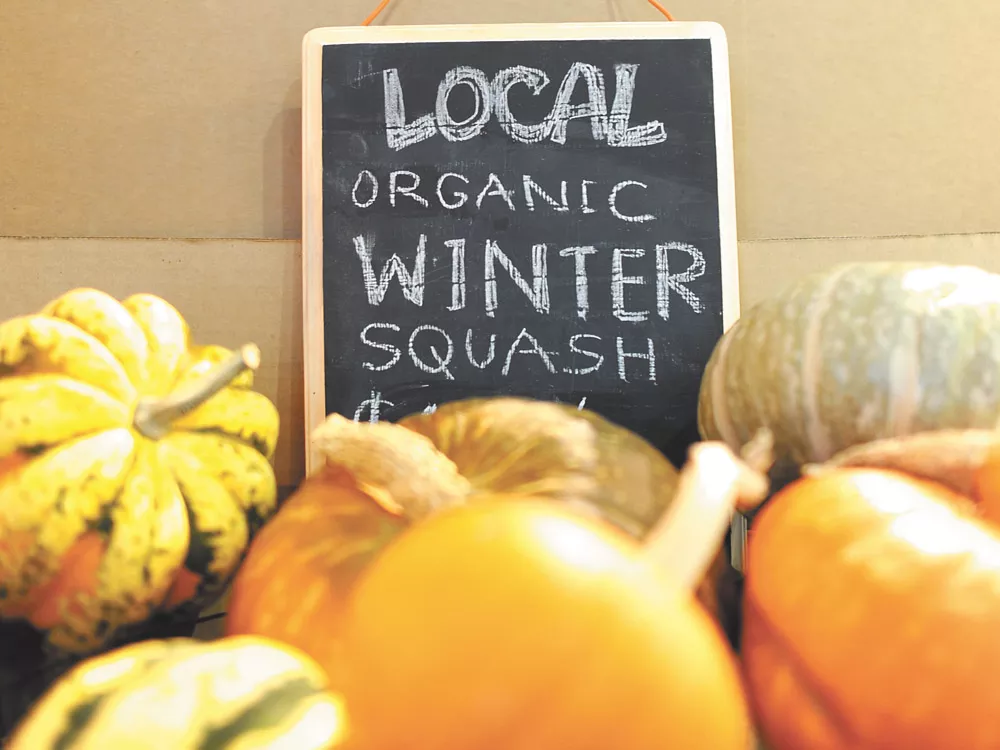 Here, during the height of winter on the 47th parallel, we're lucky to get nine hours of daylight. If we could only tip the earth a bit, then maybe we could avoid seasonal depression or, even better, eat fresh locally grown tomatoes in the middle of January. But, sadly, it seems that we are to be forever stuck with a short growing season.
As soil temperatures dip below 40 degrees and access to natural sunlight grows limited, some local farmers are trying to alter the inevitable by turning to indoor growing and stored crops in an effort to keep Inland Northwesterners eating locally throughout the winter months.
Gary Angell, owner and operator of Rocky Ridge Ranch and a Perry Street Farmer's Market board member, has spearheaded an effort to keep the market open every Thursday evening through the winter months. Though you won't find peppers or tomatoes at the indoor location (924 South Perry Street) you will find an array of storage crops like potatoes, apples and squash. You will also find fresh herbs and cool weather crops like leafy greens, brussel sprouts, leeks, beets and carrots.
Growing these products in winter isn't easy. The wind coming down from the hills surrounding Gary and So Angell's ranch can bring tears to your eyes, but the rows of three-foot-high "hoop houses" stand firm. The houses rely on the sun for the warmth necessary to keep kale, salad greens and Brussels sprouts in active growth stage. When the weather gets colder, the Angells shift their production focus to the heated greenhouses that contain winter greens and less hardy microgreen mixes. If you are ever in need of some winter aromatherapy, see if the Angells will let you inside their herb greenhouse.
Angell admits that winter harvesting is challenging, but he wishes more local farmers would grow through the seasons. He knows that the market for the produce is there.
Stuart Fry, another area farmer, has found this to be true. Along with his wife, Cheryl, Fry owns and operates C&S Hydrohuts, an 8,000-plant-capacity hydroponic farm in Otis Orchards. Outside it's a cool gray day with the threat of freezing rain, but inside are heads of light green lettuce and the smell of spring. Fry steps into the brightly lit, humid, 66-degree hut and reveals row upon row of butterhead lettuce in different growing stages.
"That's the new crop. That's the crop we started yesterday," says Fry, pointing to different rows of foods.
"Right now we're pulling 1,500 head [of lettuce] a week," he says. "During the winter we kind of fall behind a little bit because of lack of sunlight."
Increasing the amount of light increases power usage and causes the crop to become less cost-effective. Fry strives to keep his prices within the same range as products that come from Canada and Mexico. He does bump up the lights enough to meet an increasing demand for his produce, a demand that includes calls for lettuce, kale, watercress and a variety of microgreen mixes. He doesn't plan on stopping there.
"Our goal is next winter, to have tomatoes available in December, January … that's what we're hoping for," he says.
These farmers earnestly believe in the work that they do and in the food that they grow. Over and over again they repeat variations of the same chorus: that their efforts aren't so much about food as they are about creating and maintaining a healthy, sustainable economy and lifestyle in the Inland Northwest.
Feeling guilty because you're not a farmer's market patron or member of a community supported agriculture program? Buck up. You might be buying local without even knowing it. Local farm crops are found throughout the area in grocery stores like Huckleberry's, Yokes, Rosauers and the Rocket Market.
Leah Scott, the Main Street Market's produce manager, has found the grocery's produce section awash with squash from Tolstoy Farms and apples from pretty much everywhere.
"If you're in Washington and eating locally you have a wealth of options in apples right now. We have 25 different varieties," she says.
Many are heirloom varieties and present some extraordinary tones of reds and golds. Starting next month, Scott will have recipes available in store and online for people who find the idea of slicing into a pristine squash somewhat intimidating.
Fortunately, restaurants like Sante, Wild Sage, Latah Creek and Clover purchase crops from C&S and Rocky Ridge Ranch. According to Angell, one restaurant with a locally grown menu can help support up to five family farms; even in the dead of winter. And by the dead of next winter, if Stuart and Cheryl Fry have their way, those restaurants can add some locally grown tomatoes to their locally grown greens.