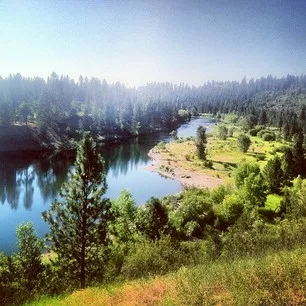 Technically there is still some summer to be had, and the weather this coming weekend looks plenty warm. It seems like only a few weeks ago that we put together this year's
summer guide
. But somehow it's already Labor Day, and the end of our most ambitious summer plans.
Now, for the most part, thinking back on this summer mostly reminded us of all the awesome things we've gotten to do and take part in. But there are always a few things that slip by — and suddenly it's the school year again, with football games and jackets and eventually snow. So here are some of our summer regrets:
Not fixing up my '66 Pontiac to catch one of the last shows ever at the Auto-Vue drive-in movie theater, which closes this weekend.
Not swimming in any regional lakes or rivers, much less tubing the Spokane River, which seems to be probably the best thing about living here.
Should have tried Geno's before it caught fire. Will just have to visit the new Geno's.
Did not attend the KYRS Music Fest in Peaceful Valley.
— JACOB JONES
Not visiting Pullman more often while the WSU students were out of town for the summer break — football weekends are just completely different. And Huckleberry Ripple ice cream from Ferdinand's once a summer is not enough.
Not going to see what is most likely the final Royal Fireworks Concert.
Not drinking a single beer in a park, not at the Fountain Cafe in Riverfront Park or the Park Bench Cafe in Manito Park. (Still possible through at least part of September.)
I spent pretty much all summer meaning to make key lime cheesecake, and I finally did that last weekend. It turned out quite well, but a little practice would've helped.
Not becoming best friends with someone who owns a boat and cabin on Coeur d'Alene.
— LISA WAANANEN
Not (yet) visiting Lovitt Restaurant in Colville for its excellent locally sourced food, big friendly porch and view of the valley.
Missing Terrible Buttons' performance at Pig Out in the Park last night. Do they have all their members back after their drummer broke a finger (or was it multiple fingers?) earlier this summer? I would know if I'd seen the show.
Never seeing the serious cash potential of selling old Inlanders on Ebay.
Spending too much time inside browsing the mayor's proposed 2014 budget, all 628 pages of it.
Not finding a way to spend every summer night on the roof of the Saranac building — maybe my favorite spot in Spokane — after seeing an enchanting Cathedral Pearls show there this spring. Seriously, can I live up there?
— HEIDI GROOVER
No matter how bad the reviews were, not seeing The Great Gatsby in the theater. Baz Luhrmann paired back up with Leonardo DiCaprio? Now that it's out on DVD, it just won't be the same.
— LAURA JOHNSON
I feel like I did quite a bit this summer that I'd had on my mental summer to-do list, but the things I wish I'd done are:
Hike to the top of Mt. Spokane.
Float the Little Spokane River.
Read a book outside on a blanket on the grass.
Bike the Hiawatha Trail.
— CHEY SCOTT
I didn't go to Sasquatch or Bumbershoot or Capital Hill Block Party or even the Garland Street Fair. I did go see Phish at the Gorge but because of a recent voter initiative I don't remember the second half of the show.
— MIKE BOOKEY