Sun, Dec. 8 | Jingle All the Way
"Oh, it's lovely weather for a sleigh ride together with you..." may be one of the many holiday songs you'll croon as you cozy up under blankets next to loved ones, gliding through the pristine Selkirk Mountains in a one- (or two-) horse open sleigh. The Western Pleasure Guest Ranch outside of Sandpoint offers old-fashioned winter sleigh rides through the dense, snow-covered forest, both as transport to cut your own Christmas tree and as a nostalgic, holiday-time adventure.
The ranch's fleet of sleighs can accommodate groups of up to a dozen passengers per sleigh, which might be pulled by good ol' Bud and Larry or the majestic Jet and Justice, some of the ranch's draft horse teams. After your ride, cozy up in the lodge for hot cocoa, coffee and popcorn, or a country-style dinner. Kids age 5 and under/free, ages 6-12/$15, adults/$19. Rides offered Mon-Sat from 11 am-6 pm, Sun from 2-6 pm. westernpleasureranch.com (CHEY SCOTT)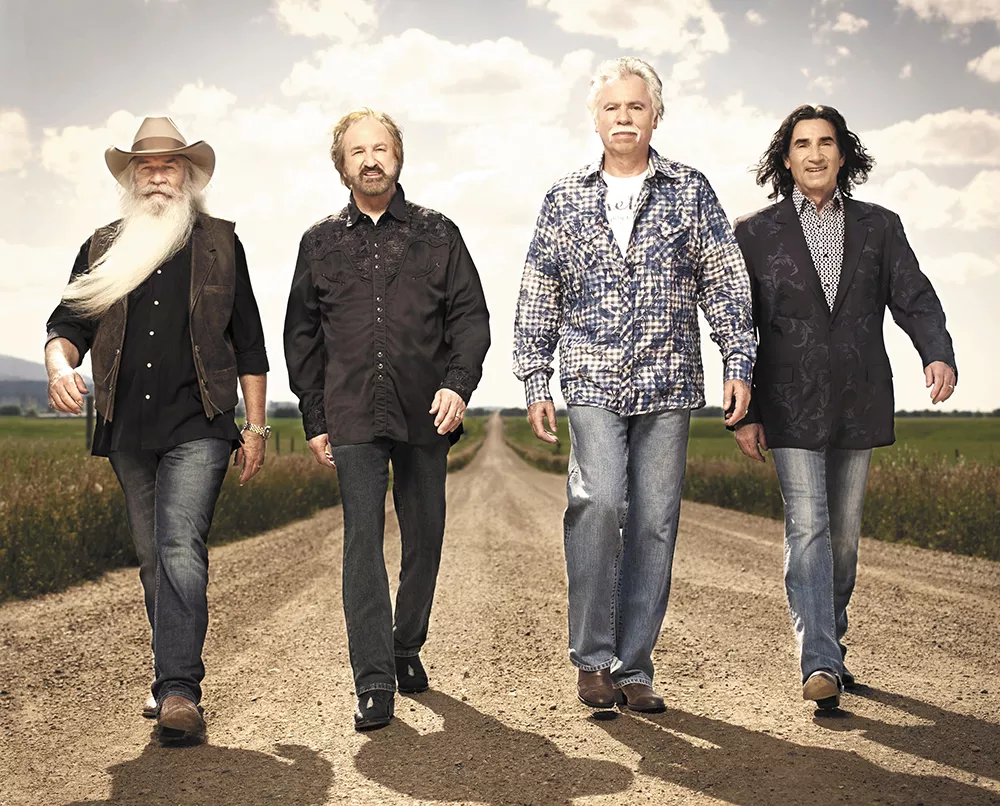 Mon, Dec. 9 | A Country Christmas
Some people wait all year to hear Christmas music, and surely many of them will be at this Monday evening country-gospel concert, featuring the award-winning Oak Ridge Boys quartet. Never heard of them? There's a good chance most millennials haven't, since the group debuted back in the '40s, though its current members have been making music and touring together under the name since the early 1970s. This year, the bearded oldies take the stage to croon out their biggest country Christmas and gospel hits, celebrating the 40th anniversary of the ORB's current inception. $42-$52. 7:30 pm, at the INB Performing Arts Center. (CS)
Tue, Dec. 10 | Trim the Tree
I'm about to let you in on a little-known Inland Northwest holiday secret: Old World Christmas. The family-owned, Spokane-based company manufactures and wholesales hand-blown glass, keepsake tree ornaments. Retailers all over the U.S. sell the Merck family's sparkly baubles, and Christmas enthusiasts collect them by the dozens. There's a sizable inventory of OWC ornaments at the downtown Coeur d'Alene shop, Christmas at the Lake, along with hundreds of other unusual, specialty and themed holiday tree trimmings.
Old World Christmas ornaments retail on average for about $15 apiece — not bad considering the craftsmanship and detail in each one. The glass ornaments are not only hand-blown, but hand-painted and glittered, making each one slightly different from the next.
Old World Christmas's collectibles are a Yuletide enthusiast's dream come true — there are ornaments for every hobby and interest imaginable, from gardening and baking to traveling, sports and pets. Holiday classics abound, and locals can start their own collections for quite a bit less than retail prices. As a thank-you to the Inland Northwest, the Merck family opens up the company's factory outlet store to the public this time of year (and in the summer), offering their beautiful ornaments at wholesale prices as low as $4 apiece. You'll have to carefully dig through boxes of assorted pieces to find your favorites, but that's all part of the fun. The Old World Christmas factory outlet store is located at 4005 E. Main (between Freya and Havana), and is open Sat from 11 am-5 pm and Sun-Fri from 11 am-3 pm. (CS)
Wed, Dec. 11 | Sisters of Song
What's the holiday season without a little nod to tradition, like classic Christmas songs that have survived over centuries to still be heard today. As expected, the verses performed by the Singing Nuns of the Mount St. Michael Convent are Christian in origin, but the beauty of the sisters' voices accompanied by East Valley High School's "Strolling Strings" ensemble is a treat a person of any religious background could enjoy. The sisters have been performing an annual Christmas concert for the public for nearly two decades; they again don their blue habits and take to the stage to remind us all of the reason for the season. $16/seniors and students, $20/adults. Group rates available. 2 pm and 7:30 pm, also on Dec. 12, same times, at the Bing Crosby Theater. (CS)
Thu, Dec. 12 | Cheery Cabaret
When it was decided the Coeur d'Alene Summer Theatre would be no more (that all changed when CST was born again earlier this fall in new form) one of the area's most prominent theater veterans, Ellen Travolta, stepped up to make sure that a fairly new Coeur d'Alene holiday tradition, started two seasons ago by CST, continued. "A Christmas Cabaret" features Travolta's talents alongside local accomplished cabaret singer Mark Cotter and actor Jack Bannon, Travolta's husband. See the trio's lively show at the Coeur d'Alene Resort. $20-$25. Thu-Sat at 7:30 pm, Sun at 5 pm, through Dec. 21. (CS)
Fri, Dec. 13 | Merry and Bright
More than a decade ago when my family first began going to the Friends of Manito's annual holiday lights display at the park's Gaiser Conservatory, we never had to wait in line to enter the greenhouse, even on a weekend. In the time since, though, this annual event has grown to become tradition for many more local families, who don't miss the chance to "ooh" and "ahh" and the decked-out greenhouse's magical appearance.
It's well worth a wait in the cold. Inside the tepidly warm plant paradise, visitors experience the conservatory's most spectacular residents — giant cacti, tropical orchids, birds of paradise, towering palms — shrouded in the warm glow of LED lights. The shining star, more than 100 years old, is the greenhouse's fuchsia-blossomed Christmas cactus, which volunteers carefully drape with matching pink lights. To top off the holiday splendor, numerous varieties of poinsettias are brought in and placed throughout the display. Attending the event is free, but donations are welcome to keep the volunteer-based organization continuing. Dec. 13-22, open from 8 am-7:30 pm daily, best viewing after 4 pm. (CS)
Sat, Dec. 14 | A Million Bucks
On a December night 57 years ago, four of history's biggest rock 'n' roll icons gathered inside a Memphis recording studio for what would become a legendary jam session. Elvis Presley, Johnny Cash, Jerry Lee Lewis and Carl Perkins came together to record for the first and only time. The Tony Award-winning musical Million Dollar Quartet tells the story of what did and could have happened inside the studio's four walls that fated night. Take a break from all that Christmas music and rock out old-school instead. $32.50-$72.50. Dec. 14 at 2 pm and 8 pm; show runs Dec. 12-15 at the INB Performing Arts Center. (CS)