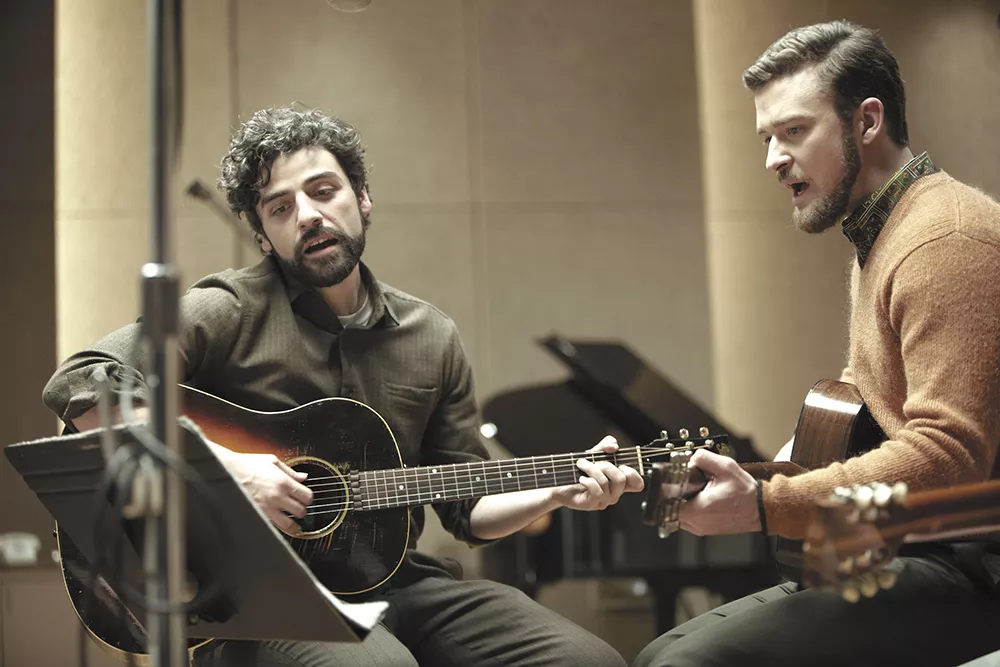 Two different camps of audiences are going to be very happy with the newest Coen Brothers film: Coen Brothers fans and folk music fans. The Coens' dark, funny, sad, snarky take on the Greenwich Village acoustic scene is set in the early 1960s, right on the cusp of when the so-called folk music revival was about to catch on. Lots of people were playing their guitars and singing traditional and original songs, but no one was really paying the rent.
Including Llewyn Davis (Oscar Isaac), a scruffy fellow who knows his way around fingerpicking and has a beautiful voice to go with his usually moving songs, but no appreciable social skills. Llewyn's the kind of guy who can bring tears to your eyes when he's onstage and make you want to strangle him when he's off, when he's had too much to drink and needs to crash, again, on your couch.
The Coens have based him, very loosely, on Dave Van Ronk, a wonderful performer who like Llewyn was just a bit ahead of his time; although well known in folk circles, he probably would have been much bigger if Dylan had paved the way for him, instead of the other way around.
The Coens have littered Llewyn's life with problems and crises and people who are as difficult as he is. Some of the film's best, most uncomfortable moments are when he's being berated by another hopeful singer, the hot-tempered Jean (Carey Mulligan, with whom Isaac shared some great scenes in Drive). Isaac also has some terrific one-on-one screen time when the plot pulls Llewyn out on a road trip, accompanied by Coens regular John Goodman as a strung-out jazz hipster. That well-played part of the film removes us from the mood set in New York, and unfortunately doesn't return to it fast enough, but it does give us an all-too-rare encounter with F. Murray Abraham as a strictly-business club owner.
The other best moments, and there are plenty of them, involve music, all performed live by the actors. It's no surprise that Justin Timberlake knows what to do with a guitar and a folk song, but the music we get from both Mulligan and Adam Driver (check out his "vocalizations" on the goofy "Please Mr. Kennedy") are some of the film's best surprises. Which leads us to Isaac, who's been singing and playing guitar since he was 12, and proves what he can do here. His riveting nod to Van Ronk on "Green Green Rocky Road" will cover the price of your ticket. If you stay for the end credits, you even get to hear Van Ronk sing it. ♦