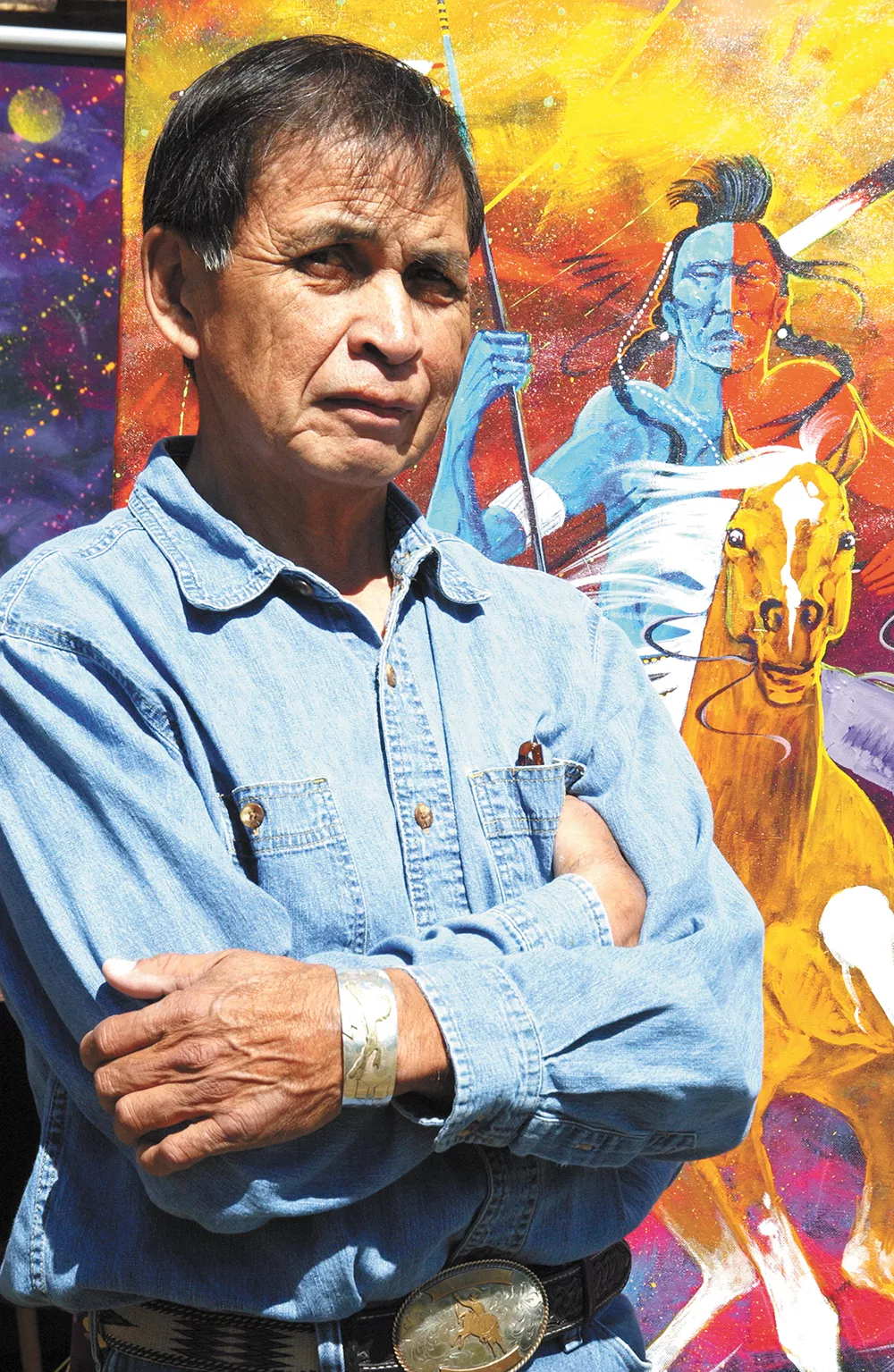 JANUARY 30
Nationally recognized Inland Northwest artist and Spokane Tribe member George Flett passes away at age 66
Sue Bradley, Tinman Gallery owner and Flett's personal friend:
George Flett always knew he was an artist. Hesitant to talk talk about himself, his many accomplishments were revealed by others. His cousin, Cliff SiJohn, recalled watching him in grade school: 'We'd be listening to the teacher and George would just be drawing away in the back.'
George was a rodeo rider, and as director of the tribal museum in Wellpinit, he spent years collecting oral histories of Spokane tribal elders. He mentored other artists like Ric Gendron and Terrance Guardipee; he sponsored annual Prairie Chicken Dances; he organized the art shows for Julyamsh and the Spokane Pow Wows. He painted every day. He made silver jewelry, he painted gourds and elk hides, he made rawhide ornaments and prairie chicken dance bustles. His ledger paintings were nationally known and collected.
My favorite memory of George is when we went to the National Museum of the American Indian in Washington, D.C., for the launch of his book on ledger art. As part of the trip, we were were allowed into the Smithsonian's fabled collection of tens of thousands of Indian items in the huge storage facility in Maryland. Many of the most precious artifacts were only accessible by hi-low on the upper shelves. George put the machine up as far as it would go and drove around the stacks for hours, making notes and sketching.
Always a perfect gentleman, always willing to talk about his art and tribal culture, always helping, always making art, George's gentle and encouraging presence will long be missed.
MARCH 2
"SPOMa: Spokane Modern Architecture" opens at the Northwest Museum of Arts & Culture, featuring the architectural innovations of the period between 1948 and 1973
Aaron Bragg, copywriter at Spokane design studio helveticka, which curated the exhibit:
One of the things we wanted to get people to understand about Spokane architecture is that, contrary to conventional wisdom, Kirtland Cutter wasn't the only one who ever designed a great building here. That seemed easy enough. But we really weren't prepared for what we learned when we put together this exhibit. Like the fact that three Spokane architects studied under Walter Gropius at the Harvard Graduate School of Design — back when there was an eight-year waiting list to get into the program. Or that Progressive Architecture's top award for the finest design in the country went to a Spokane firm — twice. Or that one Spokane architect has two projects listed in Princeton Architectural Press' Source Book of American Architecture: 500 Notable Buildings from the 10th Century to the Present. It's a pretty remarkable story. And it's almost completely unknown. In fact, when I talk to people who've seen the exhibit, the most common response is, 'I had no idea.' Hopefully, SPOMa not only raises the awareness level a bit, but also gives ample reason for Spokanites to be proud of the city's Modernist legacy.
SEPTEMBER 5
Music journalist, rapper and cultural leader Isamu "Som" Jordan is found dead
Jess Walter, author, friend of Jordan:
Som was Spokane to his core and many of his raps and poems were about the city. He wrote searing social commentary and sweet nostalgia served up with equal parts love and rhyme. He was crazy for his band Flying Spiders and he loved their fans, peppering them with the refrain "sexy, intelligent people." Som showed that, as an artist, you could burst with pride over being from Spokane and still push it to be better. He had an infectious smile and a profound sense of play and wonder. If you met Som (probably in his Flash sweatshirt, maybe buying comic books, or speaking at some community event) you never forgot him.
I know I never will.
Som, his wife Rachel, and his sons Caleb and Osiah are like family to my wife Anne and me, and to our three kids. We miss him dearly. But we take real inspiration from the way he lived, from his art and from his energy, and that's what I hope his friends and fans and bandmates and all of us will do now. Take care of one another. Don't let anyone think they're alone. Be proud to be from here. And keep singing and writing and painting and playing and making a great place better.
SEPTEMBER 8
Man killed in a shooting outside a Spokane music venue
Tom "TC" Chavez, owner of the Hop!, all-ages music venue:
People started scampering. It was kind of surreal. You never expect something to happen like that. You go through the myriad of emotions. ... We pretty much went from zero on the violence scale, we went from zero to 10 in five seconds. ... It makes us more apprehensive about doing certain types of events. I'm going to be looking at my calendar and I already know a couple I'm probably going to cancel.
Once in awhile I'll get a call from a parent that their kid is coming to a certain show. I say 'Hey, look, don't worry about it. You're talking to the owner. When your son or daughter gets there, have them introduce themselves... I'll keep an extra eye out on them.'
Any time you expand your circle, there's greater chance of having a bad seed. The more seeds you plant, the greater propensity for having a bad seed.
SEPTEMBER 17
Spokane singer Cami Bradley is a top-six finalist on NBC's America's Got Talent
Cami Bradley:
There are some obvious ways that my time on America's Got Talent changed my life. The fact that I get recognized everywhere I go, the massive exposure I gained from the show, and the fan base I was able to acquire. Then there are the subtle things being on a reality show did for me as a musician and as a person. Like the newly found passion to perform, the confidence it instilled in me, and the desire to share my music and story with the world. I never expected to walk away with so much gratitude for the overall experience. Not only has my life changed, but my idea of what my musical career could be has expanded far beyond my wildest dreams. I can't wait to tell everyone what's next.
OCTOBER 1
Spokane Arts names a new leader
Shannon Halberstadt, Executive Director of Spokane Arts:
I'm a geek for the arts. I can't really help myself — it's the type of work I've been doing for many many years, and it's really important on so many levels that there's a healthy and vital arts scene. ... So being a part of that conversation about the identity of Spokane and arts in Spokane ... that's fantastic.
How can we make sure that art is a part of all of these conversations, and so it becomes part of the overall identity of Spokane? So it's just integrated, it's part of every conversation, it's part of what people think of when they think of Spokane? And that's not easy to do. ... How do we make arts just indispensable? Part of the fabric of who we are?
OCTOBER 5
The Individual World Poetry Slam came to Spokane for the first time
Isaac Grambo, Host City Coordinator and iWPS 2013 Event Manager:
I think the event was received very well both in Spokane and beyond. There were poets who traveled from the East Cast and Canada, and fans who drove all the way from Portland and Seattle who had no other reason to visit our city. While there is always room for improvement, I think the community responded very well to the event. Preliminary round venues like Neato Burrito, Jones Radiator and the Rocket Bakery were packed to the rafters two nights in a row, and Interplayers Theatre was a fantastic home for fans who didn't want to be jammed in, ass-to-elbows, in the other smaller venues. Perhaps most important was the support we had from volunteers and organizers. One man, who had not frequented local slams before the event but volunteered during it, shouted at me after one evening of bouts, 'My city is crawling with poets and I love it!'
I'm proud of the support, inclusiveness, and positive attitude that Spokane showed off to the world, especially on Finals night.
At the close of iWPS 2013, the Host City Committee for Spokane tentatively agreed to submit a bid to host again in 2016. The process will be the same as before, but with one under our belt, and the response it got, I think we stand a good chance of getting it. And if this year is just a starting point, I'm excited to see where we can go from here.
OCTOBER 27
Spokane Civic Theatre wraps up a completely sold-out run of Les Misérables just months after Yvonne A.K. Johnson, the theater's artistic director (also slated to direct Les Mis) was fired
Douglas Webster, director of Les Misérables:
I got a phone call after the big upheaval here, saying, 'Are you available to help us out?' I checked my schedule, and literally to the day I was available. It's just freakish how that worked. I don't take it as odd when things like this happen, and it's coincidentally perfect. This is a charmed production.
This has to be an enjoyable experience for people. This should be joyous. And that's what the audience is going to see. They're going to see as joyous a production as you can have where everybody dies in the end.
DECEMBER 12
After pushing back the opening for months, the highly anticipated, all-ages music venue The Bartlett opened its doors
Karli Ingersoll, co-owner of the Bartlett:
It feels amazing to be open. We have had so much fun with each show so far. Getting to hear what the bands think and seeing people enjoy their music in our space is wonderful. We finally are able to do what we set out to do — put on amazing shows.
We always knew we would get open. There was never a doubt. There were definitely trying moments in the process, and we are happy to be through that part and on to serving Spokane.
— Compiled by Mike Bookey, Laura Johnson, Chey Scott, Leah Sottile and Lisa Waananen