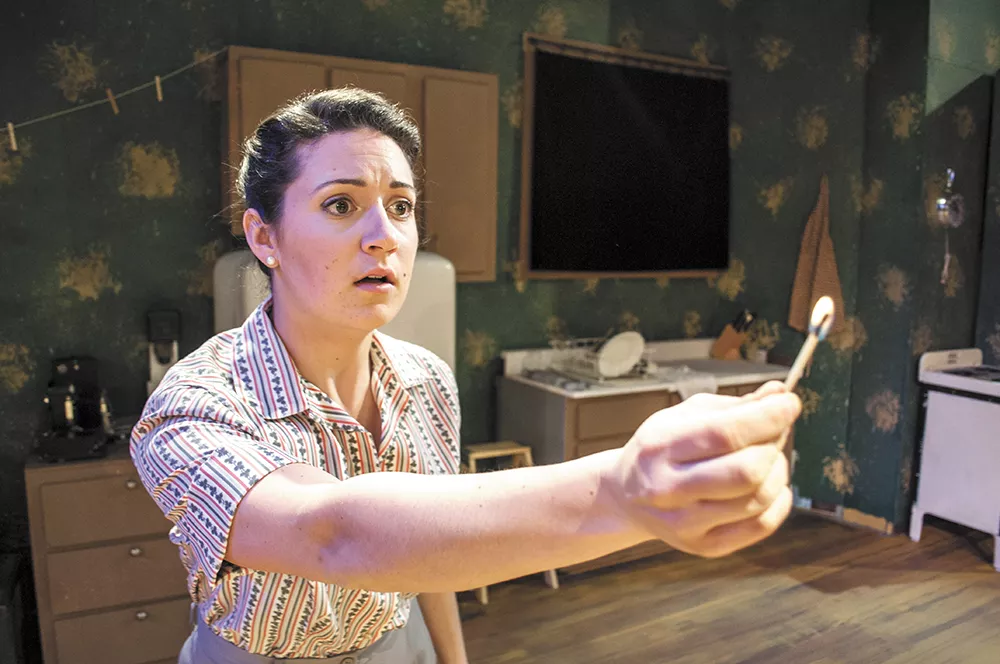 Bumps and shuffling emanate from behind a darkened stage. Thunder rumbles in the distance. Flashes of lightning give the blinds on the rear wall a pulsating glow. A door a half-level up opens to reveal a large shadow backlit by the hallway beyond.
The shadow descends the stairs and moves unhurriedly about the room as if indulging a passing curiosity. Only the faintest slivers and pinpricks of illumination hint at the room's layout and any obstacles it might hold. Now the darkness acts as a handicap; but after a time, when the shadow wants to obscure itself from another, it will briefly become an asset.
The fickle nature of darkness is the nub of Frederick Knott's 1966 thriller Wait Until Dark, currently enjoying a new lease on life in a fresh adaptation by playwright Jeffrey Hatcher. Interplayers is only the third theater to stage this still-evolving adaptation (directed here by Jack Phillips, who helmed the Civic throughout the '90s), which has trimmed some of the original's slack — not that it was enough to hamper earlier incarnations, given their impressive theatrical runs — and predated the action to the 1940s to accentuate its noir-ish feel.
Jessi Little stars as Susy Hendrix, blinded in a car accident roughly one year before the play's events begin. For her, the dark is a constant to which she's still adapting. Her husband Sam (Damon Mentzer) is a photographer — hardly a random choice of profession, seeing as how it's predicated on carefully controlled exposures to light.
Roat (Gerald Browning) and Sergeant Carlino (Jonah Weston) are the play's shady characters, the sort who lurk in shadows and skulk in the dark. They will prey on Susy's condition in an attempt to retrieve a missing doll that holds some precious loot. As tension palpably builds and Susy grows wise to their plot, Sam's old Army pal Mike (Tony Caprile) and mischievous little Gloria (Caroline Slater) from the upstairs apartment will help — or maybe hinder — her efforts to thwart them. The same could be said of the dark itself.
Hatcher both cleans (heroin becomes diamonds) and dirties (by sprinkling a profanity or two) Knott's original script while winding its already taut spring even tighter. This demands merciless precision in terms of timing, not least when it comes to the snappy noir dialogue, and some cast members would still seem to be fine-tuning their inner clockwork. The handful of exchanges between Little and Mentzer lack rhythm. Little's sightlessness, however, is wholly convincing.
In a play where so much hinges on the absence or presence of light and all its potential sources, lighting designer Ezra Gerlitz has done a fine job of making it a character in its own right. The fraught finale — so fraught, in fact, that it risks overpowering some of the finer points — owes as much to his lighting (or lack thereof) as it does to the threat of Browning's shrill psychotic thug. ♦
Wait Until Dark • Through April 19: Wed-Sat, 7:30 pm; Sun, 2 pm • $28 ($22 senior/military, $12 student) • Interplayers • 174 S. Howard • 455-7529 • interplayerstheatre.org