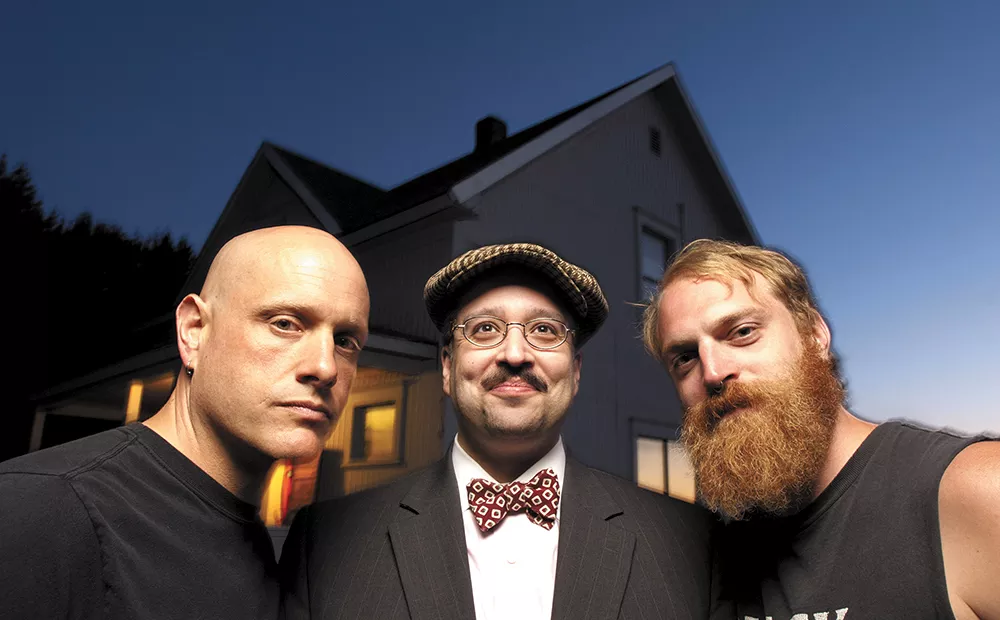 You're probably already up on the sun-drenched hippie tunes of Rose Windows, the electronic compositions of The Flavr Blue and the passionate "treepunk" of Kithkin. These Seattle acts coming to Volume are awesome; you should know them. But there's lots more. Check them out, categorized by city and genre:
PORTLAND
This year, Volume's Portland contingent is not to be missed.
ROCK: Start with rock trio Gaytheist, which rolled through the Hop! last October with Red Fang, recently played Treefort Music Festival and is scheduled for this year's Capitol Hill Block Party. Yes, their name is striking, but what leaves the lasting impression is the way they play the living crap out of their instruments every show. They play Mootsy's Saturday night at 10.
ELECTRONIC: Portland also provides Volume with Boy Eats Drum Machine, Jon Ragel's one-man show. He's no Bert from Mary Poppins — his voice is smooth and simple, his saxophone playing divine, his electronic beats entrancing. Check out his show Saturday at Red Room Lounge at 9:30 pm and marvel at his ability to do it all.
SEATTLE
The Emerald City again brings a mighty crew to this year's Volume.
ROCK: With the Pharmacy you get a retro-rock three-piece that still believes in the power of the piano. What began as a high school band in the early 2000s has turned into a grown-up act worthy of serious classic rock 'n' roll lovers' aural consumption. They play the Big Dipper Friday at 9 pm.
In the alt-rock heavy-gaze category is Seattle super group Dust Moth, bringing together members of Undertow, These Arms Are Snakes and XVIII Eyes for a thick all-consuming sound. They play the Dipper Saturday night at 10. Grenades brings a boisterous party. The rockin' four-piece likes to drink a lot of beer, and they like people to drink beer (only if you're 21 and over) while watching them play. Remember that when you show up at Club 412 Saturday at 6:20 pm. Meanwhile, Deadkill answers the question "How fast can people can play hard rock music without passing out?" The answer is damn fast. Their set is so wild (especially frontman Bryan Krieger's searing eyeballs) it could cause heart palpitations at 8:15 on Saturday at Club 412.
Finally, Monogamy Party has announced that one of its final shows will take place at Volume. Most likely, you'll never see them again if you don't jump at the chance to see this face-melting punk-rock act at Mootsy's, Saturday night at 9.
FOLK: At one time Cloud Person was just Pete Jordan, but he soon needed a lot more instruments (strings, drums, bass, keys) to fill out the sound. Last fall, the group took over Mootsy's tiny stage with six of its members. Onstage, that sound hits you like a cloud, putting you in an airy trance. Experience that feeling Friday at 7 pm at the Bartlett. Secretary is the band you'll want to see if you're in the mood to be transported to a beautiful, sorrowful, down-and-dirty planet where only folk music is allowed. They play Friday night at 10:15 at Club 412.
SOUL: Down North could make a soul music lover out of anyone, thanks to frontman Anthony "RenaGade" Briscoe's balls-out performances. Dancing is key with this group, which played the University of Idaho in March. All you'll want to do is get funky, starting Saturday at 10:30 pm at nYne.
PUNK: Anyone looking for a dance party with their punk rock should check out the punk three-piece Wimps. Their music talks about the real things in life, like sleeping in late and taking naps. They're damn fun to listen to. Show up Friday night at 10:30 at Mootsy's to hear 'em. ♦