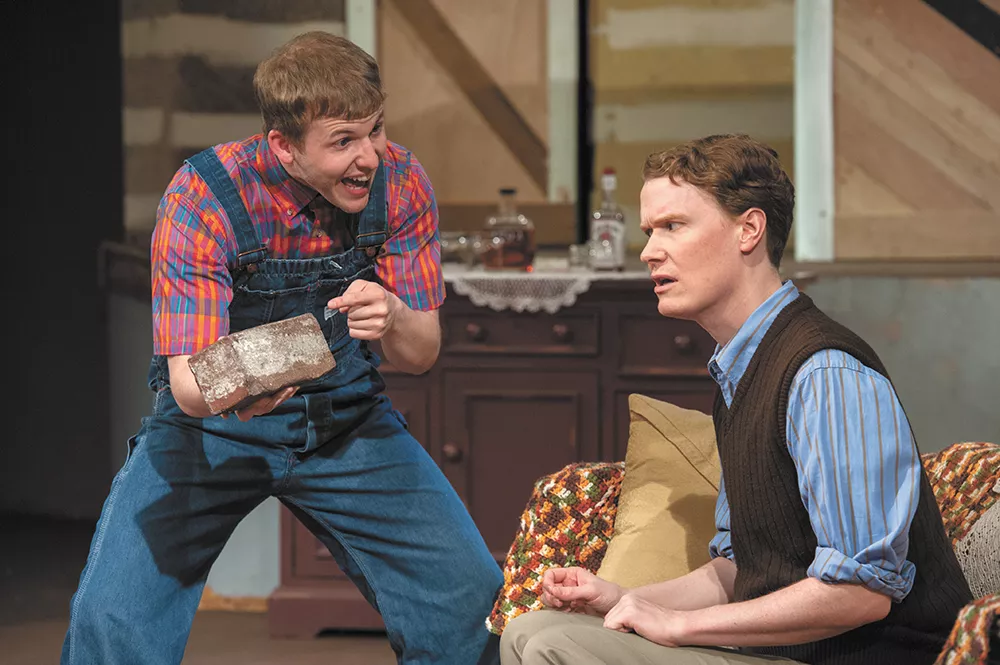 There's a certain vulnerability that comes with opening your mouth. Hence our Miranda rights, or the memorable World War II adage, "Loose lips sink ships." And then there's the familiar quote, apocryphally attributed to Abe Lincoln, "Better to remain silent and be thought a fool than to speak and to remove all doubt."
Charlie Baker, the protagonist in Interplayers' production of The Foreigner, is all too aware of that kind of vulnerability. When the retiring Englishman (Jon Lutyens) arrives at a fishing lodge in rural Georgia, he confides to his old Royal Army buddy "Froggy" (Patrick Treadway, with an accent from the Dick Van Dyke School of Cockney) that he'd rather not talk to anyone — not merely out of grief for his dying wife back home, but also because he fears himself to be a crashing bore. It's his acute lack of personality, he explains with hand-wringing demureness, that is likely to blame for his wife's chronic infidelities.
Froggy addresses both concerns by telling the provincial caretaker, Betty Meeks (Laurel Paxton), that Charlie is a foreigner who speaks and understands no English. She responds, as per expectation, by communicating with her new guest s-l-ow-ly and LOUDLY. Wary of offending, Charlie ends up encouraging her by affecting an uncomprehending idiot grin.
The other guests, each as ludicrously corn-fed as Betty, have their own ways of interacting with the foreigner. Catherine Simms (Ana Gregoire), a recent debutante and fiancée of Reverend David Marshall Lee (Zachary Magan), treats Charlie as the ideal confidant. Her simpleminded brother, Ellard (Phoenix Tage), takes a pedagogical, almost paternal role toward him. And belligerent redneck Owen Musser (Jonah Weston) contemptuously regards Charlie as a sad curiosity.
Act one draws on the power of reticence. The less Charlie offers of himself, the more the others attribute to him. What little he does offer, aside from a stilted, "Thank you," consists of physical comedy: hesitant nods, bemused eyebrows, childlike smiles, an uncomfortable grimace. In this regard, Lutyens is diminished somewhat by the muted colors of his clothes, his fair complexion, even his (intentional) charisma deficiency. He merges with set designer Aaron Dyszelski's exquisite cabin interior like another pair of trophy antlers. That might complement his fly-on-the-wall status, but without his features being better defined à la silent film, it makes it harder for Lutyens to project the requisite Chaplinesque expressions.
Consequently the first act has a few lulls; it's redeemed primarily by the electrifying menace of Weston's Owen and Tage's stooped, obliging Ellard, whose monkey-see, monkey-do shtick with Charlie gives Lutyens the most to work with.
With farces and musicals, post-intermission acts tend to suffer from being a protracted (or, conversely, cursory) and predictable tying-up of the various loose ends introduced before the break. That's not the case here; The Foreigner's second act is wonderfully solid. As Charlie comes out of his shell and reconciles himself with the advantages as well as the helplessness of his position, the comedy flourishes along with the suspense. A few gags are mined for the very last titter, but in general the implausibility never tips over into impossibility.
At the same time, Gregoire effectively shifts her character from spoiled, foot-stomping belle to a confident young woman and credible romantic interest. Magan starts to reveal an unexpectedly sinister side, and Weston transforms into something unhinged and terrifying.
The sublime irony of Larry Shue's script is that Owen, and to some extent David, ultimately betrays himself through unnecessary talk, conveniently saving Charlie the awkwardness of having to confess his own ruse. Another one of the script's strengths is its quiet breadcrumb trail of plot points. Though some of the broader turns of events are painted on a barn wall, there is seemingly throwaway dialogue that becomes relevant later.
Shue's clever and rounded script, faultless lighting and sets, some outstanding cast performances and Carrie Morgan's able direction make this production one of the strongest in what's been a very robust Interplayers season. ♦
The Foreigner • Through June 28: Thu-Sat, 7:30 pm; Sun, 2 pm • $28 ($22 seniors, active military; $12 students) • Interplayers • 174 S. Howard • interplayerstheatre.org • 455-7529