Fresh. Local. Accessible. Fun. If it weren't repeated with such sincerity and optimism, the refrain of the Inland Northwest food scene could start sounding like a cliché. Instead, it's more of a recipe for the region's culinary growth. And while local dining options are increasingly sophisticated and diverse, don't think that means pretentious. Around here, chefs know farmers and restaurant owners fill water glasses while greeting regulars by name. Those in the industry are the first to credit high-quality ingredients and a growing community of appreciative diners as a top inspiration. Here, thoughts from some of the people who are influencing what and how we eat in the Inland Northwest.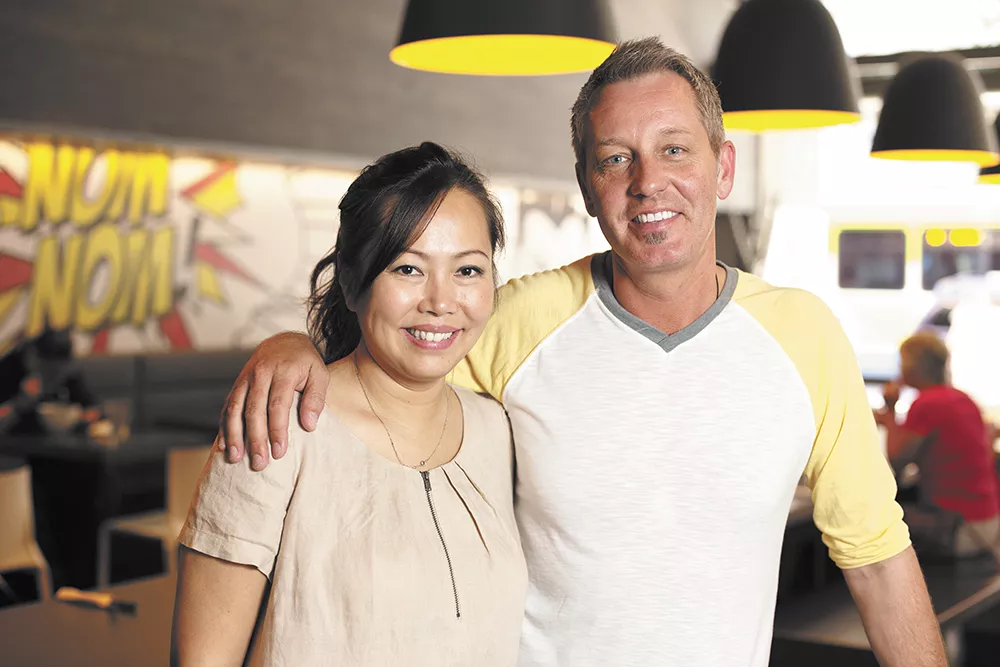 Josh and Jing Hissong
Name a hip, new restaurant or nightspot in the Spokane area, and chances are Josh Hissong had something to do with it. With architecture firm partner Armando Hurtado, he's designed places like Fire Artisan Pizza, Borracho Tacos & Tequileria, Revel 77 and the Volstead Act. With his wife Jing, he owns Nudo and Ginger Asian Bistro (and previously Wasabi). The common thread between all these places is a bold, clean — but not cold — style that would seem at home in almost any city in the world. But it's Spokane that Hissong is excited about.
"Spokane is becoming a foodie city," he says. "People are expecting more than they did 15 years ago."
Even five years ago, he wouldn't have considered opening a restaurant in downtown Spokane. But he sees the hotels filling up, more people living downtown and better security, and predicts downtown will be packed with restaurants before long. When Nudo opened in May, diners were willing to wait an hour for a table. And it's not just a particular demographic flocking to Spokane's first Japanese-style ramen house — at the long community table that runs down the center of Nudo, older couples slurp noodles beside tattooed twentysomethings and have been known to end the meal all chatting and laughing together.
"People are coming here to enjoy what we have to offer," Hissong says. "Between Coeur d'Alene and Spokane, there's something for every single personality."
Allison Collins
More than a few people were skeptical when Alison Collins opened an entirely vegan and gluten-free cafe two years ago. First-time visitors, overwhelmed by the variety of colorful salads and pastries on display, continue to ask incredulously: "Everything is vegan and gluten-free?"
Collins, who previously worked at Mizuna, says she's seen more creativity with vegetarian food in the Spokane area, with local suppliers offering more specialized and local products, and more chefs accommodating special diets in an educated way.
But Boots Bakery & Lounge isn't characterized by its niche so much as its welcoming sense of community — a place where all needs can be accommodated. (And if what you really need is an omelet, they're happy to suggest places that serve them.) It's a spirit that comes directly from Collins, who says she wants Boots to be the kind of place where people can stay for a while even if they're not buying anything.
"I believe that if you have a business, then it should really be a community place," she says. "It exceeds my wildest dreams that our customers are so lovely. And we don't even call them customers. We call them friends."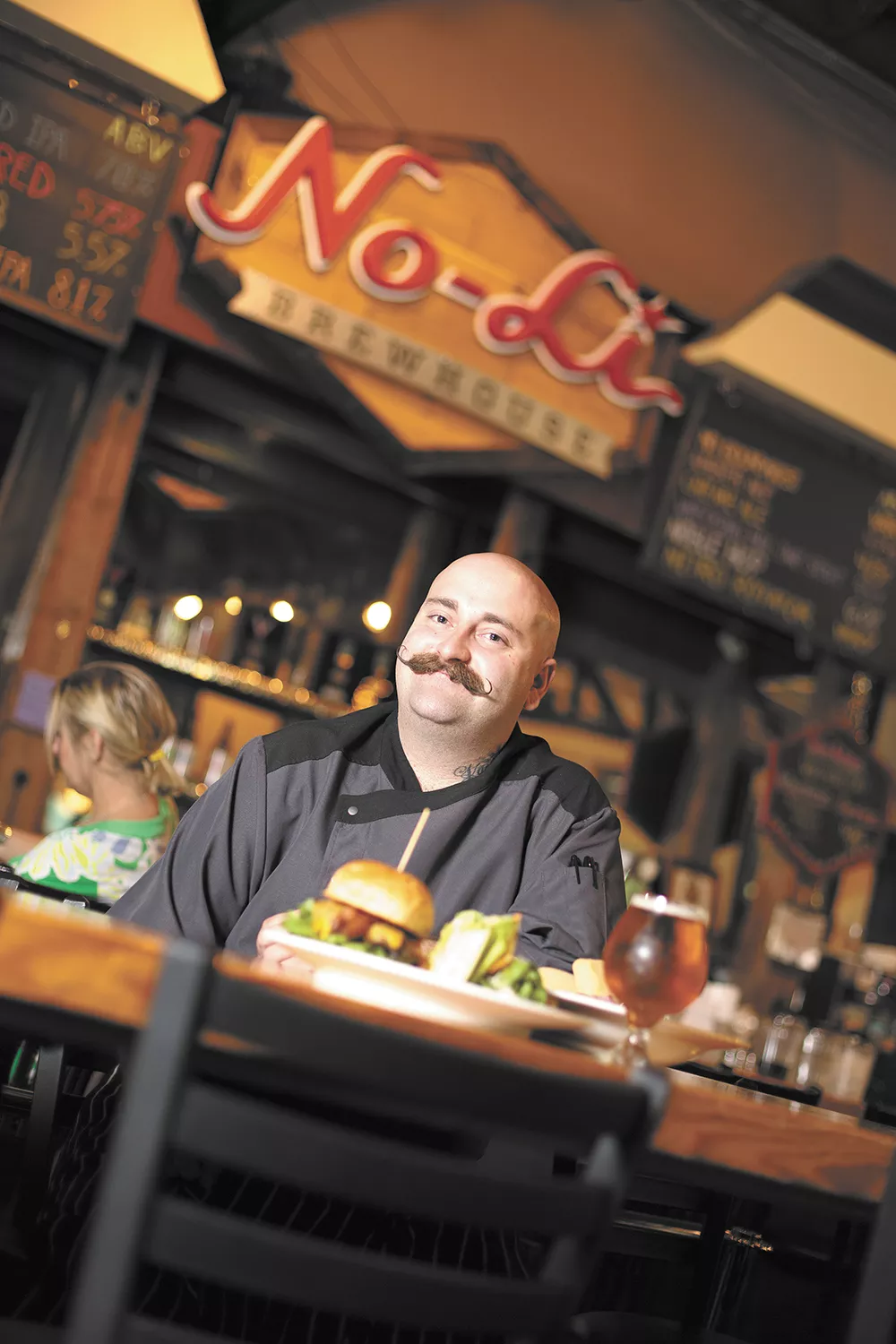 Branden Moreau
Pub food has traditionally been something of an afterthought. Salty? Greasy? Good to go. But as the revival of craft brewing has changed the way diners think about beer, chefs like Branden Moreau — formerly at Manito Tap House before coming to No-Li Brewhouse — have been rethinking what a pub menu should offer. With French culinary training and a personal appreciation of great hot wings and burgers, Moreau says there's no reason any menu item can't be made with the best products available.
"Just because it's pub food doesn't mean it can't be organic, or it can't be sourced locally," he says.
Places like Webster's Ranch House Saloon, Wisconsinburger and Lantern Tap House have similarly been proving that casual, pub-style food can be rich and distinctive. Moreau has offered hot dogs and corn dogs made in-house, and does his own take on traditional snacks like peanuts and popcorn. He believes bacon, despite its trendiness, is going to stick around.
In 2013, No-Li established "Spokane Style" to define its beer as made entirely from ingredients sourced within 300 miles of Spokane, and that principle carries over to the food.
"It's important to me as a chef to source ingredients locally and create menu items inspired by those ingredients," Moreau says.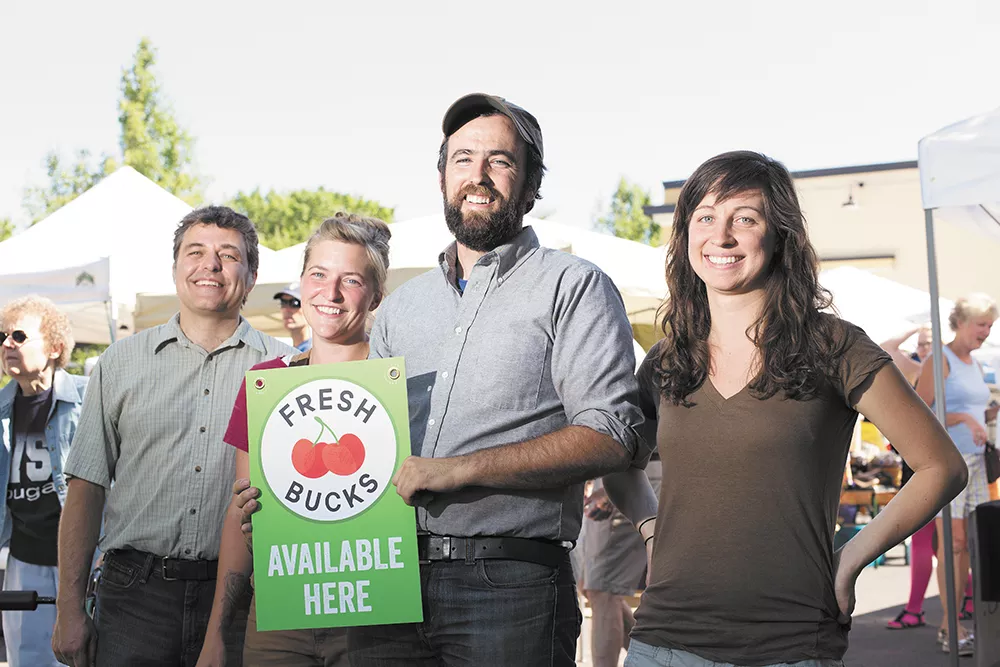 Brian Estes
A farmers market is charming because of its simplicity — direct trade between the people who make food and the people eating it. But that's just one small part of a large, complex food system, and Brian Estes has put a lot of thought into how that system can work better community-wide. He and the rest of Catholic Charities' Food For All team focus on "food as a resource," he says. For more than a decade, Vinegar Flats Community Farm has been a source of hands-on job training and fresh produce, some of which is sold at farmers markets. The team also works on issues of access: How can you connect consumers to nutritious food from our region?
One example is the statewide Fresh Bucks program, which provides matching dollars to customers' food stamps at a number of local farmers markets. That makes local fruits and vegetables more affordable, and broadens the customer base for the vendors.
Other parts of Food For All's comprehensive approach includes hands-on cooking sessions, budgeting and other outreach. Estes says he's seen new energy in the local conversation about food in just the past year or two, and says Spokane is doing a good job coordinating programs and supporting the idea that all residents should have access to farmers markets.
"There's a really exciting energy in the community around saying yes," he says.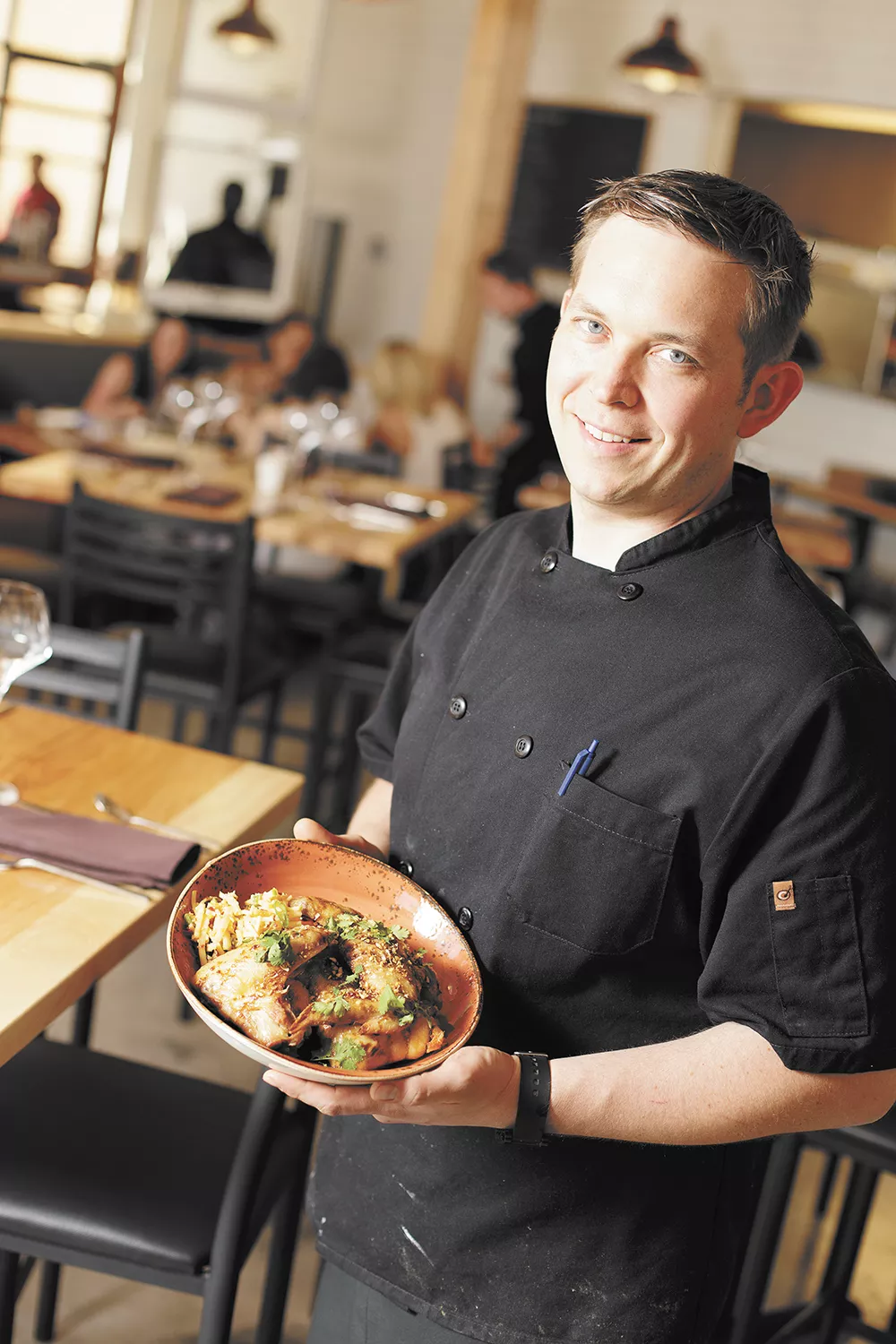 Adam Hegsted
In opening both the Wandering Table and the Yards Bruncheon in Kendall Yards this year, chef Adam Hegsted joined chefs like David Blaine of Central Food and Jeremy Hansen of Santé in Spokane's small but influential group of chef-owned restaurants. At occasional chefs' retreats, they've talked about how they want the local dining scene to grow, and what needs to happen to make Spokane a dining destination the way cities like Portland are.
"We're obviously not there, but we can get there," Hegsted says. "And that's our hope — to be this great food city. We all have to just take some risks."
The upside of taking risks is the ability to choose every last detail of the dining experience, as well as experimenting with charcuterie, fermented ingredients and gardens beside the patio. For diners, it means menus that change seasonally, specials that change daily and dishes that venture outside comfort zones. Santé, for example, made its Inlander Restaurant Week debut with beef heart tartare and head cheese on the menu. The Wandering Table offers a chef's tasting menu option — name a price and let the chef choose your multicourse meal — that's been known to make use of fiddlehead ferns, jellyfish and sea beans.
"I think people here in Spokane are being a little more adventurous," Hegsted says. "People have taken on what we've put out there."