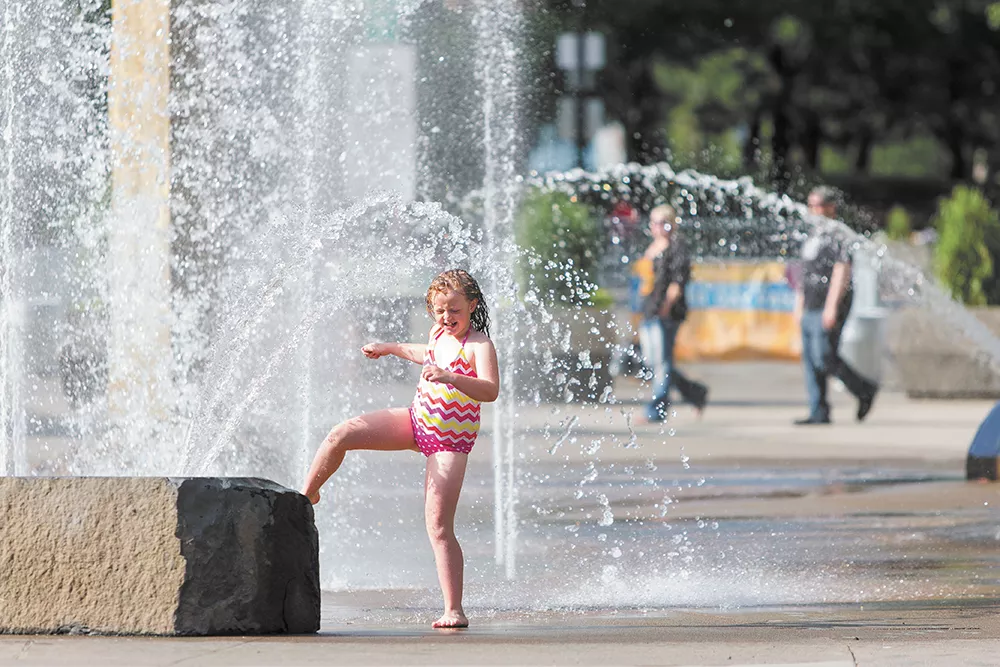 Though there are many fantastic reasons to move to Spokane, one of the greatest motives is this: Spokane is an extremely supportive community for families. Civic leaders and local businesses have made it a goal to provide no-cost activities year-round to families, and with the amount of natural resources at our fingertips, heading out of doors easily provides free entertainment. Check out our picks on the following pages to keep you and your family occupied in every season.
Concerts & Movies
Wind down or get revved up with a free concert or movie this year. Check websites for band lineups and movie listings.
KPBX Kids' Concerts
With a wide variety of music to appeal to all, KPBX has been funding free concerts for more than 20 years. Visit concert venues around the city to get learn about the history of diverse musical movements and discover a new sound. Locations vary, monthly, kpbx.org
Spokane Symphony Labor Day Concert
Segue from summer to autumn with the symphony. From classics to pop favorites, the Spokane Symphony is sure to please listeners of all ages and cap off the end of summer before a return to school. Comstock Park, Labor Day Weekend, spokanesymphony.org
Pavillion Park Concerts
Check the schedule, grab a blanket and head to Liberty Lake's Pavillion Park for concerts all summer long, then celebrate the end of the season with the Lud Kramer Memorial Concert, featuring the Spokane Symphony, on the Saturday before Labor Day. Aug. 30, Liberty Lake, pavillionpark.org
Browne's Addition Concert Series
Enjoy the sunset with a concert in Coeur d'Alene Park in Browne's Addition. Weekly acts play from 6-8 pm. July-Aug, Coeur d'Alene Park, mybrownesaddition.org
BOBfest
Rock out at this local battle of high school bands and help send the winners on to collect prizes and perform at a local venue. Riverfront Park, Clock Tower Meadow, June 13, bobfestspokane.org
Holiday Film Festival
Hunker down and enjoy an animated holiday classic at the Riverfront Park IMAX Theater. Dec. 2014, Downtown Spokane, downtownspokane.org
Mirabeau Point Park Outdoor Movies
Bring your own snacks and blankets to watch animated family movies as the sun goes down. July-Aug., Spokane Valley, spokanevalley.org
Pavillion Park Outdoor Movies
Gather at dusk in Liberty Lake's Pavillion Park on Friday and Saturday nights for movies ranging from classics to action to animation. July-Aug., Liberty Lake, pavillionpark.org
South Perry Summer Theater
South Perry was the first neighborhood to kick off the outdoor movie craze, projecting family classics onto a big white wall while families set up their chairs and coolers in the parking lot of the Shop. June-Aug. Perry St. and 10th Ave., facebook.com/southperry
Festivals, Fairs & Cultural Events
Take in the sights and smells and perfect the art of people-watching at festivals, fairs and cultural events around the Inland Northwest.
First & Second Fridays
On the first Friday of each month in downtown Spokane, choose from a long list of venues around the city to observe art, pottery, glasswork and music. Then the next week, head to Coeur d'Alene for its monthly Artwalk, held the second Friday of each month. Monthly, downtownspokane.org; monthly, April-Dec., artsincda.org.
Street Fairs
Let the kids deck out their bikes with streamers and pull on their favorite superhero costumes, then march down the street in the South Perry, Hillyard or Garland District's parade, part of their annual street fairs. These wholesome, throwback events build community, and feature face painting, music, food and street vendors. The Riverstone Street Fair, held weekly, also features a farmers market. South Perry Neighborhood, July 24, facebook.com/southperry; Garland District, 10 am-10 pm, Aug. 16,
YMCA Healthy Kids Day
Take part in the YMCA's national initiative to get families moving. Last year, this free, fun day was packed with active, family-friendly events like obstacle courses, kids yoga, a bike rodeo and dance classes taught by Spokane Shock cheerleaders. Spokane Valley YMCA, April, ymcaspokane.org
Spokane Summer Parkways
The ultimate active summer block party, Summer Parkways is a chance to bike, skate and play with your neighbors. All ages are also invited to try new and interesting athletic endeavors like Banderobics, Zumba, fencing, tai chi and more. A 2K bike ride for kids teaches all about safe riding, and bike decorating contests reward children and adults with prizes! Manito/Comstock neighborhoods, June 17, 6-9 pm; Corbin Park, July, summerparkways.com
Hillyard Chalk Art Walk
Create a sidewalk chalk mural based on the festival's annual theme. Put forward your best effort to win one of five categories plus Best in Show! Downtown Hillyard, June 20, facebook.com/HillyardFestival/chalkartwalk
Bazaar
Enjoy art of all design at this carnival/marketplace, from photography, paintings and handmade furniture to fragrances, soaps and fashion. Live music and kids activities are provided in the heart of downtown, and like Terrain, Bazaar will appear at an otherwise empty space for a single day. Check Facebook for this year's location. Downtown Spokane, June 20, facebook.com/terrainspokane/bazaar
Art on the Green
Art on the Green is in its 45th year and draws tens of thousands of guests. Browse art from more than 135 artists, listen to music or make your own art at this annual art festival. North Idaho College, July 31-Aug. 2, CdA, artonthegreencda.com
National Night Out
Host a block party in your neighborhood to foster neighborhood awareness. Receive a visit from city officials, firemen and policemen to introduce yourself and voice concerns about your neighborhood. Your neighborhood, Aug. 4, spokanecops.org
Holiday Traditions
From Halloween on, you'll find yourself occupied at every turn. Neighborhood events are plentiful and downtown Spokane has traditional activities planned throughout the season.
Great Pumpkin Race
Race your pumpkin down the steep hills of the lower South Hill to benefit Meals on Wheels. Enjoy the autumn colors, refreshments and door prizes as pumpkins whiz by. 18th and Madison, Oct. 25, greatpumpkinrace.org
Turkey Trot
Begin your day of thanks with a brisk walk or jog in Manito Park. Three routes of varying mileage (2, 3, and 5 miles) provide distance options for all. Strollers welcome! Manito Park Duck Pond, Nov. 27, brrc.net
Santa's Arrival
You know it's Christmas when Santa arrives at River Park Square and the ginormous 50-foot-tall tree (complete with 10,000 LED lights and 2,000 ornaments) is lit. Elves hand out silver bells, candy canes and free hot chocolate to the kiddos, and don't be surprised when a little caroling breaks out. River Park Square, Nov. 21, 6:30 pm, riverparksquare.com
Horse-Drawn
Carriage Rides
Take in the sights and sounds of the holiday season with a magical carriage ride through downtown Spokane. Arrive early to enjoy this popular first-come, first-served tradition. Carriage rides run from 3-8 pm on Fridays and noon-5 pm on Saturdays and Sundays, and noon-3 pm Christmas Eve. Main and Wall, Downtown Spokane, Nov. 28-Dec.24, downtownspokane.org
Ice Skating
Bundle up and head to the Riverfront Park Ice Palace to take a turn on the ice! Vouchers for free skate sessions are available from local downtown businesses. Check the website for participating retailers. Riverfront Park Ice Palace, Nov. 28-Dec. 18, downtownspokane.org
Christmas Lights
Extravaganza
Tiptoe through the cacti as you enjoy twinkling lights in the warmth of the Gaiser Conservatory. Manito Park Gaiser Conservatory, Manito Park, December 12-21, thefriendsofmanito.org
Christmas Tree Elegance
Take in the beauty of the elaborately decorated tannenbaum at the Davenport and River Park Square as Symphony supporters try their hands at decorating the most beautiful Christmas tree. Downtown Spokane, Dec. 2-14, symphonyassociates.org
Gingerbread House
Build-Off
Ooh and aah in the Davenport Hotel's Hall of the Doges as teams compete to build gigantic gingerbread houses in three hours or less. The Davenport Hotel, Dec. 14, christkitchen.org
Coeur d'Alene Holiday Light Show Opening
Ceremony
They kick off the holiday season right in Coeur d'Alene with a charming parade, Christmas carols and an impressive fireworks show — not to mention the lights. More than 1.5 million lights, which grace an enormous Christmas tree and illuminate some 250 displays along the Resort's boardwalk and across the lake. Kids under 12 ride free on the Journey to the North Pole Cruise. Coeur d'Alene Resort, Nov. 28, cdaresort.com
Outdoor Activities
Get ready to enjoy all the great outdoors has to offer. From fishing to splash pads, taking advantage of free outdoor activities is a snap.
Free Fishing Weekend
No fishing licenses needed! Free Fishing Weekend also means no Discovery Passes required, either, so drop your lure and reel in the catch of the day at local lakes. Washington state, June 6-7, wdfw.wa.gov
Beaches
Maybe you already have your favorite stretch of lakefront sand. If not, here are three of what we consider the most family-friendly beaches in the Inland Northwest. Honeysuckle Beach at Hayden Lake has certified lifeguards on duty all summer long, concessions and public fishing docks. Easy parking close to the beach means less to lug, and warm water pleases both kids and adults. Liberty Lake Regional Park on the southeast edge of Liberty Lake offers a long stretch of sand, lifeguards on duty, a play structure and a gradual entry to the lake. Bring a volleyball for when everyone is waterlogged! Unlike Coeur d'Alene's public beach, Sandpoint's City Beach isn't crowded or loud. It's a picturesque beach, complete with lifeguards, nearby basketball and tennis courts, sand volleyball and horseshoes, a play structure and barbecues for cookouts. Honeysuckle Beach, Hayden, Idaho, cityofhaydenid.us; Liberty Lake Regional Park, Liberty Lake, spokanecounty.org/parks; Sandpoint, Idaho, cityofsandpoint.com/parksrec/
Splash Pads
Looking to cool down in the summer heat? Slap on some sunscreen and head to a local park for some splash-pad fun! Splash pads offer an array of mechanisms that dump, spray and blast water. With more than 17 locations in Spokane and Spokane Valley, relief from the heat isn't far off. Mid-May to mid-September, spokanecity.org, spokanevalley.org
Playgrounds
One ambitious mom we know made it a summer adventure to take her kids to every single one of Spokane's public parks. If you're not that ambitious, there are at least three we think you should try. Spokane Valley's Discovery Playground is as much a masterpiece of engineering as it is a multisensory playground and splash pad. It's easy to let your imagination go wild at Fort Sherman Playground in Coeur d'Alene's City Park. The sprawling wooden play structure was designed to resemble Fort Sherman, with plenty of nooks for children to explore. The play structure at the newly renovated McEuen Park is a vibrant web of slides, monkey bars and climbing structures, and the nautical-themed splash pad allows kids to imagine they're on an ocean voyage. Older kids will appreciate the pickleball, basketball and tennis courts — all brand-new, thanks to the stunning $20 million renovation.
Discovery Park, Spokane Valley, May 15-Oct. 15, spokanevalley.org; Fort Sherman Playground, Coeur d'Alene, cdaid.org; McEuen Park, Coeur d'Alene, cdaid.org.
Intellectual Pursuits
Interested in expanding your mind? Learning a new instrument, free museum visits and classes at your local library will get you on your way.
Spokane Public Library Hop on to Spokane Public Library's website to peruse the schedule of free activities offered year-round. Weekly storytimes help kids develop a love for reading and listening. Interactive exhibits change seasonally, and crafts programs help participants explore local customs and cultures. Summer reading programs are available for children, teens and adults. Year-round, spokanelibrary.org
Historical Tours Play tour guide for your family while learning about Spokane's fascinating mining, railroad, art and architecture history. Visit Historic Spokane's website to find interactive maps. Year-round, historicspokane.org
Museum of Arts and Culture Free Family Days, sponsored by STCU, give everyone the opportunity to explore the MAC. Activities changed based on exhibits. Museum of Arts and Culture, quarterly, Saturdays, northwestmuseum.org