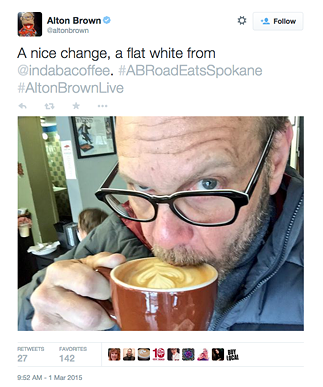 Social media was abuzz yesterday with the hashtag #ABRoadEatsSpokane as chef and Food Network personality Alton Brown made his way around Spokane, sampling local offerings from coffee to waffles and banh mi sandwiches.
Brown tweeted, Facebook-ed and Instagram-ed his Spokane eating experiences, stopping at Coeur Coffeehouse, The Scoop, Indaba Coffee and Stella's Cafe before heading to the INB Performing Arts Center for his Alton Brown Live! show that evening.
Indaba manager Evan Lovell wasn't working yesterday morning, but his coworkers tell him Brown ordered a traditional flat white around 10 am.
"He was glad it was a real flat white," Lovell says, adding that some coffee connoisseurs — Brown posts online often about his love of coffee — disagree on the true characteristics of the drink, made from espresso and steamed milk.
After his coffee stop, Brown headed up to The Scoop on the South Hill for breakfast. Scoop owner Jennifer Davis — a huge fan of Brown's work — was doubtful he'd make it to her ice creamery and cafe, but says she planned to be there all day just in case.
"I was just like, you know, this is kind of the place [he'd like]; we have different food, we're off the beaten path and so he could probably check us out."
Shortly after learning of Brown's stop at Indaba, Davis says a woman stopped in to ask if they served breakfast, to which Davis replied that the Scoop is locally known for its liege waffles. She adds, "then I looked out the window and there he was!"
Lucky for Brown and his crew of two, Davis says foot traffic at the cafe was unusually slow that morning, and as such they were able to enjoy the Scoop's bacon nut, breakfast and minimalist waffles in relative peace.
"He took a super awesome Instagram picture and was able to take pictures of everything for Facebook and was asking about the neighborhood," Davis says.
Later that day, Brown showed off two mouthwatering sandwiches from Stella's Cafe — a classic banh mi and roast beef with provolone, kale and hot peppers.

At some point earlier, Brown also hit up Coeur Coffee just north of the Monroe Street Bridge for an Americano.
To end the day's eating, Brown ordered a long list of items from the Wandering Table in Kendall Yards, and had the food delivered because after his show ended around 9 pm, the restaurant was getting ready to close. Sous Chef Kyle Bowlby says a courier picked up an order of the restaurant's roasted brussels sprouts, crispy cauliflower, spaghetti stuffed meatballs, gnocchi gratin, bacon-wrapped bacon sliders, roast chicken wings, umami burgers and pepper spiced chips.
Since Bowlby had to work the evening shift and thus missed Brown's show, he asked if the celebrity chef would sign an epicurean cutting board and spoon, which the courier delivered back to the restaurant.