Bad Timing You: Jamie, the beautiful brunette with 4 kids, 8, 6, 5 and 5. Me: the motorcycle rider doodling on his paper. We sat at the same table in a parenting seminar. We made eye contact a few times. I would've asked for your number but it was a little awkward with my ex sitting between us. Hit me up if you're interested. isawuinspokane369@gmail.com
Costco checkout line contest At the valley Costco, May 4 at about 2 pm. Our little contest to see who was in the faster checkout lane brightened my day, and I hope it brightened yours as well. As you remember, you won! You have a lovely smile and probably a great personality to match. Just wanted you to know that. I hope you have fun working in your garden with all the gardening stuff you were buying. Cheers!
Bennidito's South Hill You: handsome silver-haired man alone at the bar, wearing cool black Chelsea boots, which I complimented you on. You were asking the pizza chef about his t-shirt (I think) and where to get it. Me: getting take out. We talked about the item on the counter in front of me. What was it? Interested in meeting for a beer (if you're single and, uh, straight)? I can tell you all about the best teenager stores in the mall.
Vroom, vroom Had just picked up a bite from Chipolte and was thinking about finding a good study spot around 8-ish on a Friday night — boring, right?! Rushing down division in my 'salsa red' Corolla I suddenly caught a glimpse of you in your little gold-ish Grand Vitara. I eased off the gas in hopes you would look my way. After giving you an obnoxious stare, you did. Have you ever had a girl ogle at you in the next car over? I don't recall ever attempting it. You must have thought I was slightly nuts. My heart kinda skipped when you locked eyes and gave a subtle grin — like 'is this chick flirting?' Was I flirting with a guy who's already taken? My hopes are that you're not and somehow you notice this too. At the very least, I hope that put a spark in your day. Email me: 8forthehalibut8@gmail.com
Handsome guy You were at the Washington Trust bank on Sat. May 9th during the business fair, you held the door open for me and my mom as we walked out. Then I saw you again at Fred Meyer i passed you and the guy you were with in the isle and you spun around after i walked passed you. I was wearing my hair down with white see-through blouse and black pants. I would definitely like to get a drink sometime :).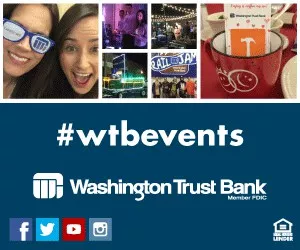 Cute country boy I was parked in McDonald's parking lot on Saturday and you pulled up in your truck with a trailer attached to it, i whistled at ya, you're pretty cute we should grab a drink.. ;)
Whoop!!! Whoop!!! Juggalos Cheers to the Juggalo Family Members that were at Hastings May 5th!!! Especially the ones who gave my broke Little Juggalo and Juggalette $30 to buy a CD and get to meet their idols Violent J and Shaggy. The CD only cost $10.99 and when my Little Juggalos tried to give you the change back, you told them keep the change and get a Faygo!!! This is Exactly why Juggalos are not a Gang!!! They are Family!!! Cheers 2 U and Much Love, Raise your Hatchets High and Holler Whoop!! Whoop!!!
Kickin' Service I am totally impressed with the good ol' fashion customer service I received at the Men's Shoe section in Fred Meyer on Thor. I normally do the Amazon thing, but after they shipped me the wrong style shoe, I was pressed to get into some new kicks before Bloomsday. Tim (Tom?) took one look at my burnt-out Nikes and read them like an oracle. After a quick lecture about not using my running shoes like slippers, and some tips on how to properly lace and tie 'em up, he pointed me toward some quality Under Armours. When my exact size wasn't in stock, he had them ordered and to me within a couple of days. I forgot what it was like to have helpful, knowledgable, face-to-face customer service before the days of internet shopping. Cheers!
Thnx for tha Taco Bell Just want tha person who paid for my families late night tacos on 4/22/2015 @ tha Taco Bell in tha valley @ about 11pm to know it was very much appreciated!! I will for sure pay it forward!!
My 1 And Only CLF I love you so much!! I don't know where I would be without you in my life. Until tha end of time, It's You and I against tha world. I wake up every morning knowing in my heart that with you by my side I can accomplish anything... Love always, Snookie Wookems...
Re: someday... call me if you know me. J-
RE: Hooyah for Breeders How nice it was to read your sarcastic opinion about those of us who had decided to have children. After finishing your message, I could not help but think how sad it was for the rest of us all that your parents did not share your derisive attitude toward breeding. They would have been doing the world a favor.
Downtown Panhandler There is a fat, butch woman with a buzz cut that wears a T-shirt and shorts and always has an ipod/ ear phones in. DO NOT give her money for the "bus." She comes down daily and begs for so-called bus money.
Little Angels and Little Devils are not racist Due to recent letters by angry customers, Rockwood Bakery had to change the names of their "Little Angel" and "Little Devil" cupcakes to something less "racist." Apparently, if you have a baked good that is white and name it after an angel and one that is black and go for a devilish name, that is considered racism. Except that these cupcakes are not named after their color or frosting — they're named after the type of cake used to create them. "Little Angels" are made from Angel Food Cake, and "Little Devils" are Devils Food Cake. There is no hidden racist connotation behind these cupcakes, merely a reference to the food used to create these baked goods. It is sad that some people immediately jump to racism, and never bother to understand the history behind our sugary treats.
Shame on KHQ Jeers to the KHQ news room. On May 4th the news room at KHQ felt it more worth their time to post pictures of a baby dressed in Star Wars garb and pushing the "May the 4th be with you" stuff then report on the lockdown that happened at Holmes Elementary school. On May 5th I called the news room to ask them why they didn't report on it. The rude woman on the phone with me told me several things, including that the event was a false alarm. This didn't stop them from reporting on the false alarms back in April for a different elementary school and 3 different high schools. She hung up on me after informing me that, "It probably was just one of those things that fell through the cracks."
NOTstitute There seems to be some confusion as to my agenda whilst standing on Sprague. I do in fact work there... for a legitimate business, where I earn a taxed paycheck every two weeks. JUST BECAUSE I AM A FEMALE, DOES NOT MEAN THAT MY CROTCH IS FOR SALE. Some of you disgusting sacks of sh*t even go as far as to get angry when I don't come hop in your car! Take a moment to soak in what you see. I have all of my teeth, and an adequate amount of clothing as well. I go outside for my smoke breaks, which are constantly being interrupted by greasy, rapey scumbags circling the block five times over, staring me down like a slab of meat. And once my shift ends, you know that blue sign I stand by? ITS A BUS STOP. Yep, could you possibly imagine that there are women who can't afford a vehicle? And just as nauseating as the pigs trying to pick me up... THE ACTUAL PROSTITUTES. You nasty tweaker whores demand I provide you with cigarettes, and shout a slurred mess of obscenities when I politely refuse you. Sometimes even assume that I am there to steal your business. Gross. And the police are no better. I have been given a pop quiz on the prices and amenities of my workplace to prove that I am innocent. Thank you for profiling me, now could you all grab hands and leap off the Monroe Street bridge together? Just an idea. ♦