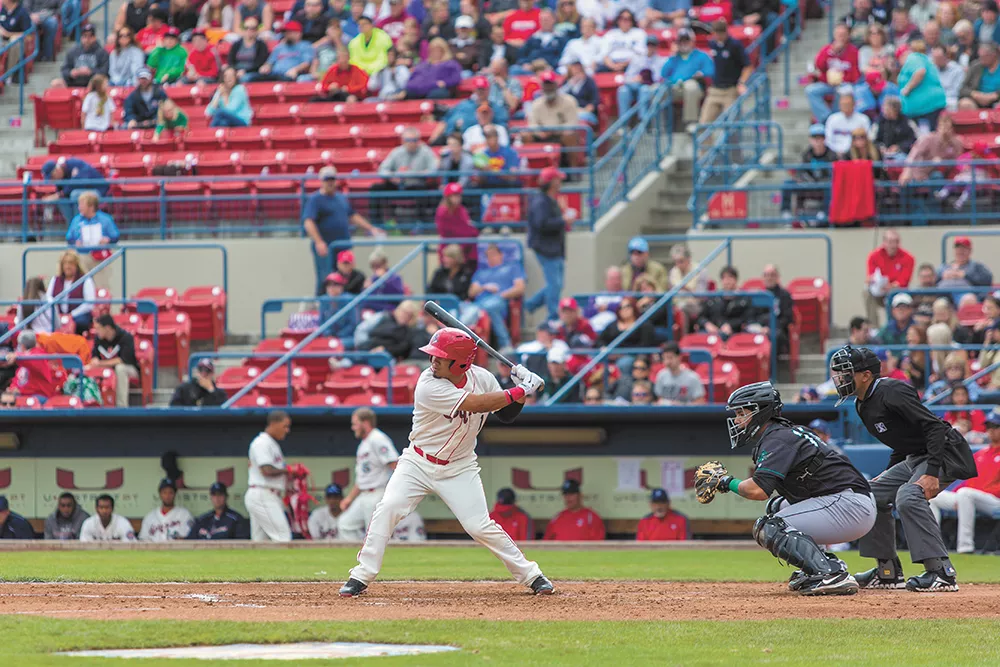 Before players in this year's NCAA College World Series clear out of the dugout, the Associated Press will have a game story ready to go on its newswire. The same will go for women's Division I basketball and D-II and D-III basketball and football — all areas the AP hasn't covered in the past.
So, how does the AP manage to send reporters to thousands of games when newsrooms across the country have been slashing staff?
Short answer: Robots.
This past March, the AP announced it will partner with the NCAA to expand its coverage using statistics and a platform called Wordsmith that turns raw data into narrative stories. But this partnership is not exactly new.
In 2012, the AP started using Wordsmith to crank out 3,000 business-earnings reports a quarter — 10 times the output its human reporters used to do. Yahoo! has also been using Wordsmith to give its fantasy football players snarky matchup recaps.
Indeed, the company that built Wordsmith, Automated Insights, produced more than 1 billion articles in 2014 for clients including Yahoo!, Edmunds.com., Samsung and Comcast.
Other companies and news outlets have dabbled in automated content as well. Chicago-based Narrative Science produces an article about every 30 seconds on anything from sports and business earnings to the presidential horse race. In 2014, the Los Angeles Times claims it was the first outlet to publish a story about an earthquake. Three minutes after receiving the alert from the U.S. Geological Survey, a robo-writer published the article.
On the one hand, this expanded coverage could be a good thing. The AP, which previously only covered some college baseball playoff games and the College World Series, now will have a recap for every game. The same goes for the other areas of expanded coverage.
However, college sports are just the beginning. Lou Ferrara, vice president of sports, business and entertainment news for the AP, says the news wire will eventually automate game stories for professional sports as well, and that has some journalists concerned.
Joe Palmquist, sports editor for the Spokesman-Review, says the new technology could put a lot of sports reporters out of work, though he's quick to add that he has no interest in using automated coverage of local sports in the Spokesman.
"To me it's not a positive thing for our business to have us regurgitate stuff you already have in a box score," he says. "It just doesn't seem very exciting to read the same story every time."
Ferrara denies the accusations from journalists around the country that Wordsmith will replace reporters. Rather, he says, it will allow them more time to report enterprise stories and do in-depth reporting on the more interesting topics audiences demand.
How does it work?
Wordsmith uses a "language generation engine" built with algorithms to turn raw data into a narrative using a variety of tones and perfect AP style. It can produce game stories in real time and even use historical data to provide context or write quiz questions. According to AI's website, Wordsmith can produce 2,000 stories a second — yes, a second — and a study in Journalism Practice found that readers can hardly tell the difference between the automated content and a story written by a human.
Of the more than one billion articles that Wordsmith produced last year, 99 percent were personalized content — articles like individualized fantasy matchups, neighborhood-level real estate sales and stories on web analytics, Automated Insights CEO and founder, Robbie Allen, tells Poynter.
During a Q&A at the South by Southwest Interactive Festival this year, Allen says the technology is only able to produce quantitative stories, which means reports that require analysis or unique thinking cannot be automated. Yet.
Narrative Science cofounder Kristian Hammond believes the technology is only a couple years away from producing automated Pulitzer-Prize-winning content. By 2030, he estimates that more than 90 percent of news will be written by computers, according to a report in Wired.
Local reporters' reactions
Spokesman sportswriter Chris Derrick has covered the Spokane Indians off and on for 15 years. As long as automated stories are filling holes in journalism's athletic coverage, he thinks the AP's efforts are positive. However, he adds, the reader loses something when the robots start encroaching on teams that are already covered and a human reporter isn't there to pick up the slack.
"Stats can only tell you so much," Derrick says. "They're a vital part of the game, but the true baseball fan knows there's so much more to it."
One example of how Derrick picks up that slack is through his relationships with the Indians' manager and players. Aside from the obvious fact that Derrick can ask questions about a team manager's decisions and a robot can't, he can also decipher whether the good-humored manager is being sarcastic or not.
Mike Boyle, the voice of the Indians and the Spokane Chiefs, covers sports part-time for KREM 2. He also believes Wordsmith is a good thing for smaller schools and games that don't receive any attention, but the new technology could make it easier for editors grappling with a tight budget.
"It's probably going to make it easier for editors to make cutbacks if they're getting more information from outside sources," he says. "That's a huge concern: How is this going to change the landscape of a local sports department?"
Darnay Tripp, the sports director at KREM 2, says the station would welcome the expanded coverage. As television news stations around the country decide how to divide resources between the on-air product and a news website, a game summary would be a great way to augment online content, Tripp says.
Back to AP
Ferrara says they're still working out some of the kinks with the NCAA coverage. AP won't start publishing the automated college baseball stories until playoff time, but once it starts, articles will go directly onto the website without an editor's eye or a byline. They'll appear on the schools' websites as well.
As that time approaches, Ferrara say they're not getting a lot of pushback from reporters.
"I have really smart people who see the future and are adaptive enough to know that there are some things that are going to change," Ferrara says. That change comes in the form of demand for analysis and insight instead of box scores and game recap stories. Audiences would rather read about the Seahawks' decision not to give Marshawn Lynch the ball on the 1-yard line than how many total yards he ran.
In the future, Ferrara says he could see automated content expand into election coverage and anything else that involves structured data.
"The goal is to get to a point where we're driving jobs, not shedding them," Ferrara says. "We're going to end up with more people doing technical journalism jobs related to automation. I'm a big believer we should do things as effectively as possible, but we need more journalists doing more journalism, and I don't think that's a bad goal." ♦