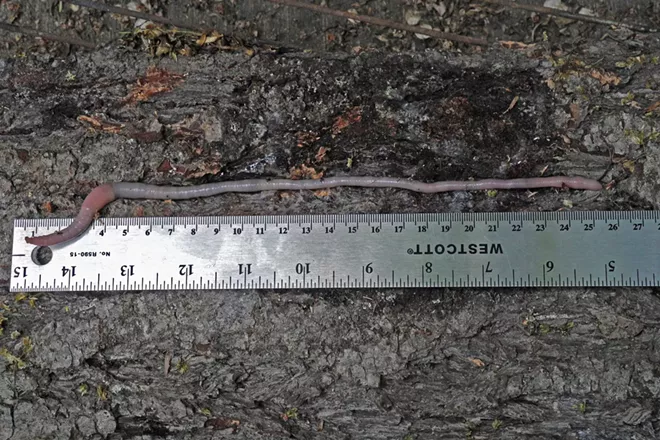 The squirmy buggers certainly aren't easy to find, but by some miracle of nature, a Latah County resident stumbled upon not one but three specimens of the extremely rare and very real Giant Palouse Earthworm this past weekend. The discovery was made on Paradise Ridge, southeast of Moscow.
Cass Davis, who also came upon two specimens of the worm back in 2012, has been keeping an eye out for more of the elusive species since that previous discovery. The Giant Palouse Earthworm last made major headlines back in 2005 and 2010.
In 2009, the Inlander also published a profile on one researcher's quest to find the unusual creature. Lest anyone has forgotten, the Giant Palouse Earthworm (GPE) is a pale white worm that has been mythologized to grow up to three feet long, to emit a lily-like odor and also spit when aggravated. As recent as 2005, the GPE was thought to be extinct, but that same year was found by a University of Idaho graduate student near Albion, Washington. Then, in 2010, another U of Idaho researcher, Karl Umiker, found two more specimens outside Moscow.
Why all the fuss about a worm? The species' habitat, the native Palouse Prairie, is an incredibly endangered ecosystem, with less than 1 percent of its original area remaining. Back in the late 1800s, when the Palouse was settled and transformed into the agricultural heartland it is today, farmers plowed up the native plants and soil, effectively destroying the GPE's habitat. Researchers believe this is why finding surviving worms has become a literal quest to find a needle in a haystack.
The GPE was petitioned by scientists and conversationalists in 2009 to be placed under protection of the Endangered Species Act, but U.S. Fish and Wildlife denied the request.