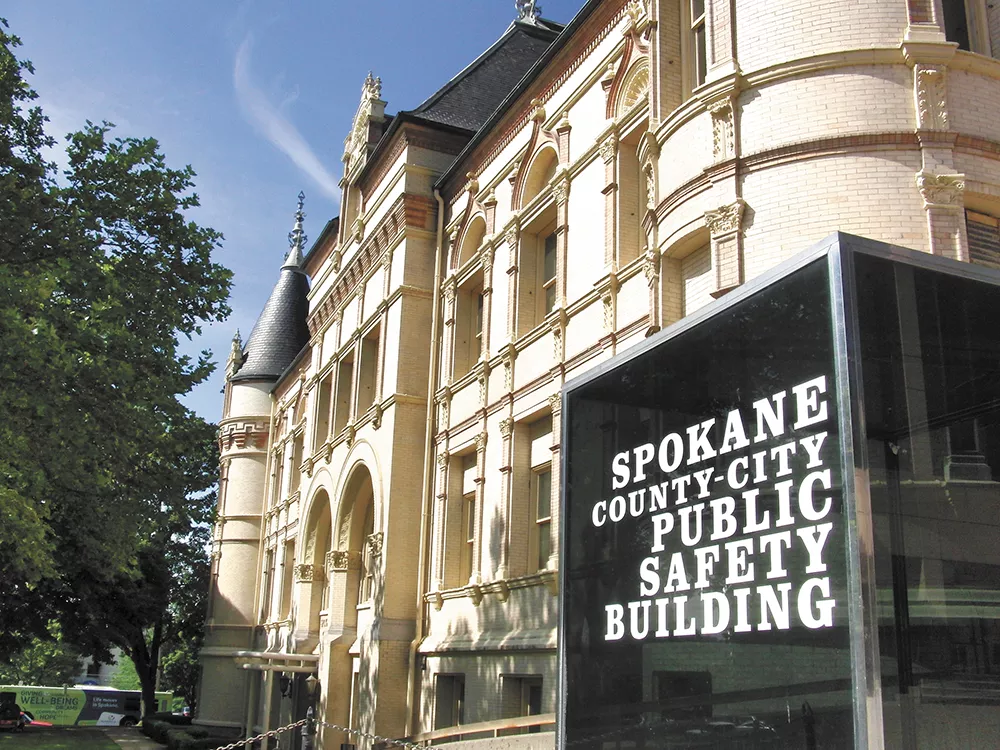 In 2006, Ben Burkey was sentenced to 69 years in prison for his role in a brutal killing in Spokane County. He and James Tesch, both part of the Gypsy Jokers motorcycle gang, had gotten word that a man named Rick Tiwater was a police informant and aimed to confirm that rumor. They confronted him at Burkey's home, beat him with a hammer and golf club, set his head on fire, ran over him with a 1987 Ford Thunderbird and ultimately dumped his dead body off a remote road.
But now Burkey may get a second chance.
In May, the Washington State Court of Appeals overturned Burkey's conviction in a decision that weighs the rights of the accused to a public trial against jurors' rights to keep personal, possibly traumatic, incidents private.
The problem, according to the Court of Appeals, was not with any of the evidence presented at trial; rather, it started before the trial even began, during jury selection. A number of potential jurors were interviewed in the judge's private chambers, which, the appeals court ruled, amounts to a closure of a public court and is a violation of the federal and state constitutions.
"We decide the evidence amply supports each conviction, but, reverse because, considering the now well-developed case law, Mr. Burkey did not receive a public trial," the Court of Appeals opinion reads.
That means the now 55-year-old, who wouldn't have been released until 2075 (when he would be 115 years old), could now potentially walk free.
Common practice in criminal cases that involve sensitive issues — where jurors are asked to listen to graphic descriptions of brutal murders, sexual abuse or drug use, for example — was to conduct interviews with potential jurors in private. Jurors would fill out a preliminary questionnaire in which they indicated if they had personal experience with situations pertaining to the case. In the Burkey trial, those questionnaires would have asked about gang violence and homicide. The jurors who said "yes" were then interviewed in the judge's chambers individually. This was considered the respectful way to ask questions about traumatic events in their lives.
"We'd have people, who have never told anybody they were molested or raped as a kid or as an adult, break down bawling in the courtroom," says Rob Cossey, a local criminal defense attorney. "It would be so traumatizing that they would just cry in open court."
Private juror interviews were also considered advantageous for defendants. Cossey's 20 years of experience have taught him that jurors are much more forthcoming with information about experience with sexual assault, murder or drugs when they don't have to talk about it in front of the pool of 50 to 100 other jurors or the rest of the court.
Spokane Superior Court Judge Sam Cozza agrees.
"Very often, people would bare their souls and really tell some things that would be difficult to express in an open courtroom," he says. "Most of the time that worked to the advantage of the defendant, because people were willing to give more information about themselves."
The more forthcoming potential jurors are, the closer to an unbiased jury panel the court can get, which is its duty, says Mary Schultz, a local attorney with more than 30 years of experience in criminal and civil cases.
"If you're going to have criminal liability and incarceration, then jurors are going to be required to disclose certain personal matters," Schultz says, adding that her goal during jury selection is to seat the people who she believes will not impose their inevitable biases on the defendant. "That's part of the constitutional mandate of a neutral and unbiased trial."
Although arguably somewhat vague in its explanation, the trial court in Burkey's case cited concern for jurors' willingness to talk about sensitive issues as its reason for conducting interviews behind closed doors.
That did not satisfy the state Court of Appeals, which said the trial court should have gone through the proper protocol for closing a public hearing, known as the Bone-Club analysis.
The right to a speedy and public trial is guaranteed by the federal and state constitutions. There are ways to get around those essential rights, but it isn't easy. In 1995, the Washington State Supreme Court ruled in State v. Bone-Club that if a court wants to close a courtroom for any reason, it must first go through a series of steps on the record. Those steps came to be known as the Bone-Club analysis.
According to the analysis, the proponent of closing the courtroom must show a "compelling interest" to do so.
"It's a pretty heady analysis," Schultz says.
The court must weigh the constitutional rights of the accused to a public trial against, in this case, the rights of jurors not to talk about traumatic incidents in open court.
The analysis also says the court must give the other side a chance to object, and the closure must be no broader than necessary. In other words, if a judge decides to close the courtroom for a juror interview, that interview is to be the only business conducted in private.
"It's a protection for the operation of the system," Schultz adds. "The judicial system must be transparent, and that's a constitutional right. The case really protects the public as much as the accused."
Schultz and Cossey agree that a juror's request to keep personal experiences private would not be enough to sidestep the constitutional right to a public trial.
A similar situation exists in Idaho, according to Idaho District Judge Lansing Haynes.
"The usual way of doing jury selection is in open court," Haynes says. "In Idaho, judges have discretion to bring individuals back to chambers, but all parties are present, and everything is still on the record. The public would have access to that record."
Idaho District Judge John T. Mitchell, for example, says he's never interviewed potential jurors in private chambers. Instead, he asks about experience with prior sexual abuse in open court via a hand-raising style inquiry, so specifics aren't broadcast to the public.
In the years since the Bone-Club decision, and especially in light of the recent slew of cases overturned in Washington state because jurors were interviewed in private, trial courts have adjusted their methods.
"The chances of messing up and getting the case reversed on appeal has persuaded 99.9 percent of judges to quit doing jury selection in private," Judge Cozza says. "Which in my personal opinion is unfortunate. Nine times out of 10, that practice benefitted the defendant, because people are more willing to reveal things in a private setting."
Now, when potential jurors indicate they'd rather talk in private, the court will call them into the courtroom one by one, but the hearing is still open to the public.
Burkey is still locked up in the Washington State Penitentiary, waiting for a mandate from the Court of Appeals to send him back to Spokane County Jail, at which point the process starts over from scratch. Spokane County Prosecutor Larry Haskell says his office is determining if it can re-gather enough evidence to sustain a conviction before making a decision whether or not to begin another trial.
However, the older a case gets, the harder it is to try.
"Evidence doesn't improve with age," Judge Cozza says. "If you look around the state, a significant number of these cases end up being plea-bargained."
There is incentive for both sides to strike a plea deal. Burkey lost the first time on the facts of the case, but the prosecution is aware of the risks involved with retrying a case using old evidence and testimony.
"If we try to work out a plea agreement, that usually has credit for time served," says Tracy Collins, Burkey's defense attorney during his trial. "There is a chance he could walk free." ♦