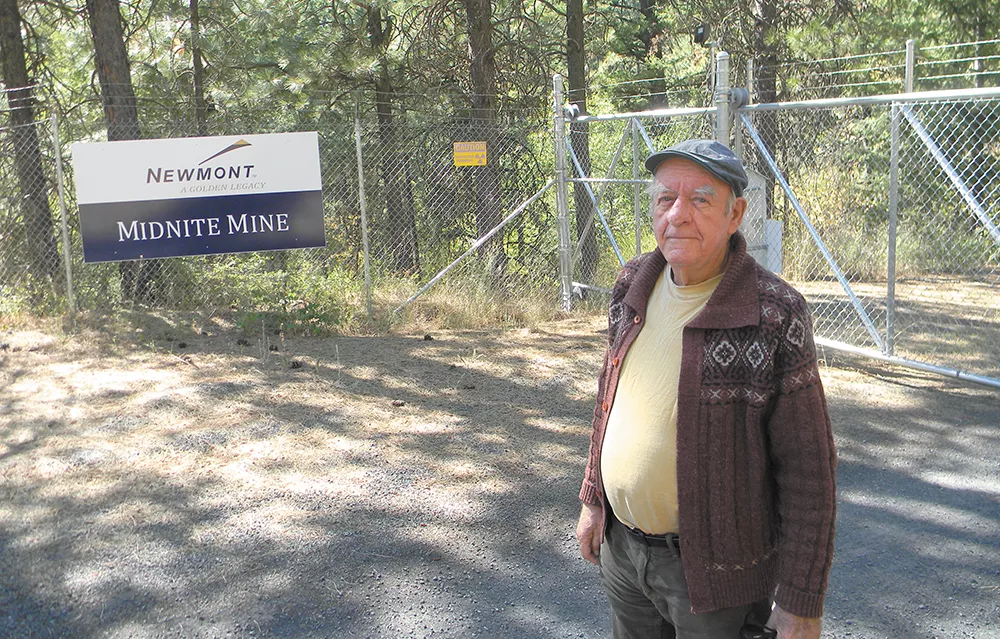 Randy Connolly, the Spokane Tribe's Superfund coordinator, wheels his Jeep onto a side road outside of Wellpinit. Underneath the layer of gravel and pavement, he says, is a layer of contaminated uranium mining material that was originally used to line the road. Farther up the road is a fence topped with barbed wire, designed to keep out animals and people who might wander in and unwittingly pick up and take home radioactive rocks.
Beyond the fence is a 350-acre scar consisting of 33 million tons of waste rock and ore, along with pits as deep as 500 feet, filled with blue and green wastewater. "It's always been hazardous," says Connolly.
The atomic age came to the Spokane Tribe in the spring of 1954, when brothers John and James LeBret, using an ultraviolet light and a Geiger counter, discovered fluorescent uranium minerals in the mountains outside of Wellpinit. The discovery led to a partnership between the LaBrets and other members of the tribe, with the Dawn Mining Company acquiring control of the property. The mine opened up shortly afterward, providing uranium for the government and the energy industry.
Lois Stratton, a former Spokane city councilwoman and state legislator who grew up on the reservation, remembers the mine being a source of jobs in the economically depressed area. She recalls people fixing up their houses and buying cars, sometimes their first. Someone even bought a Cadillac.
After the Three Mile Island nuclear reactor in Pennsylvania partially melted down in 1979, the nation's appetite for uranium withered. The mine closed in 1981, but its effects lingered.
"Every time you pick up the paper and see that someone has died on the reservation, it's always cancer," says Stratton.
The site drains into nearby Blue Creek. Tribal members are advised not to drink from it, eat fish caught from it or gather plants nearby. The creek runs into the Spokane River, a tributary of the Columbia River.
"It may appear to be a remote issue in northeastern Washington, " says Mary Verner, a former Spokane mayor who served as the tribe's director of natural resources. "But it's a regional issue."
Warren Seyler, a former tribal council member, worked at the mine to help pay for college. He remembers wearing a button that would change colors, indicating that its wearer had been exposed to too much radiation and needed to stop working. But he says most ignored the warning and kept working, hoping to take home a bigger check. Many also took dust-covered clothing home to their families.
"[They thought] this is my job, and I'm putting food on the table," he says.
Verner says that it wasn't until about a decade after its closing that the tribe realized how serious the environmental problems resulting from the mine were. After years of incremental regulations, mandates, negotiations and litigation, the federal government finally reached a settlement with Dawn Mining Company, LLC, and its corporate parent Newmont USA Ltd. (which didn't respond to a request for comment) under which both companies agreed to pay up to $193 million for the cleanup.
"The legacy of this mine has been an open, gaping wound on the landscape and a series of broken promises for the Spokane Tribe," says Verner.
Carol Evans, who in July became the first woman to be elected as chairperson of the Spokane Tribe, says her father didn't talk much about his day in the mine when he came home from work. He went out to tend cattle, while she played with her siblings. But he later fell ill, says Evans. She doesn't remember the name of the illness, but it was from the mine, and he qualified for compensation under a federal program.
"I think back to the employees working," says Evans. "They didn't know then what they know now, so you definitely have fathers and grandfathers that had diseases that were most likely caused by working in those places."
While serving as vice-chair of the council, Evans helped negotiate some of the final details of the cleanup plan, which was submitted in July and awaits final approval from the U.S. Environmental Protection Agency. The cleanup, which could take a decade to complete, could begin next year.
But the reservation will never be the same.
Twa-le Abrahamson, a tribal member and activist with the Sovereignty, Health, Air, Water, and Land Society, a grassroots advocacy group long active on mine-related issues, is concerned about the cleanup plan. She says the open pits will be partially filled with topsoil to prevent radon from escaping, which will require clear-cutting surrounding trees and will make the footprint of the mine larger.
"They've done enough damage," she says. "It's just a big, huge scar, and it's getting bigger."
The agreement also requires the companies to build a new water treatment facility to clean any nearby water to the tribe's stringent water quality standards before it is discharged into the Spokane River. Meeting the standards will be hard enough, but this facility will need to operate in perpetuity, a prospect that concerns Verner and others. She says that questions of who's responsible for funding and maintaining the facility inevitably will arise.
The cleanup could be further stalled, according to Verner, who notes that every major development required a trip to Washington, D.C., to convince the federal government to move forward. ♦
A version of this story first appeared in the Inlander.