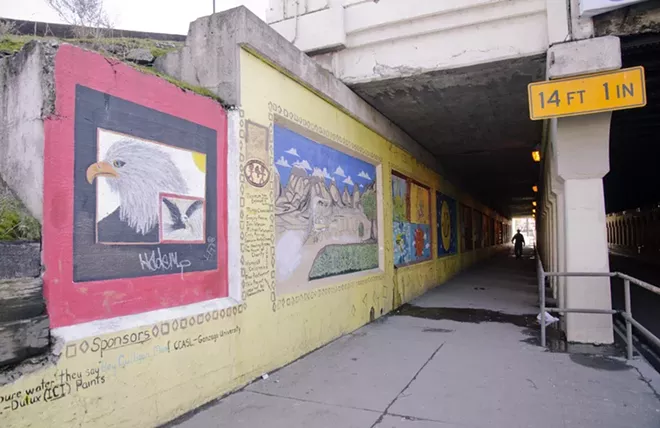 Who knows what evil lurks in the hearts of men? The City Hall Eyeball knows. The City Hall Eyeball's unblinking eye turns once again to scour the City Council dais, and bring you stories from inside the halls of power
City Council President Ben Stuckart's budgetary maneuver sounds a bit wonky,
earmarking a third
of the city's admissions tax for Spokane Arts Fund and grants for artists. But last night, the room was packed. If there's one thing artists know how to do, after all, it's draw people.
Last night's marathon council meeting lasted four hours, and touched upon annexation and utility policy, and
featured a circus video interlude
(The council banned the use of elephant hooks.) But most of the night was devoted to speaker after speaker, most clad in bright orange shirts, giving three-minute paeans to the glory of art.
It was like a murderers' row of Spokane celebrities, except instead of murderers, they were artists.
Sasquatch Hunter
Sharma Shields! State poet laureate
Tod Marshall
! Former
Inlander
columnist and known bow-tie sympathizer Luke Baumgarten!
There were teachers, painters, photographers, a pole dancer, a local musician with the nickname "Troubadour" and a chalk artist in a top hat. More classically stodgy tie-wearing business types joined in. Visit Spokane! The Public Facilities District! The Downtown Spokane Partnership!
Some speakers focused on hope, on
what could be
if the measure passed. Other focused on the frustration that artists and young creative types face in Spokane.
"Like most people my age, I grew up being told my city wasn't good enough," Window Dressing founder Ginger Ewing said. Wanna be cool like Boise? she asked. Then start pouring money into the arts like Boise does.
Local activist — she prefers the term
community organizer —
Mariah McKay stood up and read a long list of names she's been keeping track of for years: all the young talented artistic types who've left Spokane. At one time, the Spark Center's Brooke Matson was one of those artistic types fleeing Spokane, Matson said at her turn at the mic. But Matson, unlike many of her peers, was lucky enough to find an artistic job to bring her home.
Clapping, in the interest of time and civility, was verboten. But that didn't stop the orange horde from standing up when a speaker hit a point they really agreed with — like the notion that parking should be free on First Fridays — resulting in a shuffling of clothes and clattering of seats springing up far more disruptive than a mere round of applause.
For the city council, packed 6 to 1 with liberal-leaning types, there never was much doubt of the result. Breean Beggs argued that, instead of calling artists the
creative
class, they should be called the
courageous
class
.
"I don't ask for a whole lot in life, but I want more
traffic signal box covers,
" Councilmember Karen Stratton said. "The whole city. I want them all covered."
Councilman Mike Fagan, as he often is, was the lone voice of dissent. "Call me old school, but I believe that the arts thrive when the city thrives," Fagan said. The city-thriving has to come first, he argued.
That's not to say he's against art
per se
. He's an artist himself, he said. At one time, he was a drummer for a rock, blues and country band. There is art, too, in being a conservative talk show host. And at times, he says, he spends his discretionary council budget on supporting art in the economically depressed Hillyard neighborhood.
But dollars you spend in one area, Fagan pointed out, are dollars you can't spend in other areas. Could that funding not be spent to hire
another police officer dedicated to property crimes
? Or maybe investigating the asphalt mix used to fix potholes?
"I don't have a problem with the arts," Fagan said, quoting a constituent. "But how much longer am I going to have to drive on a lunar landscape to go and see [them]?"
Sure, Fagan said, Stuckart may dismiss these arguments as "red herrings." But in fact, Fagan insisted, "some of those items are mackerels and rotten tuna."
Fagan voted against the proposal — with the caveat that someday he might be convinced. "This is definitely something I would be open to discussing in future budget cycles," Fagan says.
But Stuckart pushed back against Fagan's notion that the arts were just something extra.
"Our arts and creative class
is
not something 'nice.' It is necessary. If we want to be a city, then we value our arts and culture. If we don't value them,
then why do we even exist as a city
? There is no point," Stuckart said. "It's not something
nice
. It's not frills. It's part of who we are and what we value. And budgets talk. And that's how you value a community and how your values talk."
The measure passed, 6-1, and with that, the city arts budget tripled.