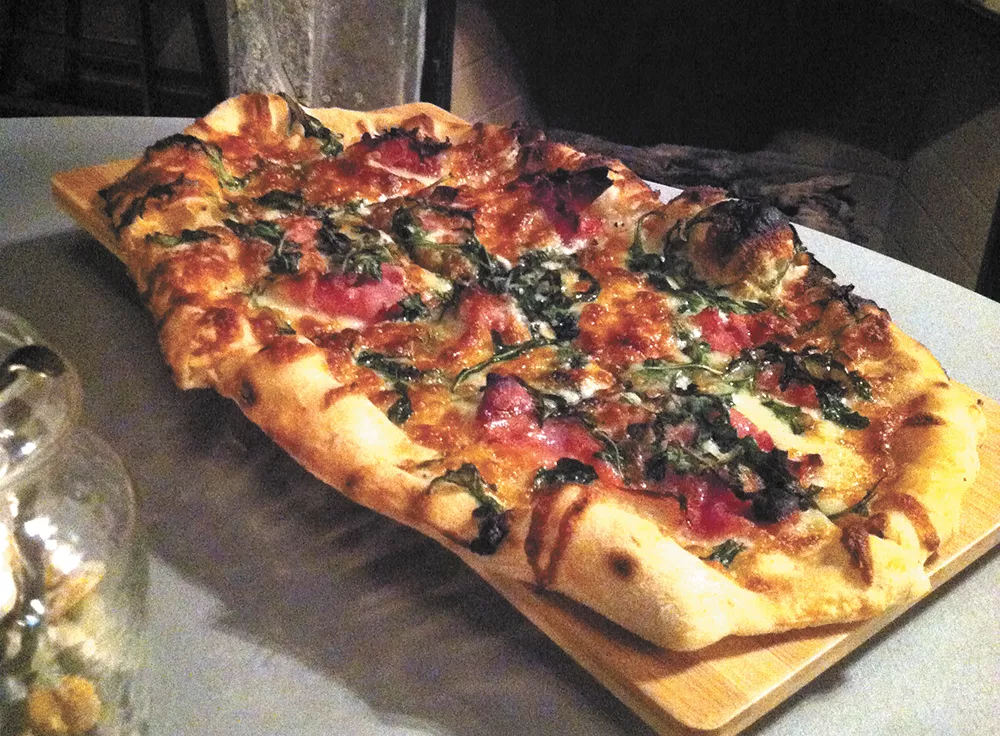 The charcuterie plate is the tell-all taste of what you can expect at Flame & Cork, a new wood-fired pizza place with a modest beer and wine selection.
First, how many pizza places have a charcuterie plate? Theirs uses homemade bread baked on-site in their pizza oven, generously accompanied by cured meat, cheeses, house-pickled onions, garlic and cauliflower and housemade pesto ($10). Add a glass of Coeur d'Alene Cellars' Scarlet Lake Syrah ($9.50) or Kona Fire Rock Pale Ale ($4.50) and Caesar salad with house dressing ($8) for a splendid shared meal.
Their pizzas are equally generous, widely ranging in flavor combinations with a faintly charred crust ($10-$16). The irregular-shaped rectangles are about 10 to 11 inches across. Try Nico's, with prosciutto, arugula, mozzarella and pecorino ($12) or the Sicilian with housemade fennel sausage ($14).
Flame & Cork makes grana panna, a creamy cheese sauce using hard, grass-fed cheese (like Parmigiano-Reggiano). They use it on pizzas like the Mario with portabella mushrooms and dry coppa ($14) and in the stuffed mushrooms ($6).
Chef and general manager Nick Young is still tinkering with the menu, adding soups and daily lunch specials, as well as looking for a way to cure his own meats and make his own cheeses.
Young started the restaurant with his stepmother, Connie Young, and father, John.
"It's been a dream of mine ever since I was 16," says Young, who left the area to attend the University of Oregon. While there, he fell in love with cooking, eventually working at such notable Eugene establishments as Ox & Fin and Belly.
Upon returning to North Idaho, Young recognized a dearth of dining establishments in Hayden and renovated a former design center to create Flame & Cork, which features a large stone fireplace, slate floor and cozy woodwork. A fortress-like, stone-covered structure in the center of the dining area may soon be converted to a wine storage area.♦
Flame & Cork • 9225 N. Government Way, Hayden • Open Tue-Sat, 11 am-9 pm • Facebook: Flame & Cork wood fired pizzas • 208-635-5836