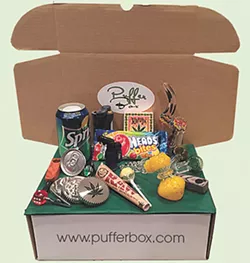 Interested in food, wine, beauty products, arts and crafts, vinyl or socks? There's a subscription box for you.
Have a dog? There's a box for them, too.
Every month, subscription boxes tailored to every interest and hobby under the sun deliver goodies to subscribers' doors. For marijuana and hemp enthusiasts, this trio of subscription boxes will make it feel like 4/20 every month.
But those hoping these boxes contain weed are going to be disappointed; marijuana delivery services aren't currently legal in Washington.
First up is PufferBox (pufferbox.com), a monthly service that promises to deliver smoking tools, snacks and accessories each month.
March's PufferBox, for example, called "Hammer Head," included a hammer glass pipe, shark fin-shaped lollipop, a mini glass pipe, a pack of Randy's pipe cleaners, coconut-flavored rolling papers and an island-themed clipper lighter.
Three membership plans are available: The monthly plan ($25 a month), the three-month plan ($24 a month) and the six-month plan ($23 a month). All three plans come with five to eight items, discreet shipping (a plain white box devoid of any PufferBox logos) and the option to renew.
PufferBox is available to subscribers in all 50 states.
Then there's the Happy Crate (thehappycrate.com), a similar service that brings smoking tools, games and snacks to mailboxes across America every month.
Past Happy Crates have included pipes, grinders, a watercolor postcard set complete with watercolor paints, a Mille Bornes card game, mini ginger snaps and Popcorners corn chips.
The Happy Crate also offers three membership options: The monthly plan ($24 a month), the three-month plan ($22 a month) and the year-long plan ($20 a month). Prices don't include a $6 shipping and handling fee, and a sales tax applies to Washington subscribers.
For those interested in hemp outside the realm of smoking, there's HempBox (hempbox.com), a monthly service that delivers hemp health, beauty and nutrition products.
Each box, which costs $20 a month (shipping is free), features five items. April's HempBox contained hemp and ginger granola from Michele's Granola, Hemp Crate coffee, CannaSmack lip balm, an Earthly Body massage candle and an evo hemp pineapple almond protein bar.
The HempBox website also offers hemp body products (including Mary's Nutritionals products and Hemp & Honey soap and lip balm) and nutrition products (including Manitoba Harvest hemp seed and hemp seed oil, and Ruth's Hemp Foods Chia Goodness) for sale outside of the monthly box.♦