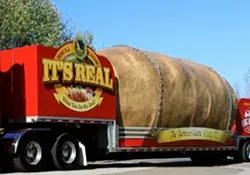 ON INLANDER.COM

Not in the pencils either
• Spokane schools appear to be
free of lead
Violent Slayers Target Concert Venue
• Bloodthirsty Violent Femmes audience
demands encore

You mash 'em, boil 'em, stick 'em in a stew. But should you?
• Do
potatoes
mash
you?

Impure Thoughts
• North Idaho showed a willingness — even an eagerness — to
dismiss concerns
that legislators like Rep. Luke Malek and Sen. Shawn Keough aren't conservative enough.
"By the time Emily was born in 1997, Cucinotti had already been warned about his conduct at Greenacres Elementary School at least three times."
• The Inlander's
horrifying investigation
into how sexual misconduct by teachers can be allowed to continue for years.

HERE

Freed by Mistrial
• Spokane Police Guild president John Gately
won't be retried
.

School's Not Out Forever
• For now, Spokane Community College's Pullman branch
won't be closing down
at the end of the term.

Still can't Snapchat
• You can now
text 911
in an emergency in Kootenai County.
THERE

Cable news is on it!
• A major plane crash on EgyptAir.
Is it terrorism?
It's too soon to speculate. But that won't stop everybody from doing just that.
Well, compared to a lot of the other stuff Washington D.C. has done to them...

• New poll finds 90 percent of American Indians
aren't offended
by the Washington Redskins name. We're guessing 100 percent, however, aren't offended by the Seattle Seahawks name.

Venezuela: A Country Not Looking So Hot

• How Venezuela's leaders
royally screwed up
the country's economy.