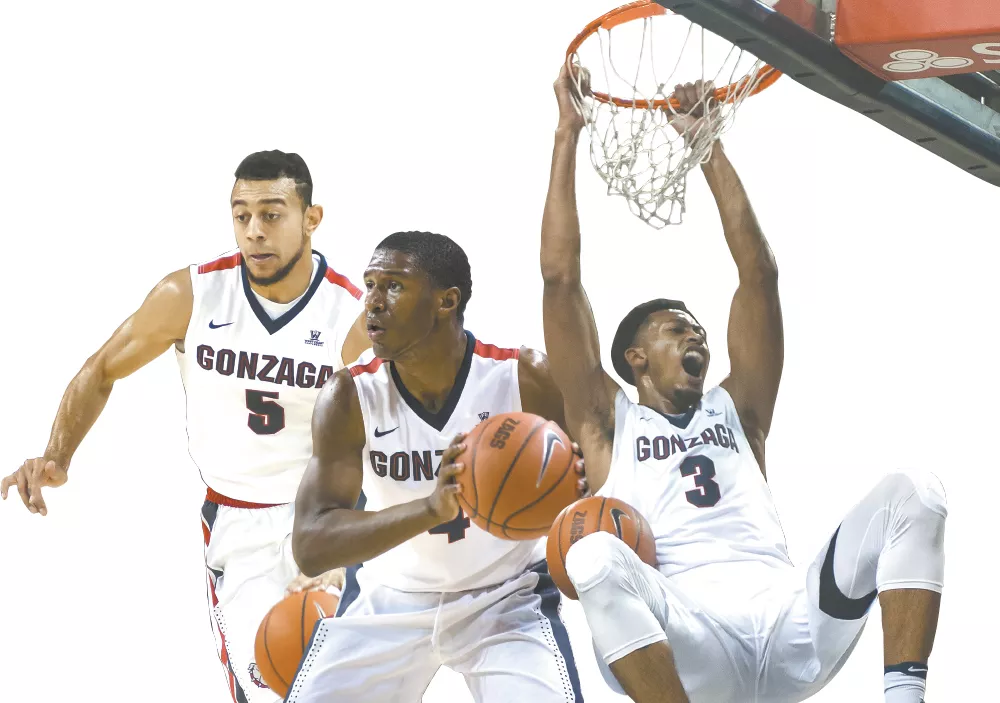 Proximity to nature and a low cost of living draw plenty of people to Spokane. Basketball has also brought some highly sought talent to the Lilac City.
Over the two decades that Gonzaga has been nationally relevant in college basketball, head coach Mark Few and his staff have gone to the transfer market over and over again looking for talent.
That's where, back in the early 2000s, they found Tony Skinner and J.P. Batista. As the second decade of the millennium approached, players like Ira Brown and Marquise Carter would follow. They were players who spent their first two years at junior colleges before finding their way onto a Division I roster here in Spokane.
Today's transfers are a different breed entirely, and they've helped Gonzaga to an undefeated season thus far, including a convincing 79-56 win over No. 21 Saint Mary's on Saturday night.
This year, there's no Batista, no one from Barton County Community College in desolate Great Bend, Kansas. Rather, there's Jordan Mathews, a Los Angeles kid with a degree from Berkeley. There's no Ira Brown, who headed to a two-year college after spending five years bouncing around minor league baseball (including a season with the Spokane Indians). Instead, there's a highly touted player in Nigel Williams-Goss, a high school all-American who spent two seasons at UW in cosmopolitan Seattle.
Mathews and Williams-Goss, along with Missouri transfer Johnathan Williams and Rice transfer Jeremy Jones, found their way to Spokane for one reason.
"We knew we were coming here for basketball," Williams-Goss says. "I wasn't too into the extra stuff that the city or the school had to offer. I was just strictly trying to make the best basketball decision."
Three of the four transfers on this year's roster were known commodities in the basketball world. Only Jones, who doubled up on football and basketball in his one season at Rice, could be considered similar to the transfers of old — a player who was unproven at this level.
Williams-Goss was an all-Pac-12 performer at Washington. Mathews started on the Cal team that made the NCAA Tournament last season. And after announcing he would leave Missouri, Williams was courted by Tom Izzo's Michigan State Spartans.
Gonzaga knew about these guys, and these guys knew about Gonzaga as a program. But did they have any feeling for the city they would be calling home for the 2016-17 season?
"Not too much," Williams-Goss says. "I didn't really know much about it."
But Williams-Goss did have a basketball connection with Spokane that went beyond just the Bulldogs: Hoopfest.
"I had only been here when I was younger, for Hoopfest," Williams-Goss says. "I think I was like 10 or 11 and we won the championship. It was fun, it was a good time."
Mathews and his Golden Bears played an NCAA Tournament game at Spokane Arena last March. While most of fans at that game were rooting for underdog Hawai'i, the crowd's response should've given him some idea what kind of support this city can give.
"Because there's no Seahawks, there's no Mariners, there's no Blazers, you know there's no pro team here in the city, everyone kind of rallies around Gonzaga basketball," Williams-Goss says. "We've kind of got more of a spotlight on us, with no pro athletes in the city."
For Williams, the connection was more personal. His older brother, former George Mason forward Johnny Williams, works here in town.
There are many ways a city can market itself to draw talented individuals. Seattle can lean on its progressive, urban culture. Los Angeles can point to a palm tree and the Hollywood sign. Spokane often uses its proximity to nature.
But all this group of talented individuals needed to see was that this is a committed basketball community.
Williams-Goss was the first academic all-American in UW men's basketball history. Mathews graduated early from Berkeley. These are hard-working guys who knew what they wanted in a place.
"We just wanted to acclimate ourselves to our team and our system," Williams-Goss says. "That was pretty cool, coming to such a basketball hotbed."
For these guys, the "near nature, near perfect" slogan might not have influenced them at all. With an above-average snowfall in this hilly city, had they even bothered to take a spin on a sled?
"No, I haven't," Williams-Goss says. "My nephew is coming up for the [Saint Mary's] game, so maybe I'll go with him." ♦