The last few weeks, some of those upset at U.S. Rep. Cathy McMorris Rodgers have been directing their frustration at the City of Spokane's fire marshal.
"I've been getting a lot of emails from a lot of upset people for the last couple days," Spokane City Fire Marshal Michael Miller says.
Two weeks ago, the Peace and Justice Action League and other protesters were gathered outside of McMorris Rodgers' office building, with
grievances
over President Donald Trump's immigration executive order, his intent to repeal Obamacare, his proposal to build a wall, and his intent to push forward oil pipelines. They carried postcards representing concerns from even more constituents.
But instead of large groups being allowed to go into McMorris Rodgers' office to express their concerns, only a few protesters were allowed at a time.
"We had over 1,000 postcards that day. We wanted to go in in groups to deliver those," PJALS organizer Shar Lichty says. Instead, some protesters were waiting nearly three hours to speak with McMorris Rodgers' staff.
And as social media posts and newspaper stories detailed the reason for the bottleneck, the fire marshal got the blame, with the suggestions that the fire marshal had ruled that only
two members of the public
could be in her office simultaneously.
Not quite.
"
I think somebody got badly quoted," says Miller. "I did not issue any
ruling saying only two members of the public could be in Cathy McMorris Rodgers' office
at the same time."
There had, indeed, been a written ruling by Deputy Fire Marshal Nathan Mulkey, who consulted with McMorris Rodgers' staff in the lead-up to the protest. But he had concluded that the occupancy limit for the office suite as a whole was 30 people, not two.
The confusion likely came from the fact that there
is
a small public waiting area with two chairs and a coffee table — about 10 feet by 20 feet — that Mulkey wrote could safely accommodate two people.
Visitors aren't allowed to stand around in the office's hallway, either, because it's an egress.
"You don't want 10 or 12 people standing in the reception area," Miller says.
Otherwise, the limitation has to do with the furniture setup. If Cathy McMorris Rodgers wanted to, for example, she could remove the coffee table and add another chair, and get a third person safely in the waiting area.
But the larger point remains: McMorris Rodgers' team definitely could have accommodated more
visitors,
if they chose to use the rest of the office space.
"How they want to use those rooms is entirely up to them," Miller says.

Beyond the private office space, the conference room can hold a number of other people. And that, PJALS organizer Shar Lichty says, was the frustration. Previously, she says, the conference room has held a delegation of at least 10 people.
Molly Drenkard, McMorris Rodgers' press secretary, confirms that fire code and safety considerations were not the only reasons contributing to the office's decision to only meet with a one or two constituents at a time. Instead, she says, McMorris Rodgers' staff concluded that meeting with constituents individually or only a few at a time would better serve them.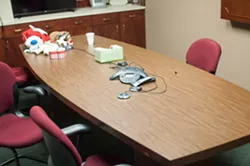 "[We wanted] to hear what people were saying that they might not have shared in a large group setting," Drenkard says. "When you have a large group of people that were coming in, how do you best hear everybody's concerns?
The whole purpose was to match everybody up to talk about other issues. To get to a place of understanding."

That's not to say that the office doesn't meet with larger groups in the space.
"The congresswoman and our staff are always looking to meeting with groups to schedule appointments to talk about specific issues," Drenkard says. But she says that the protesters did not schedule a formal meeting. McMorris Rodgers' staff also wanted to keep room open for other constituents, such as veterans needing help working through the federal bureaucracy, who were not part of the protest.

Andrew Biviano, chairman of the Spokane County Democrats, says he tried to negotiate with former Washington state Rep. Kevin Parker, who had was meeting with the PJALS protesters on Feb. 1 on McMorris Rodgers' behalf.

"I offered a whole bunch of different options," Biviano says. He suggested grouping protesters by similar subject matter, or agreeing to limit protesters to a certain time-limit or subject matter. In the end, Biviano says, moving protesters through faster would have resulted in the office being freed up for other constituents faster. Biviano says he kept being told that the fire code wouldn't allow one option or another.

"I just want them to say what [their entire] reasoning is," Biviano says.

Parker, who has a small part-time advisory role on McMorris Rodgers' staff, confirms that he raised the fire code restriction as a reason not everyone could gather in the waiting area. But he also echoes Drenkard in arguing that the larger intention of meeting with the protesters individually or in groups of two or three was to hear more of what they had to say.

"We wanted to make sure everybody had a voice," Parker says.

And while protesters were frustrated by the long lines, in the end, Parker argues, it worked out for the best.
"There were a lot of amazing conversations that day," Parker says. "It turned out to be a pretty cool thing as far as all the constituent work that came out of the protest. Several people said, 'Thank you for listening'."
Drenkard underscores that theme.
"We're an office for everybody, even if you decide to show up and protest," Drenkard says. "We're here to listen. The congresswoman — she represents everybody."