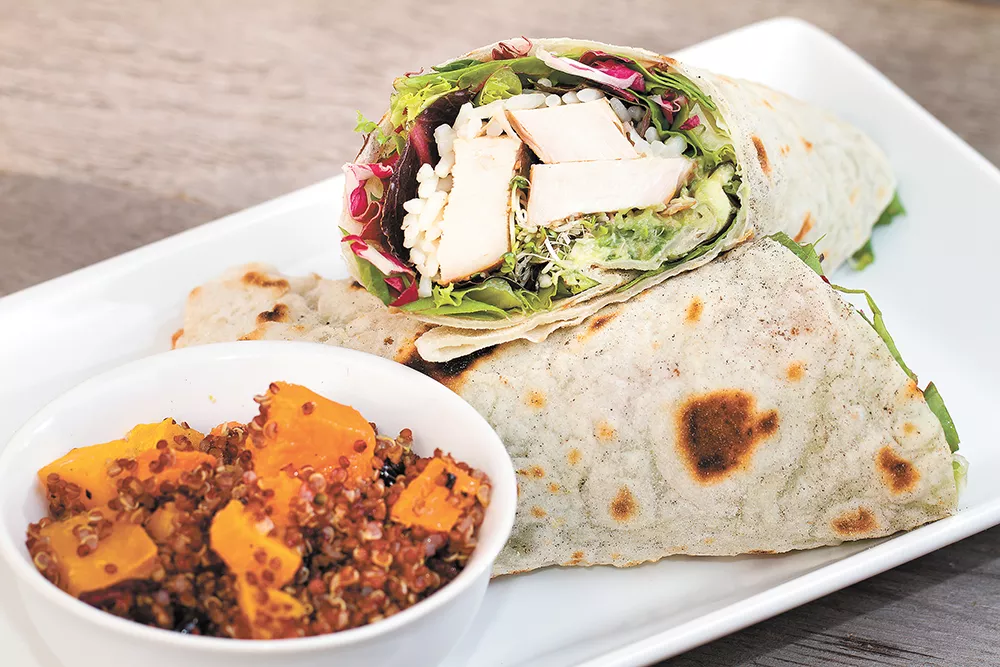 Steve Eller is a tall drink of water with Texas-sized ambitions for his new Cosmic Cowboy Grill's location and menu with a healthy twist on Southwestern food.
As a former commercial real estate broker, Eller followed the first rule of real estate — location, location, location — when deciding where to construct the eatery, located at the prime junction of Highway 95 and Interstate 90 in Coeur d'Alene. Although construction was somewhat stymied by months of rain, only the patio was delayed upon opening, and business has been brisk since its soft debut in early May.
Inside the restaurant, local firm HDG Architecture balanced industrial, modern and natural elements to create a welcoming space for fast-casual dining. Artwork is large and bold, reminiscent of pop artist Andy Warhol, including a four-part sendup of iconic musicians Eller relates to as "cosmic cowboys."
"A Cosmic Cowboy," he explains on the restaurant's website, "has Willie Nelson, Led Zeppelin, and The White Stripes on the same playlist," and is "a person equally at home in the country or the city. They embrace new ways of doing things (Cosmic) while remembering the values that make us great (Cowboy). They crave authenticity, value quality, and hate labels."
His menu reflects that philosophy. Look for traditional, Southwestern grilled fare like tri-tip steak ($13) and chicken ($11) paired with De Leon tortillas. Yet Cosmic Cowboy offers a much broader variety of organic, gluten-free, low carb, vegan and vegetarian choices than any typical roadhouse.
Try grain bowls ($9) like "Rice Gone Wild" with basmati, cabbage, peas, butternut squash, chickpeas, green onions, dried cranberries, pistachios and a mint-cilantro dressing. Salads ($9) include "Cowboy Kale" with Brussels sprouts, tangerine, cranberries, roasted almonds and housemade ranch, and a "Power Salad" with spinach, kale, chickpeas, parsley, almonds, chia and sunflower seeds, celery, quinoa, assorted berries and a lemon-chia vinaigrette.
Eller, who admits to being a big guy — he cribs comedian Ron White's joke about being between 6-foot-1 and 6-foot-6 — favors salads. He's also partial to the dill-marinated salmon ($7 side/$15 entrée) and the sides, such as roasted root vegetables, a fruit medley and roasted organic sweet potatoes with red chili glaze ($4).
"The menu is really a collection of things I've enjoyed over the years," he says.♦
Cosmic Cowboy Grill • 412 W. Haycraft Ave., Coeur d'Alene • Open Sun-Thu, 11 am-9 pm and Fri-Sat, 11 am-10 pm • cosmiccowboy.com • 208-277-0000