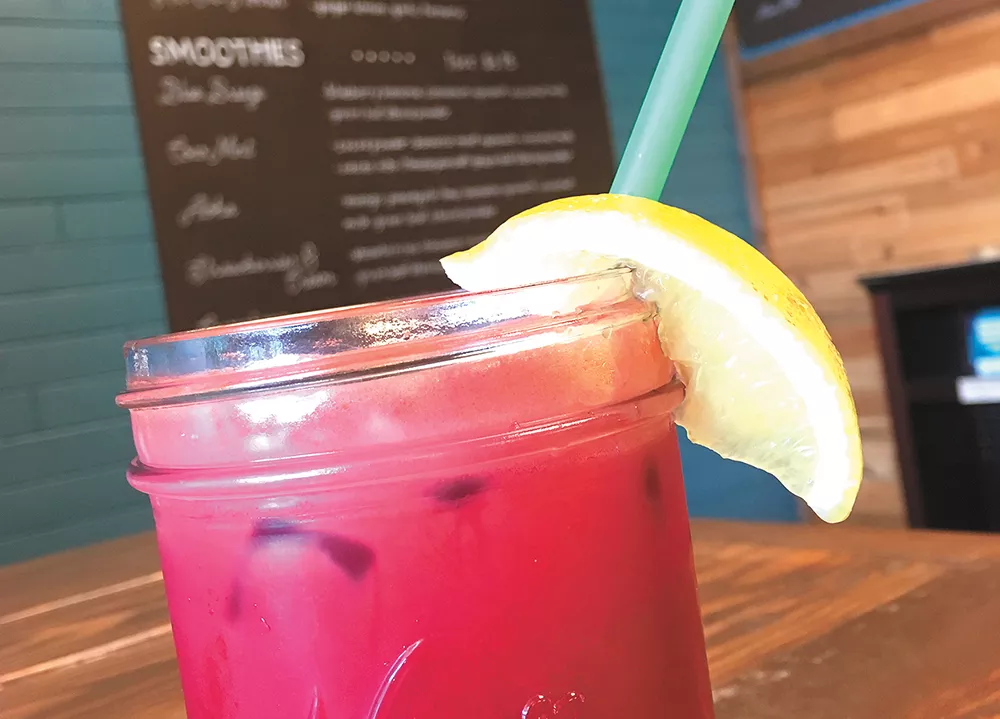 "We're just really, really passionate about healthy living, and eating more simply and living more simply," says Mandy Edmondson, who recently opened City Beach Organics with her husband, Bob Edmondson.
The couple relocated to the area last year from Northern California, where they'd run an organic food home delivery business called Country Organics.
Everything in the Sandpoint eatery is mom-approved, says Mandy, and is made just like what the couple's family eats at home: from scratch, gluten-free, and fresh and organic as possible.
The wraps ($5.95/$9.95) and melts ($6.95/$11.95) are popular — especially the pesto melt with smoked turkey, avocado and cheese, which can be made vegan with turmeric walnut meat and vegan ranch dressing. Her favorite is a hybrid of the Reuben melt (summer sausage, cheddar cheese, sauerkraut, horseradish sauce) and City Beach's vegan melt.
In addition to coffee and tea, City Beach Organics offers a range of 16-ounce smoothies ($6.75), like the "Blue Breeze" with banana, blueberry and coconut milk. They also serve fresh-pressed juices, ranging from 8-ounce ($4.25) to 32-ounce ($11.50) servings.
Gluten-free is the standard at City Beach Organics. Many dishes are vegan or can be made vegan, including the caramel cappuccino cheesecake, which uses a cashew base and incorporates local Evans Brothers coffee shots ($3.50).
Additional local food vendors include Segovia Farm for microgreens; Red Wheelbarrow Produce, Pack River Farm and Solstice Farm for produce, as well as Ki Ferment, which makes a probiotic drink called kefir.
City Beach Organics also showcases local craft vendors, selling goods like hand-stitched items and individually potted succulents, creating a homey feel in their brightly lit First Avenue storefront.
Some crafts are actually made by the Edmondson children (there are seven), many of whom help run the business. Oldest daughter Rylie, for example, comes up with recipes, which are taste-tested and adjusted until they're perfect for the menu board.
"She is the master kitchen artist, for sure," says her mother.
Look for seasonal menu changes, including soups in cooler weather, like vegan pumpkin chili. Although the menu or hours of operation might change a bit, one thing that won't change is the Edmondsons' commitment to quality.
"We're not going to compromise on that," says Mandy, "and people are happy to know there is a safe place to eat." ♦
City Beach Organics • 117 N. First Ave., Sandpoint • Open Mon-Fri from 9 am to 7 pm, Sunday from 10 am to 5 pm • facebook.com/citybeachorganics • 208-265-9919