Something about the sound of nearly 700 women (and a few men) screaming shrilly inside the Bing Crosby Theater Thursday night — paired with the carnal desires behind those shrieks — made me wonder how powerful a coven this group could make, if only we weren't all there to watch beefy men get nearly naked.
Gather sisters, gather thee,
Into the Bing, where we shall scream
So shrill shall be the mighty call
As ladies demand to see it all

The sculpted men on stage will dance
Bump, and grind, and throw a glance
at each and every one of us
who've paid too much to just sit and blush.

Those non-believers, they will see
how powerful, we ladies be
I can tell I'm losing you already
No one else thought the witch thing? Just me?


OK.
But the energy
is
intense in the nearly all-female crowd. There's a certain point (very, very early in the night) when everyone is feeling this upbeat energy together; dancing and drinking, not caring too much what they look like (while simultaneously dressed to the nines) and hoping to get a closer look at the hunks that make up "Magic Men Live."
The Magic Men clearly understand the key element to making things sexy for women is a lot less about the dancer, and a lot more about the
idea
he represents.
Which is a good thing for those who might otherwise get distracted by dancers who aren't always totally in sync:
To help make that sexy idea come alive on stage, they've got something for every palate. Maybe you're into cowboys, or boy bands, or men in the armed forces. Maybe you're more of a
Fifty Shades of Grey
type: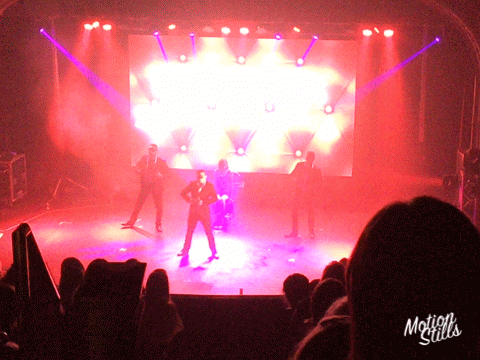 If that doesn't do it for you, how about some ancient civilization-themed sexy dance? When they brought out the gladiators, I wasn't shocked, but I can honestly say I never imagined I'd find myself watching a pharaoh flanked by half naked Anubis's (is it Anubi? did anyone ever think there'd be this many dog-headed Egyptian gods in one place?) as they all strip to flashing lights and modern, bumping dance music.
A few lucky ladies got the chance to go onstage during the show and get an up-close and personal dance from the guys. Volunteers were humped, flipped and carried across the stage in all manner of non-PG ways (the show is 18 and older, if you go when they're next in town).
Luckily, even those of us who paid nearly $40 just to be in the "nosebleeds" at the back of the balcony got the chance to see and feel the act as the dancers worked the entire room. Wave a $20 bill and you were liable to get manhandled in all the right ways. Sit two seats down from someone who waves a $20 bill and you still might get a British-style air kiss on the cheek. Call it collateral
damnnnn
-age.
As much as the out-of-sync moves bothered me in the beginning, by the end, the group was tight and together, and their moving and grooving throughout the crowd made it a fun experience for everyone. It'd be a great night to take a few girlfriends to, and don't worry about your age: there were some gray ladies rocking out just as hard as the single 20-somethings.
Personally, I'd say this show is well worth the cost, though I didn't buy the more expensive seats (which went for north of $77 after fees) or access to party with the Magic Men after the show. Fans of
Magic Mike
will have their expectations met, and based on the buzz in the bathroom after the show — "he was
so. hot.
" "I'm so glad my boyfriend doesn't know I'm here" — I'd say the other ladies would agree.
By the way, the guys will be in
Missoula tonight, at the Dennison Theatre
; then they'll make their way to Tacoma, Portland and Eugene before leaving the PNW.