ON THIS WEEK'S PLAYLIST
Some noteworthy new music arrives online and in stores Feb. 2. To wit:
JUSTIN TIMBERLAKE, Man of the Woods. That album title is what we call "rebranding."
AWOLNATION, Here Come The Runts. The alt-rock dudes promise more guitars, less electronics
FIELD MUSIC, Open Here. These British power-poppers create incredibly pleasing ear candy.
SIMPLE MINDS, Walk Between Worlds. What, did you forget about them?
---
FRIENDLY TRAVELS
"Spokane is rad! Our new friends Matt & Melissa put us up. They had two really cool dogs and they gave us whiskey and soup."
— Banditos
The Alabama-bred rockers who played an excellent show at the Bartlett over the weekend ended the night asking if anyone had a place for the sextet to stay. This is what they said when we asked via Twitter @BanditosBand how it turned out.
---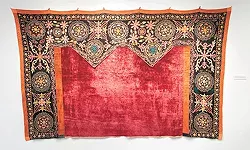 LAST CHANCE
When most people learn that I was born in Kyrgyzstan, questions follow: Where is that? How do you pronounce it again? Not many people are aware of the Central Asian country that borders a few others ending in "stan." From its cuisine to its art, it is colorful yet faithful to tradition — especially its tapestries. To experience a taste, catch the exhibit "The Song of Silence: Embroidered Tapestries of Kyrgyz Nomads" before it ends Feb. 9 at the EWU Downtown Student Gallery in Cheney, 404 2nd Street. Facebook.com/ewudowntownstudentgallery for more info. (ALLA DROKINA)
---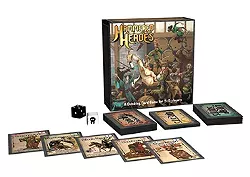 THIRD TIME'S THE CHARM
"If at first you don't succeed, try, try, try again." With that in mind, the Spokane designers behind the strategy-based party card game Hammered Heroes have launched their third Kickstarter campaign, running until Feb. 28. This time they're asking for $10,000, half as much as before, to get the game printed and into the hands of players. Back the drinking-themed game for $20 to get your copy, and don't wait — the devs promise this will be the last time they attempt to raise funds. For all things Hammered Heroes, and a link to the campaign, head to facebook.com/HammeredHeroes. (CHEY SCOTT)
---
RAGIN' FULL ON
Rage Spokane might sound like a great name for our next short-lived arena football team, but it's actually a new business that caters to folks who just need to blow off some steam — violently. For packages $25 and up, you strap on some protective gear, grab a hammer (or crowbar, or baseball bat) and commence bashing everything from dinner plates to TV screens. Whatever makes you feel better, really — you can even bring your own faulty monitor or pics of a hated ex. Visit RageSpokane.com for more info. (DAN NAILEN)