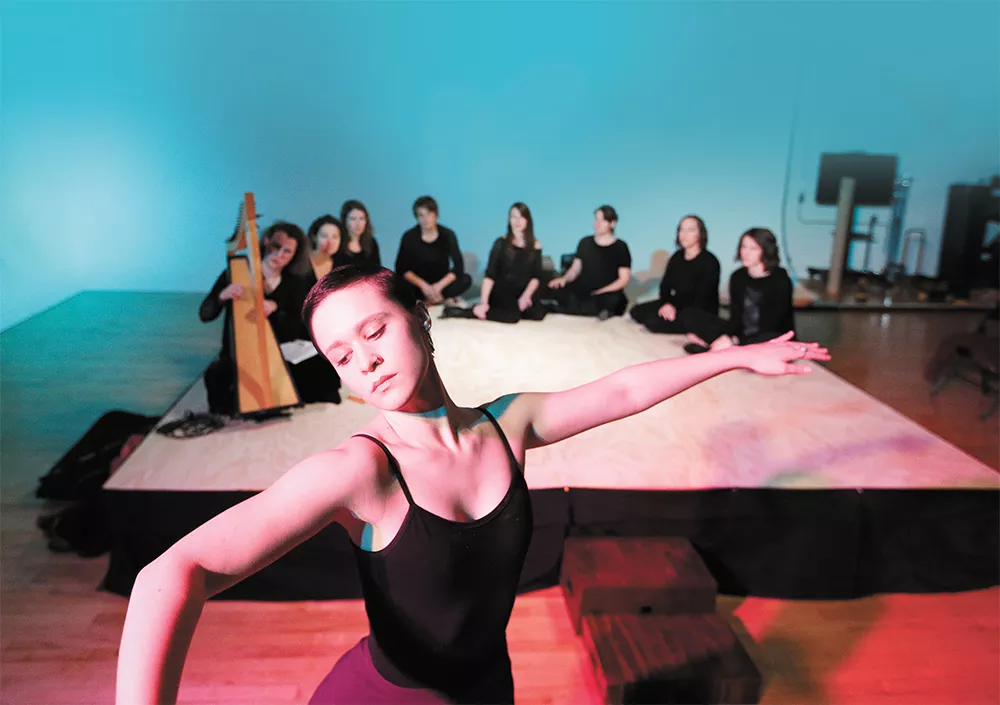 Ferociously untamed and femininely evocative, the fairytale-inspired voices of Spokane poet Ellen Welcker's forthcoming collection The Pink Tablet are coming to life for an unusual collaborative performance.
A group of more than a dozen local artists are lending their talents to the staged production, a multimedia feast for the senses combining dance, song, spoken word, music and visual stage effects. Welcker calls the experimental mash-up a "feral opera."
A "casual, visual circus" is another appropriate way to describe The Pink Tablet's translation from page to stage, according to performance producer Rebecca Chadwell, an interdisciplinary artist who began helping Welcker after a brainstorming session over coffee several months ago.
Rather than a traditional poetry reading behind a mic, Welcker thought a live performance could better translate the collection's theme, and would better align with how she's always heard the poems recited in her head. Thus, The Pink Tablet evolved into a collaboratively wild experience involving numerous other local creatives who are translating Welcker's poetry into their chosen forms of expression.
"The whole experience of collaborating with everyone mirrored my experience writing the poems," Welcker reflects. "It feels like a total wilderness. Sometimes we're fumbling around and reaching for each other, sometimes we find each other and sometimes we don't. It was a lot of that feeling of wildness and ferality that was captivating to me as I was writing the poems, and that was mirrored in the process of collaborating."
Welcker's main work beyond writing poetry and contributing to the local artistic scene involves coordinating a national lecture series with other professional poets. She wrote the contents of The Pink Tablet some years ago, and the collection is named for the pink-hued writing tablet in which she first composed the poems.
"The name stuck because, to me, it's evocative of femaleness and something being wrong; something being wrong that you take medicine for, or something like that," she says. "It held that meaning for me a little bit because the poems are reminiscent of fairy tales, in that they follow these two children who are girls and, like fairy tales of the past, they aren't really helped by the adults in their life. They are left to their own wits to survive, and the way they do that is by morphing into wolves."
The expression of these literary and social themes in Welcker's poetry, and subsequently in the performance itself, is often indirect and may even be difficult for viewers to interpret.
"If someone has a hard time talking about it, that creates ambiguity and that is powerful, and we need more of that," Chadwell explains. "The challenge is taking the unknown and putting it into a physical form that people can relate to... As I get more and more into the arts and develop my own aesthetic, caring about if people understand it is less and less, but offering a genuine experience outside what they would in their daily life is valuable."
That indecipherability on behalf of the reader or audience is partly inherent of the work itself. Each of the performance's contributors reworked their individual translations of Welcker's work in ultimately unique ways, as influenced by their own life experiences, skills and beliefs.
Artists contributing to the performance include classically trained opera singer Madeline McNeill, who composed five original songs she'll perform, along with several other vocalists, including the local Love and Outrage choir.
Harpist Ellicia Jones will create an improvised soundtrack during the live performance, which is narrated by fellow poet Maya Jewell Zeller. Young Spokane dancer Elise Divens is performing a self-choreographed modern dance segment. High school writer, singer and poet Zoey McCall-Smith is performing selections of The Pink Tablet's poetry. Another contributor is artist Darrien Mack, who created visual elements of the show, including the event's promotional images, and a pastel-hued portrait of Weckler holding a costume wolf head.
"To make something and let it evolve in other people's hands is such a mind-blowing experience, and it has just felt so incredible to watch all of these talented artists lay their hands on these poems," Welcker says. "I am very excited about the chapbook, but this is the life I wanted [the poems] to have."
Two performances of The Pink Tablet Project, staged inside the studio of Community-Minded TV Spokane, are being recorded in front of a live audience with plans for a later broadcast and online streaming. At both of the performances, guests will be able to purchase special, limited-release copies of the poetry chapbook for $25. Only 100 copies of the handmade books are being printed.
"One of the first things Rebecca said to me when we met over coffee was this phrase, 'the experience of wonder,' and I think that that's strong in this performance," Welcker reflects.
"I think we are still feeling that at this point — even after having been working on this for several months now — and I hope that is something that people will leave with. I think it's a performance that's going to be felt more than articulable, and in part that's because there are so many people who are expressing things in different ways... People can just come in the door and they will have an experience." ♦
The Pink Tablet Project: A Performance • Fri, Feb. 9 at 7:30 pm and Sat, Feb. 10 at 3 pm • $5 • Community Minded TV Spokane • 104 W. Third, Suite B • bit.ly/PinkTabletProject