BASEMENT TAPES
There aren't a lot of concerts where the artist introduction is accompanied by a request that the audience not get too loud lest they wake the baby. That's the fun of a house concert, though, and I hit a good one in a South Hill basement over the weekend. Kevin Carr, a Spokane transplant and editor of BehindTheSetlist.com, hosted Portland "gloom-folk" band The Holy Dark for a showcase of singer-songwriter John Miller's stirring songs, delivered with power and emotion to about 20 folks — all while Carr's 8-month-old slept upstairs with the help of a white-noise machine. Check out Miller's music at Facebook.com/TheHolyDarkBand. (DAN NAILEN)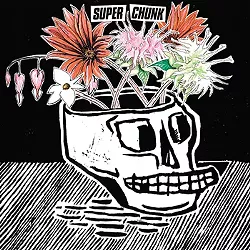 ON THIS WEEK'S PLAYLIST
Some noteworthy new music arrives online and in stores Feb. 16. To wit:
BRANDI CARLILE, By The Way, I Forgive You. Washington's native folkie fave, back with new tunes.
SHANNON AND THE CLAMS, Onion. Another retro-cool set of garage rock that both swings and stings.
I'M WITH HER. See You Around. A folkie supergroup with Sara Watkins, Sarah Jarosz and Aoife O'Donovan release their debut.
SUPERCHUNK, What A Time To Be Alive. The indie-rock heroes' latest comes after a five-year gap. That sound you hear is me screaming, "Hell, yeah!" (DAN NAILEN)
CHASIN' FRESHIES
If you're feeling bummed about the mild snow hitting our local mountains, don't hang up the skis yet. I just returned from a weekend at Montana's Whitefish Mountain Resort and was welcomed with plenty of fresh powder. A five-hour drive for a few runs is worth it when you're struck with nostalgia from last season's epic snowfall. Grab your gear, gather your crew and hit the road — there's plenty of powder days left. And remember to pack warm, it's definitely still winter up north. (DEREK HARRISON)
GET DOWN IN BROWNE'S
It's hard to beat pizza and beer, but Pac Ave Pizza is now bringing even more to the table with pizza, beer and beats. Every Saturday night you'll find live music in one form or another, and once a month they're turning it into a full-on free dance party with the brand new Get Down in Browne's local DJ showcase. Find more on upcoming features at the Unifest CO. and Pacific Avenue Pizza Facebook pages. (SAMANTHA WOHLFEIL)
TAKE THE THRONE
The Spokane-based creators of Dice Throne, a tabletop game that saw massive success last year on Kickstarter, this week launched a campaign for a "Season Two" game expansion. Quick to learn but tactically multifaceted, Dice Throne borrows basic mechanics from classics like the dice roller Yahtzee and even the play phases of Magic: the Gathering for gameplay centered around unique heroes' abilities. Game developers Nate Chatellier and Manny Trembley introduced six new character classes this week: tactician, huntress, gunslinger, samurai, cursed pirate and artificer. Each can be played with the base game, or separately. The campaign runs through March 9. (CHEY SCOTT)