Twenty years can sneak up on you. When the Seattle-based Kinski started playing shows in the late 1990s, the band didn't have many aspirations beyond landing a few bar gigs. And yet here they are, still together. Barring a change in drummers in 2002, and a brief period where they performed as Herzog, it's the same core group of musicians, experimenting with sound and structure and constantly sidestepping expectations.
"It kind of caught us off guard," says Kinski's primary songwriter Chris Martin (no, not that Chris Martin) of the group's looming 20th anniversary.
But could Kinski make it another 10 years?
"I think so," Martin says. "Everybody's getting along well."
Over the course of its two decades, Kinski has put out so many EPs, LPs, mixtapes and split albums that it's easy to lose track of just how many; their most recent full-length album was accurately titled 7 (Or 8). None of those records sound quite the same, either: Their early work is spacey and expansive and mostly instrumental, terse bursts of hard rock sandwiched between ambient sprawls.
The band's more recent recordings, however, have veered more in the direction of straight-ahead rock, closer to Queens of the Stone Age than, say, Stereolab. But those early sonic explorations are still very much a part of their musical DNA.
"We wanted to try a bunch of things," Martin explains. "I just wanted to explore sounds and textures, so we went out in that direction. We come from a more pop background, so that songwriting structure's always been there. But we wanted to push it in more experimental ways."
The Seattle scene has changed around them, too, although Martin admits he's not as clued in to what's current as he once was. He moved to the city right as it was becoming the unsuspecting hub of American rock culture, an era that has become idealized by '90s kids and yet one that Martin remembers as something of a downer.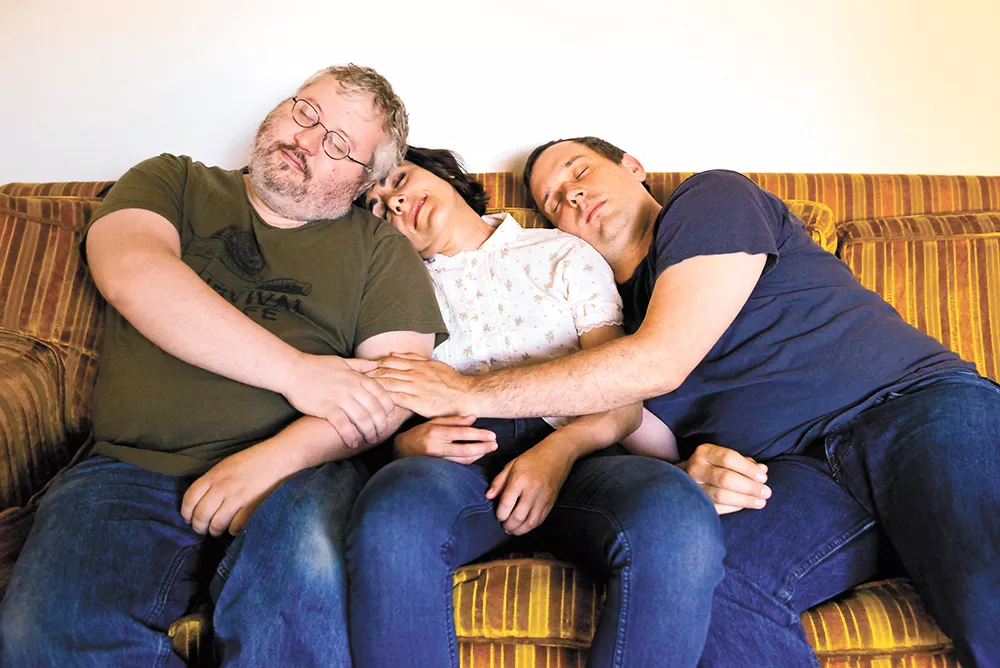 "I moved here right before Nirvana's first record came out," Martin says. "Nobody knew the whole grunge thing was going to explode. ... From my perspective, it wasn't a very friendly vibe. People were moving from all over the country to get signed, and when record labels are out looking to sign bands, it's just a bummer.
"After grunge happened that's when the scene became interesting to me, because there were so many different new styles."
It was well after the grunge craze died down that Kinski started releasing music, including three LPs and a handful of singles on the legendary Sub Pop label (which is also where a lot of those grunge pioneers got their starts). They're now set to put out their third full-length album through the indie label Kill Rock Stars.
That new album, the band's first since 2015, should be hitting shelves later this year, and Martin describes it as "big and loud and a little more direct," a synthesis of early and late-period Kinski.
Although they're not on the road as often as they used to be, primarily because of the members' full-time jobs outside of music — bassist Lucy Atkinson is an elementary school teacher and Martin works as a talk radio producer — the band doesn't have any plans to quit touring. During their next batch of shows, which also takes them to the Treefort Music Festival in Boise, they'll be pulling out tracks from their early days.
"Since it's our 20th anniversary, we've been trying to delve into our back catalog a bit more," Martin says. "It's nice — when we finish, people come up and ask about a particular song, and we direct them toward which album it's on."
Kinski's upcoming Spokane show will be their second-ever gig here, having previously played the Inlander's Volume Music Festival in 2013. And if things go as Martin hopes, it won't be their last.
"Neil Young just did an interview and he said, 'My farewell tour's when I'm dead,'" Martin says. "Who knows what's going to happen? But there's no reason to slow down now." ♦
Kinski with Wimps, Tissue and Peru Resh • Fri, March 23, at 9 pm • $6 • 21+ • The Observatory • 15 S. Howard • observatoryspokane.com • 598-8933
---
Friday's show at the Observatory is going to be a particularly good evening of Seattle punk and alt-rock. Here's what you should know about the other out-of-town bands on the bill.
WIMPS
Kinski's Kill Rock Stars labelmates Wimps have been amassing fans in Seattle since 2011. The trio — guitarist/vocalist Rachel Ratner, bassist Matt Nyce and drummer Dave Ramm — have a witty, self-effacing nature about them, knocking out punchy songs about settling into your 40s and figuring out you're the old guy at the young kids' parties.
TISSUE
Coincidentally, this newer crew happened to play its first show with Kinski a couple years ago. The latest project from two defunct Seattle faves — Gabi Page-Fort of Stickers and Dean Whitmore of Unnatural Helpers — is deliberately lo-fi and hypnotic, defined by wiry guitars and crashing drums.