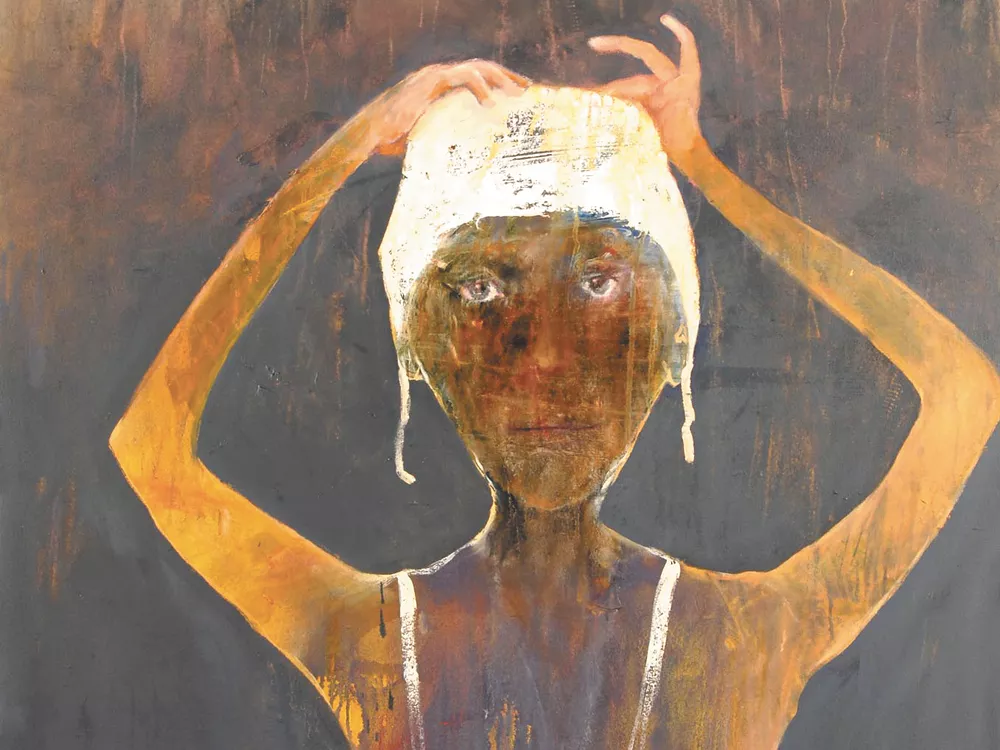 M
el McCuddin has found that if he waits
— for minutes or even hours  — something will eventually show itself.
And so he does. He sits. He stares.
After haphazardly covering canvases the size of his wingspan with glops of oil paint — red, blue, black, yellow — McCuddin smears them with brushes and tattered rags until the surface resembles a smoky fog or a gorgeous sunset in a polluted city.
When he's got a room full of those kinds of canvasses, only then can his creative process begin.
"I just put a bunch of paint on a blank canvas. I sit back and look at these things. Eventually something appears in the paint — kind of just looking at the clouds and something just appears," McCuddin says. "That's the way they start. That's the way the ideas come.
"I never know what the painting is going to be about when I start."
The 79-year-old Spokane native sat and stared a lot this past year in the backyard studio of his Millwood home. At least 50 times. That's how many new paintings McCuddin plans to show in his upcoming exhibition at the Art Spirit Gallery this month.
Sometimes what he'd see was almost hilarious: three grown men — one who looks an awful lot like Tom Selleck — sitting in a barrel-like Jacuzzi in bathing caps. Or a giant Lennie Small-like character chasing after an irritated chicken.
Sometimes he'd stare at the paint and see these strange and flawed humans: tall ones with linebacker shoulders and shrunken heads, or squat ones with heads the size of suburban tract homes. No person, under McCuddin's eye, looks quite right. And those dark shadowy clouds, or the strange yellow skies always loom behind them.
"It all just kind of happens," he says. "Life isn't all happiness."
McCuddin, much like a political cartoonist, exaggerates the features of the people who poke their heads out from the din. In "Innate Grace," one of the most striking pieces in this show, McCuddin focuses his brush on detailing the gigantic backside — the ass — of a very heavy lady.
"I just saw the figure there and I began painting it. As I went along, I wanted to get the feeling of weight," he says. "The title is 'Innate Grace.' Some people that are heavy seem to have a certain grace about them no matter how heavy they are."
McCuddin says that most of the people in his paintings — the guys in the funny swim hats or the fellow chasing the chickens — aren't usually anyone in particular. Instead, they're maybe a sliver of a memory he has of one time or another.
And maybe that's why everything around them — the hazy background, the detached faces, the pursed lips — is so out of reach. McCuddin stares until he pulls out some distant memory from the color.
But that big lady? He remembers her.
"I used to hang around the taverns a lot. And I met this woman — I'll never forget her. She was heavy and kind of coarse looking. But she had this kind of grace about her," he says, starting to laugh, "Until she opened her mouth."

Mel McCuddin "New Work" • On display Fri, July 13-Sat, Aug, 4 • Opening reception: Fri, July 13, from 5-8 pm • The Art Spirit Gallery • 415 Sherman Ave., Coeur d'Alene • theartspiritgallery.com • (208) 765-6006